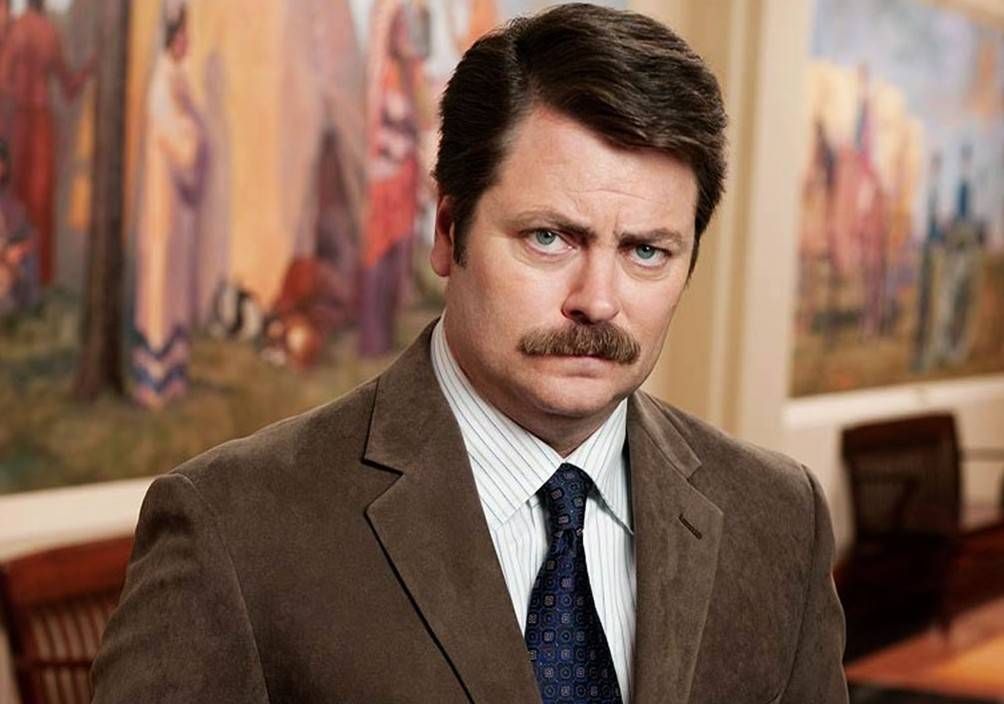 Humor
If Ron Swanson Wrote Book Blurbs
Ron Swanson is my hero. The lovable, grumpy, fiscally-conservative-to-the-point-of-complete-insanity, well-spoken man's man…I aspire to be him. But, you know, pretty.
In my perfect world, Ron Swanson wouldn't be a character on a show about local government. He would be on a show about books. Maybe a version of The Office that takes place in a publishing house? Maybe a literary agent? To nurture this fantasy, I've taken some of Ron's jewel-like quotes and re-imagined them as book blurbs.
Atlas Shrugged:

It's never too early to learn that the government is a greedy piglet that suckles on a taxpayer's teet until they have sore, chapped nipples.
Fifty Shades of Grey:
You had me at meat tornado.
Mr. Peanut:

On my death bed my final wish is to have both of my ex-wives rush to my side so I can use my dying breath to tell them to go to Hell one last time. Would I get married again? Absolutely. If you don't believe in love, what's the point of living?
War and Peace:
I never thought I would say this to you son, but you may be over thinking this.
When asked to blurb Michael Chabon's new novel, Telegraph Avenue:

I won't publicly endorse a product unless I use it exclusively and I really believe in it. My only official recommendations are US Army-issued mustache trimmers, Morton's Salt, and the C.R. Lawrence fine two inch style oscillating knife blade.
The Great Gatsby:
Encapsulate the spirit of melancholy. Easy. Boom, a sad desk. Boom, sad wall. It's art. Anything is anything.
Oliver Twist:
I got my first job when I was 9. Worked at a sheet metal factory. In two weeks, I was running the floor. Child labor laws are ruining this country.
Infinite Jest:
Haircuts, there are three acceptable haircuts: High and tight, crew cut, buzz cut. Are the scissors broken in your house, son?
Pride and Prejudice:
Ron: To me, this situation is a blood-soaked, nightmare-ish hellscape. However to Leslie Knope-
Leslie: Oh how fun!
On the ending of Atonement:
…my first wife Tammy tried throwing me a surprise birthday party . When I saw my friends hiding through the window, I drove to a gas station, called the cops and told them people had broken into my home. I'm not big on surprises.
To Ann Patchett, on State of Wonder not winning a Pulitzer:
Be proud of yourself. You deserve an award. Not this one, obviously. This one belongs to me. But some other one. Some other lesser award.
Freedom by Jonathan Franzen:
Take it down a notch. You already won your Oscar, DiCaprio.
On not liking Virginia Woolf:
I honestly believe that she was programmed by someone from the future to come back and destroy all happiness.
When asked if he was ready for the sequel to The Passage:
I was born ready. I'm Ron F*%king Swanson.
The Girl's Guide to Hunting and Fishing, which he did not actually read:
Fishing relaxes me. It's like yoga, except I still get to kill something.
The Audacity of Hope by Barack Obama
My idea of a perfect government is one guy who sits in a small room at a desk, and the only thing he's allowed to decide is who to nuke. The man is chosen based on some kind of IQ test, and maybe also a physical tournament, like a decathlon. And women are brought to him, maybe … when he desires them.
Book Lust by Nancy Pearl:
Every time she laughs, an angel dies. Even telemarketers avoid her. Her birth was payback for the sins of man. But you know the worst thing about her? She works for the library.
The Book Thief:
Crying is only okay in two places: funerals and the Grand Canyon.