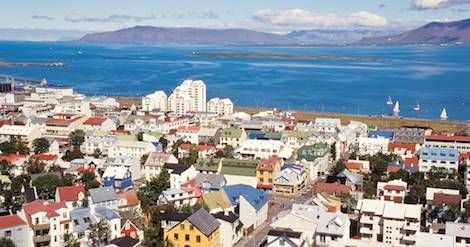 Iceland is veritably tiny, with a population of just under 330,000 people living on its fierce volcanic land mass in the North Atlantic. A tiny part of Iceland (a coastal island) trespasses into the Arctic Circle and its capital Reykjavik is the northernmost capital city in the world.
Perhaps due to their geographical location, their isolation, the long winter nights and cold seasons (as well as those volcanoes and the ice!), Icelanders read and publish more books per capita than most other countries in the world. Reading seems to be inherent to the Icelandic psyche and the country has a literacy rate of a perfect 100%.
Every Christmas, Iceland has a Book Flood- I understand that bestselling books are grabbed from the shelves and books are very common gifts at Christmas. Iceland is a haven for a book lover- so when I visited recently, I dragged my (willing and patient) partner to just about every bookshop I could find. We went to quite a few, but I'm all too aware that there are still hundreds out there that we'll have to go back to.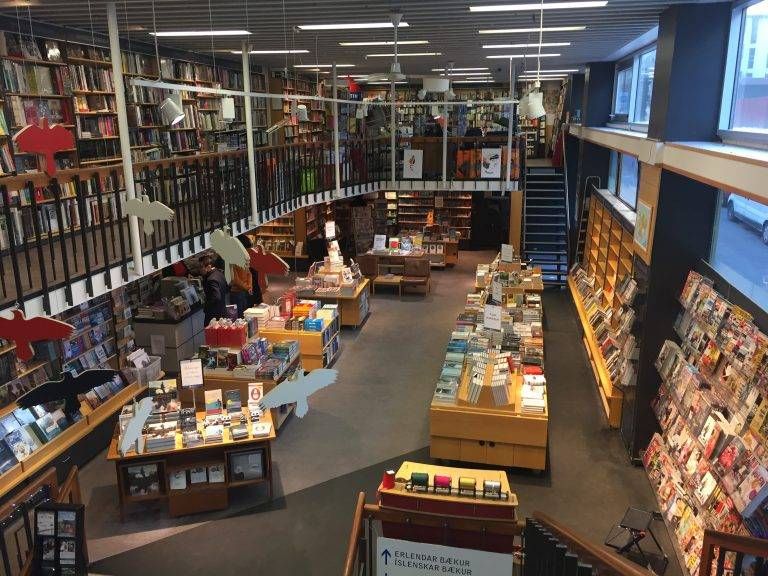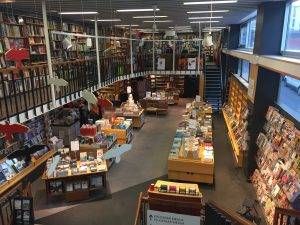 A city of about 120,000 people, Reykjavik is serviced by a very high proportion of bookshops- second hand, specialist, independent, and carefully curated chain shops. The first one we visited was Mal og Menning, which sells a mix of books (both English and Icelandic), stationery and magazines, along with literary gifts. Upstairs is a quiet, cute café, which was needed after our hardcore browsing.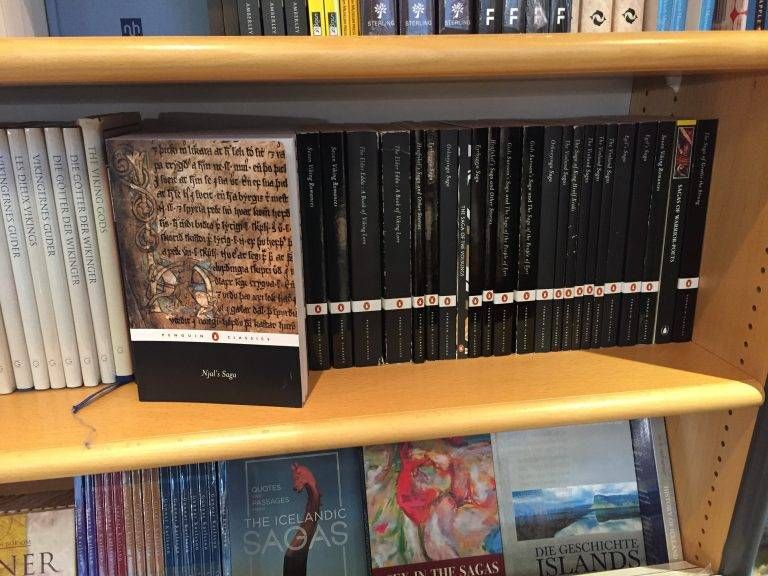 One of the things I loved about Iceland was its strong commitment to a national sense of history and identity. The Sagas, a series of Icelandic legends, are on show in most stores and a heavy focus on folklore, history and identity is evident in books for all ages, including gigantic tomes and slim, humour-laden hardbacks.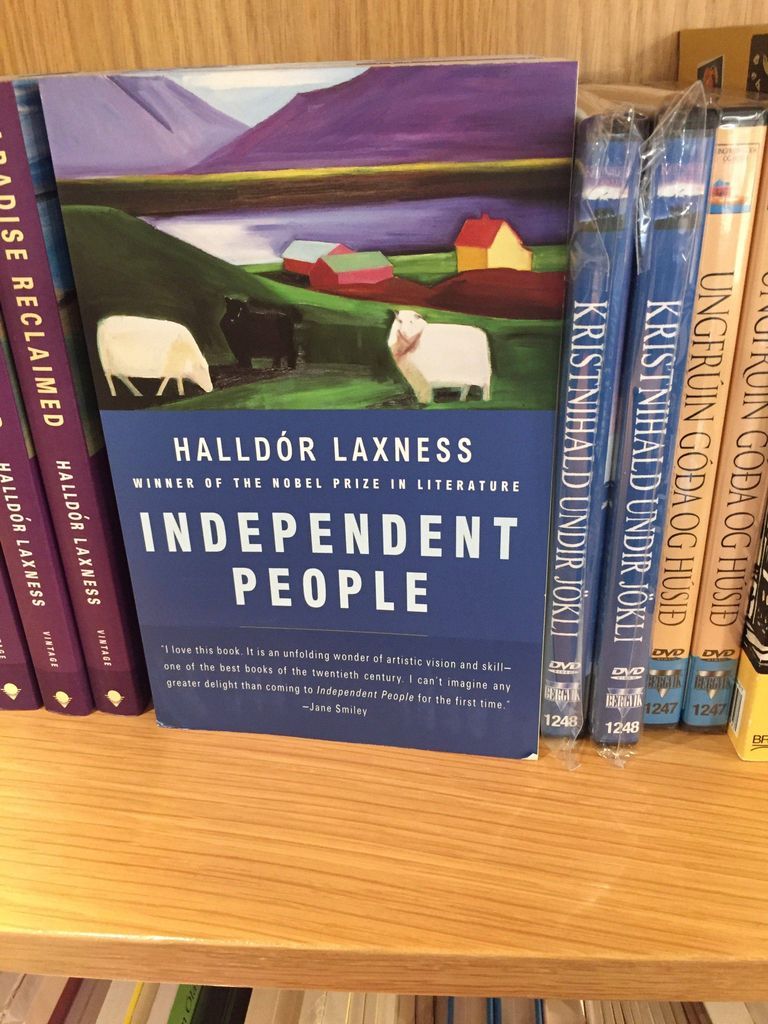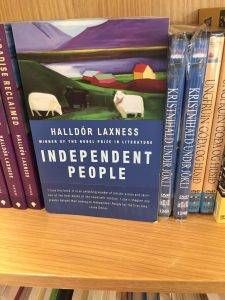 Icelanders appear to be proud of their achievements- and they're right to be. Iceland can be unforgiving, with heavy snow, ice sheets and only short bursts of sunlight in winter. The people are hardworking and incredibly diligent. I imagine they must have been fit to burst with pride when Haldor Laxness won the Nobel Prize for Literature in 1955- he was cited for renewing 'the great narrative art of Iceland' and his books are in every single bookshop we visited.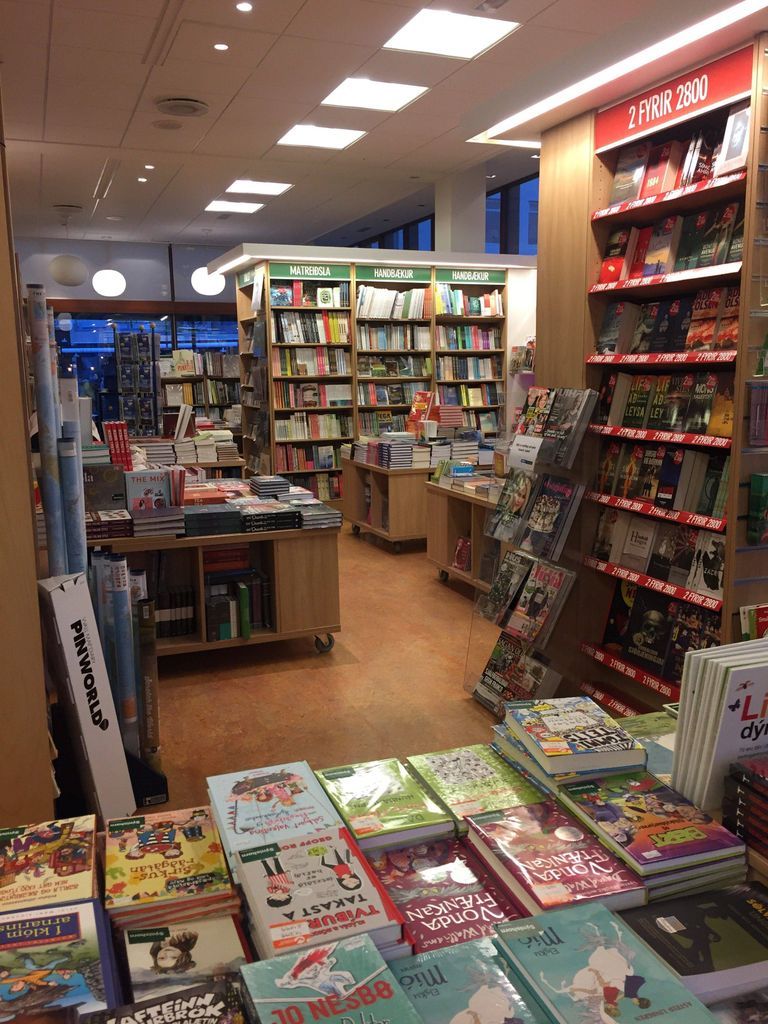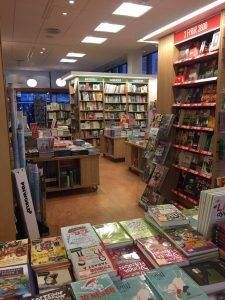 Eymundsson is the chain bookshop brand in Iceland, founded in 1872. I visited a few (a few too many?) and every single one has a strong collection of English books and some great curation- it's always interesting to see what other countries are reading and what's drawing attention in different parts of the world.
Second hand books are also a commodity in Iceland- just off Reykjavik's main street is a little second hand store called Bokamidstoden. Books in both English and Icelandic are stacked along the dusty shelves and it's worth a visit for nostalgia alone.
Comics and graphic novels are not forgotten in Iceland- Nexus is the centre of geekdom, with a huge selection of board games, card games, costume components, Pop! figures and, perhaps needless to say, a heavyweight collection of comics, fantasy, sci fi, feminism and just about everything else that appeals to us book/film/tv nerds.
Bookshops in Iceland seem to follow a trend- there are books on tables, stacked on the floor, in piles near windows, under tables, on top of chairs and slotted into corners. They are used as decoration and provided a homely feel in countless places when the November freeze made the outside world seem a little intimidating. We stayed in an Icelandic house we found through AirBNB; almost every room had a bookcase of some type and the range of stories, genres and types was amazing. Old, leathery heirlooms and modern day crime thrillers were stacked against every possible surface.
Our travels also took us outside Reykjavik, as we toured the snowy roads, climbed hills, watched waterfalls and sought the elusive Northern Lights. In the industrial town of Selfoss, we found Bokakaffid, a small bookshop-café with a delightful selection of new and second hand books, from the very old and loved to shiny mass-market models. Unfortunately, I was low on space in my suitcase so all of the books I saw and photographed to add to my 'to-read' list had to stay in Iceland (for now!)
If you're planning to shop for books in Iceland, be wary- prices are high (as with most things in a country which has high import rates). Most print editions are really beautiful and there are some editions of classics and cult novels that I'd never seen before. Leaving them all behind on the shelves seemed a shame- but I've certainly found inspiration for a whole new range of stories to seek out. Needless to say, I'm planning a return trip with a larger bag to facilitate my book greed.