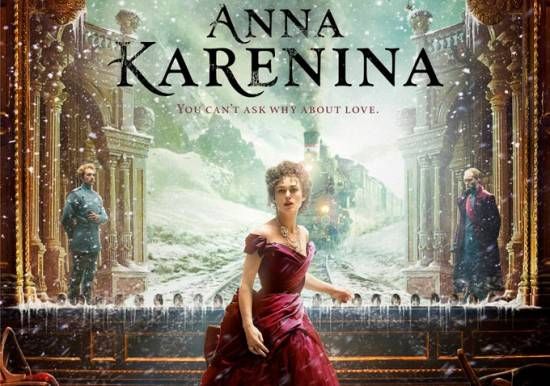 Classics
Ice, Ice Baby: A Review of ANNA KARENINA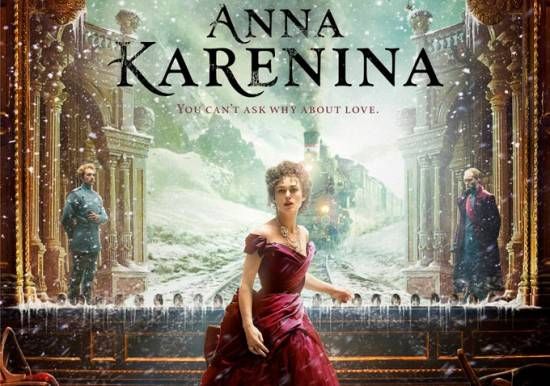 A woman nearly waltzing as she's being dressed by a servant. Pieces of scenery whizzing to and fro. Hypnotic thumping as dozens of clerks stamp paperwork in perfect unison. A man ground into steak tartare underneath a steam train's wheels. Hold onto your tippets—it's a theatrical, spectacular Anna Karenina.
Director Joe Wright and scriptwriter Tom Stoppard shook the stuffing out of this adaption by framing most of the action in a shabby-Imperial-chic theater. By the time Anna/Keira Knightley climbs aboard the train for her fateful trip to Moscow, we viewers have been swept along the stage, over footlights, and into the wings. This approach both pushes and pulls—certain images and scenes draw you in, while others stiff-arm you away from the characters.
The early scenes introduce you to the heroine and her circle, and acclimate you to the setting. Matthew Macfadyen gleefully chomps along as Anna's brother Oblonsky, as he and his wife (Kelly Macdonald) work out their marital spat among heaps of stage props. The camera follows Domhnall Gleeson, playing Levin, as he tries to keep up with the changing scenery and gazes down at his love, Kitty (Alicia Vikander), from high above the stage. Jude Law, as Karenin, is a dark kernel of self-restraint in these whirling shots.
Wright explains that his theater concept sprang from the artifice of Imperial Russian society. When these actors are at their best, their sincerity contrasts movingly against this setting.
Don't lose patience over an occasional wandering accordion player. Later in the film, the pace slows and you occasionally escape into the open air. Like the characters, you'll breathe more easily in those outdoor moments—Levin mowing in a field, or Anna and Vronsky picnicking on each other.
Admittedly, I can't recall the nuances of Knightley's early scenes, as I got too distracted by the gorgeous furs, lace veils, and billowing silk skirts. In later moments, I was increasingly impressed with her range. As she tells her husband that she's become Vronsky's mistress, she avoids melodrama and just sticks to the facts. Watch her face as she tells Vronsky some big news: She believably flashes through serenity, girlish excitement, confusion, and desire.
The ball where Anna and Vronsky meet highlights the strengths and limitations of Wright's device. Everyone is on display, set into glittering social harnesses. Yet Kitty's expression of confused pain is utterly natural. When Anna and Vronsky begin dancing together, Anna's absorption feels genuine, but the people around them freeze or twirl in choreographed clockwork. In the end, the stakes don't feel as high as they could. (By the way, fellas, a 19th-century party is theatrical enough for us modern folk. We don't need ballroom voguing too.)
Can't put it off any longer. Vronsky was a letdown. Aaron Taylor-Johnson seemed about as deep as a shot glass, even if we could overlook one of cinema's odder blond dye jobs. (Javier Bardem, you're not alone.) Granted, Vronsky begins as a superficial flirt. But I hoped for a confident, magnetic creature who would convincingly fall in love. Instead, during one profile shot of him damply latching onto a cigarette, I thought, "now there's a bad kisser."
But for trying something unexpected, for jettisoning a traditional period piece, it was worth it. We need more films like this, widely distributed movies that take a chance. The parts that did work gave me much to think about. Best of all, it makes me want to read the book again.
(Bonus for Downton Abbey fans: Watch for two Abbey crossovers, Michelle "Lady Mary" Dockery and Thomas "Too Nice to Live William" Howes.)
Anna Karenina opens today, November 16.