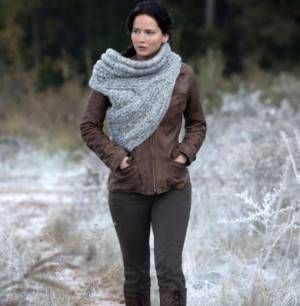 Crafting
I Crocheted Katniss's Cowl From Catching Fire
Soon it will be too cold for just a light jacket, but too warm for a full-on big, cumbersome, delightfully thick winter coat. What's a girl to do? My answer used to be "Wear three scarves, naturally," but there's a better solution: Katniss's cowl from the Catching Fire movie. Remember it?
Yessss, my precious.
It keeps your torso warm and the wind off your neck and also looks hella badass over a moto jacket. This is what I need while deer hunting, and by deer hunting I mean going to Target in early October. So I went in search of one to buy, but they're all over $150 on Etsy and I am not made of money. I expanded the search to knitting patterns (even though I've only ever knitted scarves and toddler hats in your Very Easy garter stitch) and found this pattern which is strikingly similar to the original. A few bucks later and I had the pattern…and couldn't make any sense of it. It's not you, pattern, it's my Beginner Knitter Brain.
Then Twitter came through (as it always does) and directed me to this ALL-CROCHETED pattern! The angels sang! Bells rang! One needle instead of two? Yes! Several "how to make [insert stitch] in crochet" YouTube searches and about 12 hours later, I had this:
Please excuse the selfie stick, I am Short of Arm.
It's not a perfect imitation of the original (the top of the cowl is obviously different and it doesn't fall quite as far down past the waist) BUT I'm pretty obsessed with it and have already gotten lots of "THAT IS AWESOME WHERE DID YOU BUY THAT" comments from strangers. So there you go! One Katniss cowl: perfect for in-between weather, a great quick gift for literary friends, and a high reward, big impact project for beginner crocheters. Get thee to Etsy and get started!