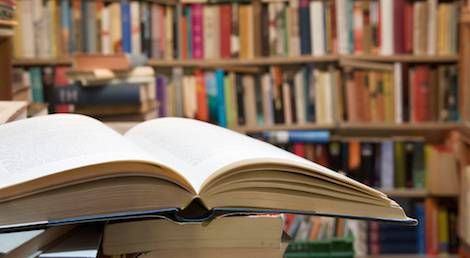 Lists
"I Can't Return It if I Haven't Read It" : Library Myths Busted!
I grew up in libraries. I lived half a block from our town's public library, and, when my parents deemed me old enough, I would walk up there first thing in the morning or in the closing minutes each night. I operated under some truths I learned from being a library brat, like you can check out tons of books for free (except fines, of course). But, like many members of the public, I had misconceptions about certain library myths.
It wasn't until I started library science graduate school, interning, volunteering, and networking with other library professionals that I realized none of the library myths I'd believed—the ones that held me back from asking a question or finding a book—are grounded in truth.
Well, maybe one is…
Leslie Knope's "Punk-Ass Book Jockeys" might not be a myth after all…
We are kind of a (mostly cat-loving) cult of punk-ass book jockeys.
If you've had library fears holding you back from going to the library, this article is for you. Let's go through some of the most well-known library myths and tease out what's real and what's fiction.
Myth #1: Libraries only lend out books
Many people are surprised at the extent of our circulation collection. Not just books anymore (although books are still surely quite awesome), libraries now check out other items, too, from museum passes to mobile hotspots, musical instruments to meeting space rooms. Hell, here in Philly we even have a "tiebrary" of ties people can rent for job interviews. If you can imagine it, there is a probably a library somewhere that circulates it. For instance, in my county system, like many others, you can check out iPads in the library and rent an eReader with the latest hot titles pre-loaded. Follow your library or county's social media sites to hear more about exciting circulation opportunities.
Myth #2: You're "bothering" a reference librarian with a question
Having worked at a reference desk before, I have been on the receiving end of many, "Sorry to bother you…" and "Is it okay if I ask you a question?" half-whispered openings. It's totally okay to ask us a question. It's what we're here for! Reference librarians are the superheroes of information, and they live for quests like helping someone find genealogy records or research about obscure corners of history or science. That goes for online reference chat, too. Though we can't diagnose your rash, counsel you on taxes, or give you legal advice, we will try our best to connect you with the information you need. (We can always go back to the tab with the cat memes—or the article on how to fight censorship and alternative facts—later.)
Myth #3: You can't return a book if you haven't read it
I have 52 books checked out right now, and, yes, of course I'll never read them all! But there's nothing stopping me from trying, or knowingly failing. I know many people don't feel that way, though. A friend told me that he never borrowed many books because he felt like he could never return them unread, so he only checked out a few at a time. I don't live with this shame, but I hope many patrons know that the library gods aren't judging you for not finishing a book—they don't even know! So go ahead, check out twenty books and return them guilt free. Borrowing a book is not a binding contract that you must read and finish it. The library is here to help you experiment with reading new genres or give you free access to a book your budget does not allow for. So if you read 4, 40, 400 or no pages at all, you are entitled to charge the most valuable plastic in your wallet with no pressure (just keep track of due dates!). And, by the way, you're helping your library drive up circulation, which is important for getting funding and justifying important services and positions.
Myth #4: If it's not in the catalog or on the shelves, you can't borrow it
Are you a power user of Interlibrary Loan (ILL) and the wider library consortium? Next time you can't find a book on the shelves or in the library catalog, don't despair. Get in touch with the library staff to see what your options are for borrowing beyond the library's holdings. Sometimes it's as easy as getting on the catalog, finding an available copy at another library in the system, clicking a few buttons, and indicating your desired pick-up location. Boom! In some cases, you might get the item faster than through Prime. (And if you really want to feel empowered to unleash your hold/request powers, check out my Book Riot article, "5 Reasons to Binge-Request Books from the Library.") I've borrowed a ton of books through ILL over the years, and it's pretty cool to see where some of them are from, not just from my home state of Pennsylvania but Chicago and even as far as Canada! These books travel with a passport that's meant to be stamped (er, read). Admittedly, there are some titles that are harder to get, like new releases or books that have serious hold lists within your own system. But librarians have a bloodhound focus for tracking down an item for patrons. Even if they can't find it, they'll pull out all stops to connect borrowers with the best information they can.
Myth #5: Librarians are super repressed / Librarians are super kinky
Who knows where this idea first originated. Perhaps the earliest librarians at the Library of Alexandria cried out to be sexually liberated, and their passion ignited the fire that burned it to the ground. Certainly, the media hasn't always helped. Ron's wife, librarian Tammy II, from Parks and Recreation fed right into that stereotype…
And maybe there is a universal truth here: plenty of librarians love their cardigans. But please don't lure us into a dark corner and expect a fiery moment of unbridled, cardigan-popping heat. We've got other fires to put out—printer jams, finding missing items, providing shelter, and other ways to generally save the universe. We are happy to point you towards the romance section, though (and not judge you for checking out erotica).
So visit your library, in person or online. Place a hold. Browse around. Use your card to the full extent of its powers. And don't be afraid to ask questions. We've got one for you: "How can we help?"