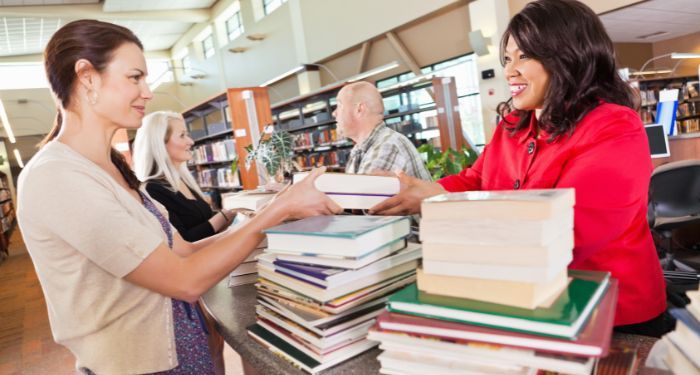 Libraries
How to Support Your Library in the Wake of Rising Fascism
We are all aware that libraries across the United States are under attack. Thanks to groups like Moms for Liberty and other outspoken "concerned citizens," there has been actual legislative action at multiple levels of government to limit what libraries can do and provide to their communities. Even in the places where there hasn't been that kind of action, those same concerned citizens have mounted acts of intimidation to instill fear and block access. Libraries hosting rainbow storytimes and "woke" speakers are seeing demonstrations organized by conservative hate groups to literally block the entrances to buildings and harass attendees — including the children they claim to be protecting. They're doing their best to not just remove and restrict people from marginalized and historically oppressed and excluded groups from their rightful place in the library, but also to remove all traces of those same groups from the collective knowledge and awareness of the community. In light of this, I've heard many iterations of the same question: how can we help? What do libraries and library staff need right now?
In short, we need your support. We need your voice. We need your presence.
Here are some actions you can take in order to help your libraries, and the library community as a whole.
Speak Up
Talking about it with your peers is the first step, but libraries also need our users — our customers, our patrons, our constituents, our taxpayers — to speak up for us in big ways. You don't have to speak at city council and school board meetings if that's not your thing, but write letters of support for your public and school library and its staff to your municipal government; write letters of concern or censure about government actions to your local newspaper or news outlet.
Show Up
Do you have a library card? There are so many people in my home city who love and support the library, but don't actually use it. Showing that the library is important and used is the first step in ensuring that its budget is maintained. Borrow books and stream movies, even if you prefer (and can afford) to buy them for yourself. If your library has events that you're interested in, go! Take your kids to Drag Queen Storytime or a cultural heritage event. If there are books you think people should read, recommend that your library have them in the collection.
Be a Good Bystander
See if there are any concerted efforts in your area to support activities or protect attendees at protested events. If you hear someone talking about libraries or library staff, especially if they're using that new and wonderful "groomer" buzzword, check them. Ask them what they mean, and if they use the library. If they know anything about the concept of intellectual freedom and the right to read. (Which even means the right for them to read whatever Bill O'Reilly book they want!) If you're in a library building or online space and see someone harassing staff, make your presence known. You don't have to start a fight with that person, but even showing staff that you're on their side, that you support them, can be beneficial — if nothing else, to their mental health and confidence.
Americans in particular are not comfortable when it comes to intervening, but we can all work to get better at that. Here's a great place to start when it comes to learning how.
Share Your Appreciation
Tell your library staff how much you appreciate them. The work they do, the materials and access they provide, the space they make welcoming to you and those around you. Compliment a display that might be focused on a "controversial" topic. Post about your book haul or a library event on social media. Leave a note of thanks in a comment box or call library administration. Bring friends and family to your local library so they can see what it's all about. If your library has a Friends association, join! Or at least donate or shop at their next book sale.
We're all feeling a little rough right now. Be kind, in whatever way you can.
---
I've focused here a lot on public libraries, mostly because that's where most of my experience lies. But school libraries bear the weight of this, and if you have any desire to see a rounded, empathetic, and educated Generation Alpha, you'll do these things for your local school libraries as well.