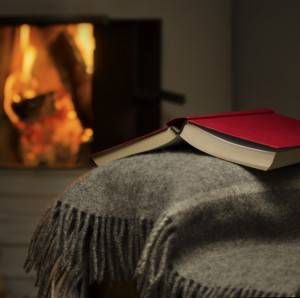 How To
How To Stay Connected to the Book World (for Homebound Readers)
Because I have a chronic illness that can be debilitating, I have spent some time during the past few years homebound. I work remotely, so I'm home a lot of the time anyway, but when my bipolar illness is acting up I barely feel up to leaving the house. This often means no libraries, no bookstores, and no book club.
With ebooks and home book delivery from online retailers, one is never at a loss for accessing books. But obtaining books is perhaps not the biggest challenge for those confined to their homes. For bookworms who are unable to leave their house, it can often feel lonely, especially if you, like many readers, feel energized by being around books and talking to others about them. But being homebound does not have to be isolating, especially not in the age of the Internet and expanded library outreach services. Just because you or someone you care about is unable to leave the house does not mean the bookish world is out of reach entirely. Here are some of my favorite ways to still soak up conversation in the reading world, reach the world beyond my house, and feel connected to fellow bookworms.
The Library Comes to You
If you can't come to the library, many library systems can come to you. Services for the homebound match library staff or volunteers with patrons who have limited mobility, illness, or are temporarily homebound. Often libraries do not require a physician's note and can offer extended checkout times, and it is not uncommon to waive late fees or fines. A librarian or volunteer will come to your house, check out material you requested, return materials for you, and give you personalized reading recommendations. Library staff and volunteers are connected to the pulse of your community's reading interests, so it can be uplifting to talk about what is popular right now. This is just one way that libraries reach the homebound.
Online Book Discussion Groups
Online book clubs are another way that libraries reach the homebound. Online library book clubs can take many forms. For example, a library will email you excerpts of a book at the beginning of the week and discussion prompts later in the week. Many libraries follow this pattern through the DearReader Online Book Club services. Also, lots of libraries have online book discussion groups through Goodreads.
There are also non-library affiliated book clubs for every genre and subgenre you can imagine on Goodreads. A recent article in the New York Times' Fashion & Style section examined online book clubs by profiling people who love them and people who have some reservations. Some of the popular groups featured included the Vaginal Fantasy Book Club for romance readers and the plentiful book club offerings at BookTalk.org. Online book clubs connect the homebound to other readers across the world without ever having to leave your house.
Keeping Up with Bookish Chatter with Podcasts and Book Tubers
When I have been limited in my ability to leave the house it can seem hard to connect with other readers out there in the same way I would if I was browsing at my favorite bookshop, chatting with the library staff, or going to a local meetup for writers or readers. Fortunately we have many book-related podcasts to choose from, such as any of the "25 Outstanding Podcasts for Readers" listed here on Book Riot. I dare you to read through this list and not come up with one or two or 10 or more podcasts that match your interests. I just find there's such a contagious energy from listening to other readers talk about books (and let's be honest, seeing your To Be Read list explode and your budget shrink).
"Book Tubers" is a term grown out of book-themed YouTube channels. Video book reviews, rants, insights, lists, and more can be found on YouTube. Perhaps you've heard of booksandquills, which counts 140,000+ subscribers? Other popular book channels are the Sword and Laser, a science fiction and fantasy book club with a podcast, online book club, and video channel; climbthestacks, which focuses on classical literature, literary fiction, and memoir; and The_Bookchemist, which collects book reviews and discussion focusing on literary fiction (especially American literary fiction) and postmodern fiction. As with podcasts, YouTube video channels can help the homebound feel up-to-date with book talk, introduce readers to new books, and include bookworms worldwide with funny and insightful discussion.
Being homebound might limit your ability to leave the house, but it definitely doesn't have to limit your ability to take part of conversations with fellow book people, connect to your local library and community, and interact with likeminded readers across the world. Through the library and the internet, there's never been a better time to be immersed with the reading world without having to leave your home.