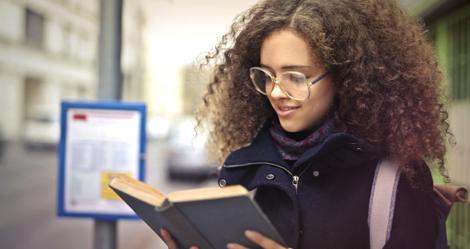 How to Read More Than One Book at a Time: Critical Linking, September 10
Sponsored by Penguin Random House
---
It's the bookworm dream: being able to cruise through multiple books at the same time. I mean, not literally at the same time. But to be like Rory Gilmore, with a bus book and a lunch book and a book of poems when you're in a poetry kind of mood and a memoir for when you're in an introspective space. Just think of how neat and tidy your TBR (to be read) pile would look. But for many of us, the impulse to read more than one book at once is often tempered by the logistics of the whole undertaking. Where do you read your different books? And what? And when? Here's how to become a multi-book reader, according to Reddit.
---
Joyce Maynard, who was wooed as a teenager by the late JD Salinger, has spoken out about how the literary world condemned her as "a predator".
Maynard was 18 when an essay of hers was published in the New York Times, along with a photograph. The piece led the then 53-year-old Salinger to contact her and, as Maynard writes in the New York Times, urged her to "to leave college, come live with him (have babies, collaborate on plays we would perform together in London's West End) and be (I truly believed this) his partner forever".
Joyce Maynard recalls being labeled a predator, and being criticized for speaking out about her experiences with Salinger.
---
In 1874, Tolstoy's long-suffering wife, Countess Sophia Andreevna Tolstaya, received a gift from her brother: it was a joke recipe book of all the dishes Tolstaya had developed over the years to satisfy the gastronomic whims of her husband. In the book you can find everything from snippets of conversation at family meals to recipes for turnip porridge – there's even instructions for macaroni cheese à la Tolstoy.
Almost 150 years later, the cookbook has finally been translated and republished. It promptly went on my Kindle app and I set about getting an idea of what a 190th birthday party chez Tolstoy would have looked (and tasted) like.
Celebrate Tolstoy with a glass of kvass and a slice of Ankovsky pie.