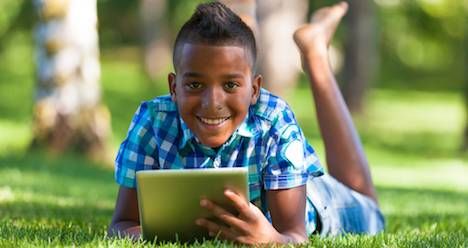 Children's
How To Read Like a 7th Grader: Books for 13 Year Olds
This content contains affiliate links. When you buy through these links, we may earn an affiliate commission.
As a public librarian, it's part of my job to stay on top of the trends in YA publishing… and also to pay attention to which books the teens themselves get excited about. Having spent five years visiting with younger teens, I can safely say that the following types of books always get the teens' attention. And lucky for all of us, new titles in each category come out regularly, so there's always something new and fun to suggest! Here are some of the best books for 13 year olds that make me have to jump out of the way as these new teens swarm my book cart to be the first to claim these for borrowing.
And Then There Were None readalikes
Most of these kids have neither heard of nor read the Agatha Christie murder mystery, but they're all powerless to resist a story of teens stuck somewhere without phone service, slowly being killed off by one of their own.
Try: Ten by Gretchen McNeil, Three Truths and a Lie by Brent Hartinger, Blood on the Beach by Sarah N. Harvey and Robin Stevenson, The Masked Truth by Kelley Armstrong.
Lord of the Flies readalikes
Again, 12-14 year olds may not yet be familiar with the William Golding classic, but that doesn't mean they don't have an instinctual desire to read about groups of kids stuck together in unpleasant situations. Maybe it's all that time spend in classrooms together? Some of these books take place in Teen Jail, others in buildings surrounded by zombies. One way or another, these groups of kids aren't going anywhere, which dials up the drama for sure.
Try: Lockdown by Alexander Gordon Smith, MINrS by Kevin Sylvester, No Safety in Numbers by Dayna Lorentz, The Loners by Lex Thomas
Game of Thrones readalikes
Some of these kids may be watching GOT but in my experience, most aren't. However, these books take what's most exciting about the book series and HBO show — a bunch of people scheming against each other for power — tone down the gruesome violence (though not always that much), and find a way to make all the would-be rulers teens.
Try: The False Prince by Jennifer Nielsen, Three Dark Crowns by Kendare Blake, Dividing Eden by Joelle Charbonneau, Royal Bastards by Andrew Shvarts
Amnesia thrillers
I don't claim to know why, but teens are just as into this Girl on the Train genre as grown-ups are. Maybe it's something about learning about your own secret life, or maybe the idea of getting to reinvent yourself? Anytime I mention someone with amnesia, the teens get really excited about it.
Try: The Forgetting by Sharon Cameron, Love is the Drug by Alaya Dawn Johnson, Another Little Piece by Kate Karyus Quinn, Don't Look Back by Jennifer L. Armentrout
Making A Murderer/Serial/My Favorite Murder fiction
Teens may not be watching or listening to these blockbuster true crime stories, but they're definitely interested in ripped-from-the-headlines style crime thrillers. Of course, teens always wind up solving these cold cases because the adults are absent or unhelpful in various ways… and sometimes their parents are the killers.
Try: And Then There Were Four by Nancy Werlin, Overturned by Lamar Giles, To Catch a Killer by Sheryl Scarborough, The Amateurs by Sara Shepard
What are your favorite books for 13 year olds?
---
This is a guest post from Ann Foster. Ann can often be found walking very slowly through the aisles of bookstores, making sure that nothing new has come out she doesn't know about yet. She writes about women from history at annfosterwriter.com, and about books, film, TV, and feminism at various other sites. She prefers her books to include at least three excellent plot twists, and she also owns more lipstick than you. Twitter: @annhepburn.