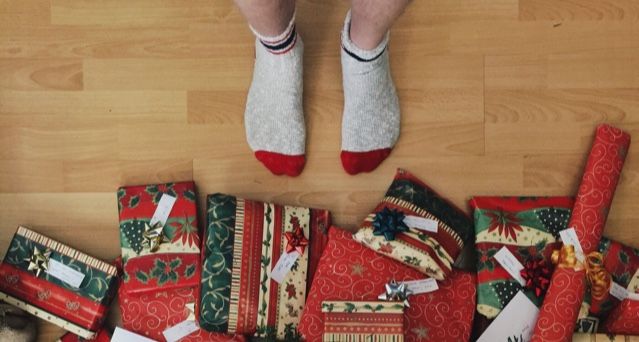 How To
How to Not Get Everyone Books As Gifts
This content contains affiliate links. When you buy through these links, we may earn an affiliate commission.
If you're at all like me, and I suspect you are, you have probably made a reliable habit of working through your holiday shopping lists in a bookstore. Uncle Dave likes to fish? There's a lot of books about fishing just waiting to be…caught! Your sister loves to crochet? Why bother with crochet needles when you could snag her a book about crocheting! Your mom loves true crime podcasts? Lucky for her, the true crime section kills! Books as gifts are the best!
It's foolproof. That is, until people start asking questions. Perhaps—and I'm just painting a hypothetical here—many years in the gift-giving department have gone smoothly until all of a sudden, people pick up the wrapped gifts you painstakingly selected for them and say something like, "Oh I wonder what this is?" with just a hint (or maybe more than a hint) of sarcasm. Can it possibly be that the members of your family are tired of receiving bookish gifts? Is that a note of disdain you detect in their voices?
It is possible that you have reached book-gifting capacity. It happens to the best of us, and let me assure you that you can go on giving the gift of reading, but it might be wise to skip a year. Maybe this year? This is why I have outlined below a helpful series of steps that will enable you to choose gifts for your family members that are still within your comfort zone, but are not actually a book. Here goes.
Step 1: Identify the Recipient's Favorite Book
Okay so, the one thing you know for sure about your sister is that her favorite book is The Great Gatsby. You are certain because you can't understand her staunch stance on the subject when you've given her so many other great books to consider. But that's beside the point. Gift-giving is about the other person, not about imposing your will and taste on that person even if and when they are objectively wrong. I mean you gave her The Great Believers last year! Anyway. Now that you have identified the recipient's favorite book, it's time to move on to step two.
Step 2: Brainstorm a Cluster of Relevant Items
The theory here is to use what you know (books) to identify what you don't know (things besides books that your friends and family would like to receive as gifts). So, using the book you have identified as a favorite, create a cluster of relevant potential presents. So, for The Great Gatsby, your cluster might look something like this:
1920s stuff
Champagne
Eye glasses
Cars
Leonardo DiCaprio
Beaded gowns
Hamptons-y homes
Long Island
Golf clubs
A movie
Step 3: Identify Any Potential Gifts From Within Your Cluster
You now have a list of physical objects that could easily be given as gifts. It is time to think critically about which objects on that list could be reasonably given as gifts. Glasses, of the sun or prescription variety, could be a very good option. They can be procured for a wide range of prices and they are one of the most important symbols in The Great Gatsby. Any Gatsby lover is sure to appreciate a good pair of frames. You might think that this is perfect. But actually, the gift will be most effective if you can include as many items from the list in one shot as possible. Sure, you could buy a car and pack it full of golf clubs and guns, but that is likely cost-prohibitive for a single gift. In fact the answer we were looking for was a poster of Leonardo DiCaprio toasting with champagne from the 2013 film version of The Great Gatsby. That is hitting at least three items on your cluster in one gift. Wow!
Step 4: Be Sure the Recipient Takes Note of the Fact That You Did Not Buy Them a Book
You'll definitely want to get a card. Remember that this exercise is about taking a break from gifting books, not quitting entirely. Next year you'll be back to your old tricks, so be sure the recipient won't forget that you can give varied and thoughtful gifts. Write something like "I bet you've never seen a tube-shaped book before! Just kidding because this isn't a book!" and then when your sister opens the poster and start gushing about how much you truly GET her, remind her one more time that you can give gifts that aren't reading material: "And you thought the only gifts I give are books. I know you better than that!" Accept her love and appreciation, and never reveal that this absolutely inspired gift was, well, inspired by a book.
Happy gifting!