How To
How to Manage Your Reading Life as a Grad Student (When All You Want to Do is Sleep)
This content contains affiliate links. When you buy through these links, we may earn an affiliate commission.
A couple of years ago I went back to university, and it was the best thing I've ever done. As somebody who loves her subject in a stand me on a soapbox and I'll talk to you for hours about the intricate details of it until you're bored and then I'll talk about it a bit more sort of way, the idea of spending her days surrounded by books was always going to be a win.
But it hasn't been easy.
There have been days when I've looked at books and wanted to never read again. Here are my top five tips on how to manage your reading life as a graduate student (when all you want to do is sleep, question your life choices, stare into the abyss, sit in a darkened room, etc., etc. ….)
Be kind to yourself
You are as important as your research. And, because we're all friends here, I'm going to let you into a secret. You are more important than your research, because your research is nothing without you. Your perspective, your slant, your voice matters. So be good to yourself. Take a deep breath and step away from the desk.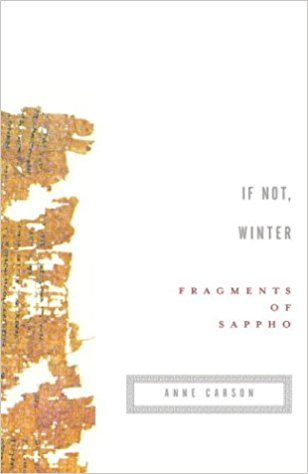 If you have to take a book with you to assuage your guilt, take something clean and sharp and wonderful. Something like If Not, Winter: Fragments of Sappho should do the trick.
Buy nice things
Here's my other secret for you. Life as a postgraduate means you are now officially allowed to buy nice stationary. It's a rule. Admittedly it's not a legally binding rule but if anyone asks, I gave you permission. And the reason I give you permission is that you will now annotate like a wizard with your shiny new stationary. It is proven.
Highlight. Take notes. Trust yourself. Treat yourself. Start with some planning inspiration here, and then head off to the shops. And make sure you actually go outside. Don't do this one online.
Read something different
If you study Chemistry, read a crime book. If you work in English literature, pick up a travel book. As a grad student, particularly in the humanities, you will be trained in analysing everything you come across. That's great—lord, it's the best thing—but your brain needs time away so that it can come back stronger.
So read something unexpected. I spend my days surrounded by children's books. I just finished Reveal by Chris Heath, a biography of Robbie Williams (and it was kind of great).
Learn from others
Give yourself a helping hand, and turn to the experts in your sector. As somebody who's both experienced the stress of academia, and supported others through that as a professional librarian, I have a lot of time for books that give you their knowledge and don't make you fight for them.
I made a rare real life purchase for Karen Kelsky's practical and honest The Professor Is In: The Essential Guide to Turning Your Ph.D Into A Job. I also would recommend Patrick Dunleavy's realistic and accessible Authoring a Ph.D, Stella Cottrell's The Study Skills Handbook. and the wickedly sharp humour of Piled Higher And Deeper by Jorge Cham.
Stop reading
Seriously. If you're getting wound up, a little bit fraught, can't sit there without going "I want to go to sleep" or "I haven't seen a real person for a week but still have 3451 articles left to read." Stop. Accept this internet hug from me. Allow me to tell you that you'll do this. Allow me to tell you that you're amazing. Allow me to tell you that you've got this.
I believe in you.