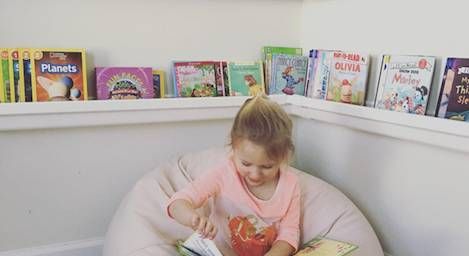 Crafting
How to Make Rain Gutter Bookshelves
Rain gutter bookshelves are all over Pinterest, and it's easy to see why: they're cute AF, cheap, and relatively easy to make on your own. They're especially awesome for kids' reading nooks because they store picture and story books with the cover displayed instead of the spine, the better to capture little kiddos' attention.
But really you could use rain gutter bookshelves for any collection of narrow books with gorgeous covers you want to display, like art exhibition catalogs (I have a lot of these, myself), cookbooks (ditto), or coffee table books that never managed to make it to the coffee table. And they're perfect for tight spaces like behind a door or in a hallway. And you know those pictures of closets transformed into reading nooks? Gutter shelves are absolutely made for those!
Convinced? Let's get down to some weekend warrioring. Here's what you'll need.
Rain Gutter Bookshelf Materials
The bare minimum for rain gutter bookshelves includes:
Rain gutters

I recommend using vinyl gutters because they're cheap, lightweight, and easy to work with. But you can find aluminum, steel, zinc, or copper rain gutters, if your heart desires.
Gutters typically come in 10-feet lengths with widths varying from 4-6 inches (some are even adjustable!).
The average cost is $4 for every 10-foot section if you're using vinyl. If you're using another material, expect to pay more.
Wood screws
The number of screws you'll need per shelf depends on its length. If you need more advice on this topic, chase down an employee at the hardware store.
Power drill
To screw the gutters into your wall.
Tape measure/ruler
To measure out the length and height of your shelving.
Level
Unless you're a crooked man living in a crooked house, you probably want your shelves to be level.
Pencil
Mark out where you want to shelves to be and where to put in the screws.
Optional!
Gutter end caps
These easily fit onto the ends of the gutters. They help with stability and make your gutter shelves look more finished, but are not strictly necessary.
Sandpaper
If you decide NOT to use end caps, make sure to sand down the edges of the gutters so they don't scratch or cut somebody, like your kid.
Paint
Unpainted vinyl gutter shelves look clean and professional. But if you want to pretty them up, pick out some paint while you're at the hardware store. Ask an employee in the paint department if you need advice on the best paint to use.
Brackets
Most people screw their gutter shelving directly into the wall. The books cover up the screws so you can't see them. However, you can buy brackets to screw into the wall instead, which will hold the gutters in place.
Reasons why you might want to do this: you don't want the screw heads to be visible, you're going for a more industrial look, or you're putting the shelves up by yourself.
Reasons why you wouldn't want to use brackets: they add an extra step to the process, not to mention more dollar signs to the budget (they're not super expensive, about $2-3 a piece, but still). They also break up the clean lines of the gutters.
Gutter corner pieces
If you want your rain gutter bookshelves nestled into a corner, buy corner attachments for a cool visual effect you can't get with ordinary bookshelves. They run about $10 each, which is pricey compared to other items on this list. But they're totally worth it if your goal is creating a cozy book nook look.
Joining pieces
If your gutter shelves will be longer than 10 feet, or if you plan on using corner pieces, you'll need joining pieces to fit them together and make your shelf secure. They typically cost about $4-5.
Stud finder
If the books you're resting on your gutter shelves are heavy, or if you have a terror of tippy shelves, you can use a stud finder to make sure your shelves are securely screwed into the wall studs for added stability (recommended).
Hacksaw
To cut the gutters to a specific length. If you don't have a saw, or if this step makes you nervous, you can get the gutters cut down at the hardware store.
Another person
This project is a helluva lot easier when there's someone to hold the shelves up while another person measures and screws them into the wall.
How to make rain gutter bookshelves: the steps
Okay, ready? Let's put up some kick-ass gutter bookshelves! Here's your quick guide to making rain gutter bookshelves, with more details below.
Figure out what your rain gutter shelf is going to look like
Buy your materials
Cut your shelves to length
If not using end caps, sand down the edges of the gutters so they're smooth
If painting, paint the gutters after you cut them.
Assemble gutter shelves
Mark in pencil where your shelves will go
Put up the gutters
Check shelves' sturdiness, safety, and levelness
Take a moment to admire your handiwork and then fill with books!
Step 1: Figure out what your rain gutter shelf is going to look like
The key to any successful DIY project is planning. Pick a spot. Sketch out what you want your shelves to look like, if you're into that, or cruise around Pinterest.
For a kid's room or reading nook, you'll want the books within easy of your little one, obviously. For general shelving, you can put them at eye level or go floor-to-ceiling. The great thing about building your own shelves is you can design them however you like!
Once you know what you want your rain gutter shelves to look like, measure out exactly how many lengths of rain gutter you'll need. I also recommend doing a quick estimate of how many books you want to put on the shelves and how much they'll weigh. This process doesn't have to be über-scientific (unless that's the way you roll), but it will give you an idea of how much weight your gutter shelves will need to support, which will make your trip to the hardware store a lot easier.
Step 2: Buy your materials
Make a list of what you'll need based on your design and budget, then hie thee to your favorite hardware store. If you need any help or advice, ask an employee at the store. Since you know about how many books your shelf will hold and what you want it to look like, this process should be relatively painless.
If your budget allows it, I recommend buying slightly more gutters than you need, just in case.
Step 3: Cut your shelves to length
If you didn't get your gutters cut down at the hardware store, cut them yourself. And remember the golden rule of carpentry: measure twice, cut once.
Step 4: If not using end caps, sand down the edges of the gutters so they're smooth
Step 5: If painting, paint the gutters after you cut them.
Paint outdoors or in a well-ventilated area. Allow to dry completely before continuing.
Step 6: Assemble gutter shelves
If you're using end caps or corner pieces, attach them to the straight gutters and arrange everything how you'd like it to look once it's up on the wall.
Step 7: Mark in pencil where your shelves will go
Measure the height level for each shelf and mark where each one will be placed. If you're anchoring the gutters to studs, use the stud finder and mark where they are.
If using brackets, mark out where the brackets will be screwed in place.
Finally, if attaching the gutters to the wall directly, mark on the back of the gutter facing toward you where the screws will go, about equidistant apart.
Again: don't be afraid to measure multiple times. Use the shelves as a guide to check for levelness.
Step 8: Put up the gutters
Follow the markings you made on the wall to screw in the gutters or brackets using the wood screws and power drill. After the first screw, double check to make sure everything's level before drilling in the second screw. Repeat process until all the gutter shelves are up.
Step 9: Check shelves' sturdiness, safety, and levelness
If you need to make changes, now's the time to do it. Give a gentle tug to the gutters to make sure they're sturdy, run your hands along them to make sure there are no sharp edges, and do a super fast level check.
Step 10: Take a moment to admire your handiwork and then fill with books!
The best part of having a new set of rain gutter bookshelves is the chance to arrange them! By color, title, author, Dewey Decimal system? That's a question for another post.
And you're done! You now have awesome, stylish-looking gutter bookshelves to display your bookish treasures, or tempt your mini-me to read, and you did it all in a weekend and on a budget.
Want to make more bookshelves? Check out Rebecca's DIY Bookshelves.