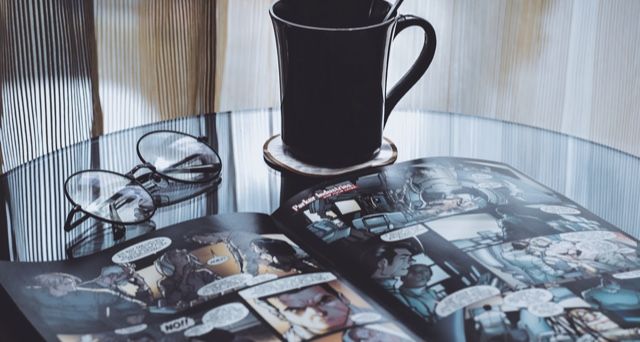 This content contains affiliate links. When you buy through these links, we may earn an affiliate commission.
I have several dozen trade paperbacks that regularly stare at me, calling for me. "Read me!" They say. "We miss you!" They hurl themselves at me every time I walk past the three-foot Billy chock full of years' worth of backlist.
But when I look at them, I just balk in horror. Not because I don't like comics anymore, but because many of them are part of ongoing series or the beginnings of ones that require a lot of settling into world-building that my brain just can't handle right now.
Sometimes I think of just taking them all to a used bookstore and slowly reacquiring the ones I still really want to read. Or just dropping them in a Little Free Library and signing off on them forever.
But I've already done several rounds of weeding, and I really do want to read them someday.
Someday being the operative word, of course.
But what I really needed was to bust my slump. And I found a way to do that, so that I can finally pick up Saga: Volume 8 (I knooooow) or start World of Wakanda.
1: Read Something That Requires Very Little Deep Thought
This sounds like a horrible thing to say, but sometimes you just need something light and ridiculous to get you back into the format. Maybe I wasn't ready for something that wasn't prose, and needed something to help me work my cognitive comics muscles. You know what's good for that? Something that is full of vignettes and characters that you know but don't need to. Like Backstagers: Volume 3.
I knew, going in, that this one wasn't a continuance of the previous volume, and maybe that's why I was okay with picking it up. Sure, Backstagers is hella weird, but I was also familiar with the characters and didn't have trouble following. And since it's just holiday vignettes, all I needed to know was that things could get even weirder than usual. And that was fine.
2: Read a Stand-Alone in a Genre That You Enjoy in Prose
If you haven't noticed, I read a lot of romance. So I like to pick up a short, romantic story like Princess Princess Ever After, a quick, lovely little book that you can probably read three times in an hour. Or My Boyfriend Is a Bear, which is kind of the mindfuckiest romance I've ever read, on account that the main love interest…is literally a bear that followed our narrator home. I mean, he builds shelves and wears tee shirts, but he's still a bear. And sometimes I just go back and read the deluxe version ("Jackpot Edition" actually) of Bingo Love, which has the original story of two women who find each other at bingo 50 years after being torn apart, as well as several bonus stories written by a few favorites. It's nice to have that same genre requirement that you do in prose, meaning you know you're not going to be sobbing on the floor of your bathroom when you finish it. (I mean, you still might, but…for completely different reasons…)
3: Start Something Completely New and Different
If you're going to go for a series starter, try something that is outside of your usual realm. If you regularly pick up superheroes, grab a coming-of-age hockey story like Check, Please!, which is told from the point of view of one of my favorite characters in comics. (The second volume isn't out yet, but soon!) Or if you rarely enter the world of the Big Three, preferring instead to wander through the weirdness outside, try a weird superhero comic! I would go for something like Gabby Rivera's run of America, which is weird both in the superhero way and the weird way. It's also criminally only two volumes, so you can sit down and read them super quickly. You might also find yourself crying on your bathroom floor, just from the sheer magnificence of Gabby's words.
What. I'm not speaking from experience or anything.
---
These are just a few of the ways I've found myself falling back into comics, when I've had trouble picking up during the middle of an ongoing series or starting something wherein I knew there were already four hundred volumes. What are your methods?