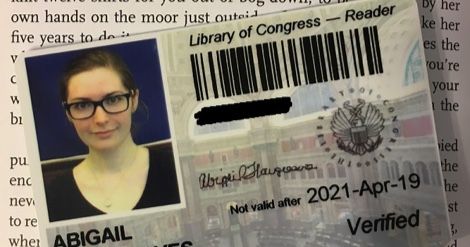 How To
How to Get a Library of Congress Reader's Card
After living in the DC area for almost five years, I finally got my act together and went to the Library of Congress to get a reader's card. Many people don't know it's even possible to get a (free!) library card from the Library of Congress—but it is! The process is actually pretty easy and, once you have it, you can access reading rooms and materials at the Library of Congress beyond what's available to the public online. The Library of Congress website gives a decent rundown of how to go about it, but sometimes instructions from the eyes of the customer can be helpful. So, how do you get a Library of Congress Reader's Card?

Getting There
First things first—you need to get yourself to the Library of Congress. Located in Washington, D.C., the Jefferson Building is directly across from the Capitol Building, so you can feasibly make a day of it. The best way to get to the area is by Metro. The Capitol South Metro station is accessible via the Orange, Blue, and Silver lines. Once you exit the station, you'll walk about a third of a mile. Take a right onto C Street SE, then a left onto 2nd Street SE, a left onto Independence Avenue SE, and finally a right onto 1st Street SE. You can enter through the visitor entrance on 1st Street SE. An accessible entrance is available at this location as well as other sides of the building.
If you prefer a less scenic option, the Madison Building also has an office to process new readers. I signed up for mine in the Jefferson Building, so the following describes that particular route. Folks working at the Library of Congress are very friendly and helpful, however, and you can always ask them for directions.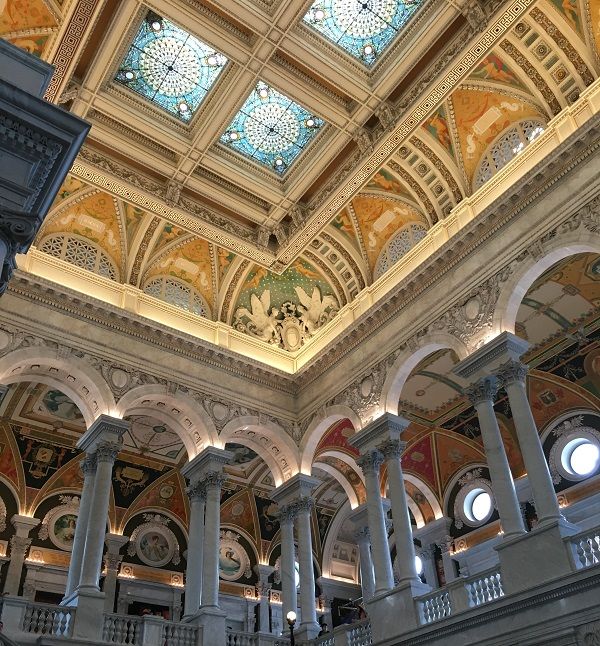 Once you're inside the building and through security on the ground floor, you'll need to check any bags. There are free coat checks available and the staff may remind you to hold onto your ID if you're going to register for a card.
From the Information Desk in the center of the entrance area (still on the ground floor), you'll walk straight back and through the "yellow tunnel" (really a yellow hallway). When I spoke to a woman for directions, she warned me I might think I was lost, but to keep walking and I would find my destination. You'll pass lots of closed-door offices along the path, which curves around the center of the building. At the end of the tunnel, you'll find an elevator to the left and right. Take one to the first floor.
On the first floor, you'll land right next to LJ139. There is a sign-in sheet near the security desk where you'll write your name and the date. Then, to the left of LJ139, you can join the line to register.
Know before you go: LJ139 is open 8:30 to 4:30 Tuesday, Friday, and Saturday and 8:30 to 9:00 Monday, Wednesday, and Thursday. LM133 in the Madison Building (the Reader Registration Office) is open 8:30 to 4:30 Monday through Saturday. Both offices are closed all federal holidays.

How to Get a Lib
rary of Congress Reader's Card
In the Jefferson Building, the Microform and Electronic Resources Center (where card registration happens) is also a research room, so you'll want to keep the volume down.
Inside LJ139, you'll first go to a small desk to the right where a staff member will ask whether you've pre-registered for a card. You can choose to do this prior to visiting the building; I opted to wait until I was there to fill out the application. If you decide to do it on-site, the staff member will direct you to a computer, which will walk you through adding your name, address, phone number, email address, and purpose of use (i.e. academic or personal/business). Once you've finished, you'll rejoin the line to see the staff member at the desk, who will verify your information. Then you'll go to another line to get your photo taken.
A staff member will request your ID, pull up your record, and prepare your card in a few seconds. Then, you'll be asked to move to a stool in front of a blue sheet where they'll take your photo. You can choose to smile or not.
Your card will process and print in a few seconds while the staff member assists the next person. You'll then be handed your card and can merrily enter the Main Reading Room or any other of the rooms available with a reader's card!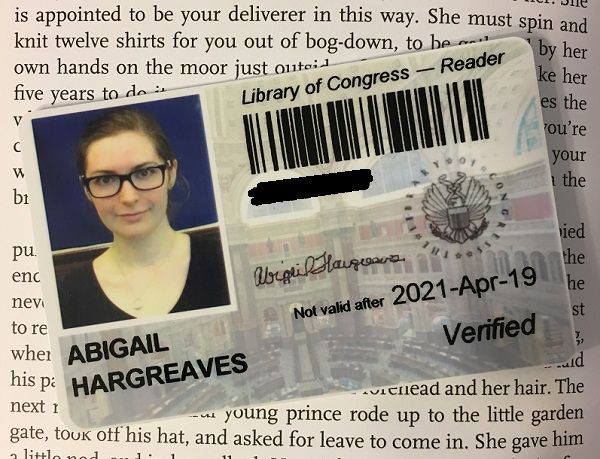 About the Reader's Card
Reader's cards are good for two years and must be renewed in-person with a valid ID. According to the site, acceptable ID may be a "valid driver's license, state-issued identification card, or passport."
Reader's cards can be used to access reading rooms and request materials. You can find out more about how to use your card (aside from as a cool conversation piece/point of bragging) here.
More on the Library of Congress
Just want to visit the Library of Congress? Find our guide of how to visit the Library of Congress here. Get a little more oomph for your visit with these tips on making the most of your Library of Congress experience. And, check out our Library of Congress archives here.