Audiobooks
How To Download Audiobooks: Your Ultimate 101 Guide
I've only recently started listening to audiobooks after downloading a free trial of Audible and finding that listening to books while commuting to work every day seriously adds to my reading time! But of course, as I started listening to audiobooks, I had to figure out the answers to a lot of questions. Here are some ways you can also get started with audiobooks: from how to download audiobooks to listening to them on your phone or in your car.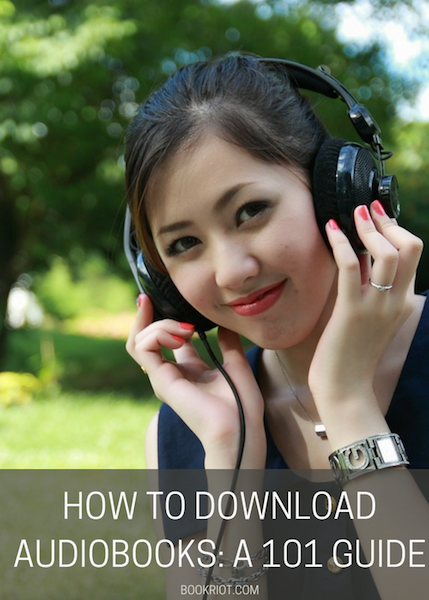 How to download audiobooks
Whatever device you're on, there's a basic method for how to download audiobooks. First, buy the book through iTunes or iBooks (for ioS) or Audible (for Amazon), or rent it from your library with Overdrive. Then, open the app on the device you want to listen from (iBooks for iOs, the Kindle or Audible app for Amazon, or Overdrive for library). Click "Refresh" at the top of the Amazon apps to automatically start downloading audiobooks. For iBooks, click "All Books" at the top of the screen, and then "Audiobooks" to automatically see your latest purchases. That's all there is to it!
Psst: Just for Book Riot readers: sign up for an Audible account, and get two audiobooks of your choice free!
How do you download books to iOS or Android devices?
The easiest way to download audiobooks to your smartphone is through audiobook apps. There are some great free ones out there, including apps for Librivox and Overdrive.
There are also audiobook apps for a paid subscription service, such as Audiobooks.com and Audible—both of which charge $14.95 a month. Personally, I'm a huge fan of the Audible app because of its many functions—including a great sleep timer and different badges which are awarded to you as you listen on it (I'm a big fan of arbitrary badges)!
Where can I download free audiobooks?
Audiobooks can be expensive! Thankfully, there are a lot of websites where you can get them for free.
For classic literature, Librivox is the perfect website. They take books from the public domain and have volunteers record the audio. They have a pretty vast collection. And, they also have a few books in other languages, including French, German, and Italian. Another website that has audiobooks from the public domain is LoyalBooks. They have an even wider range of languages available. There's also, of course, Project Gutenberg, whose range of audiobooks can be either computer generated or human read.
Lit2Go is a great website for free audiobooks, especially for students and English language learners. Their books are divided into readability scale based on Flesch-Kincaid grade levels.
A good website for children's audiobooks is StoryNory. The website has audio for various fairytales and classic children's fiction, along with myths and legends from various parts of the world.
Recently, Spotify has begun adding audiobooks to their collection. Unfortunately, it can be a little difficult to navigate all of the audiobooks in their collection. Typing in audiobooks into the search bar leads you to a few playlists, but doesn't show you their complete range. To view that, you'll have to download the Spooksapp, which lets you browse and play Spotify's full audiobook collection.
How do you download audiobooks from the library?
The best way to download audiobooks from the library is through Overdrive. You can download the app onto your phone, or access it on your web. All you have to do is find your local library and type in your library card number and pin in order to get access to a vast range of audiobooks.
Your local library might use a few other apps or websites that give you access to audiobooks. Most of them follow the same protocol. All you have to do is search for your local library and type in your library card number and pin.
How do you listen to audiobooks in the car?
With a smartphone, listening to audiobooks in the car is pretty simple! You can plug in your phone to your car with an aux cable, or even a USB cable, and just hit play.
Alternatively, you can set up a Bluetooth connection between your phone and car, and play audiobooks wirelessly.
If you're new to listening to audiobooks—like me—I would recommend trying out a variety of different apps and websites to see what works best for you. The best thing? Many paid audiobooks apps and websites will give you 30 days free trial, which means a free audiobook to test out their app and see if it works for you!
What other questions do you have about how to download audiobooks?