Pop Culture
How to Be a Customer in a Book Shop, According to Bernard Black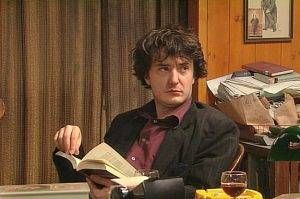 Anyone I've ever known who has ever worked in a used book store considers Bernard Black something of a mascot. A drinky, smokey, angry, irreparably untidy, Irish mascot.
The British series Black Books, starring the incomparable Dylan Moran as an angry misanthropic owner of a used book store, takes place in a shop that is something like a cross between Paris's famous Shakespeare & Co. and your basic broom closet. To anyone who has ever sold books, it is an inspiration.
In my days as a pusher of gently used and rare volumes, I encountered mostly amazing customers. But, as in any retail job, there will always be one or two of those people. You know who I mean. People who let their kids eat ice cream near the first editions. Who interrupt poetry readings by talking loudly on their phones. Who rearrange the entire erotica section.
I imagine that you folks out there find yourselves in used book stores fairly often. So I thought it might be useful to provide some basic rules for proper customer behavior, according to Bernard Black.
1 – It's good to know what you're looking for.
2 – But don't be too eager.
3 – We are not open during lunch.
https://www.youtube.com/watch?v=5ip9LXmPysk
4 – And I am not your interior decorator.
5 – Speak softly, in case your friendly bookseller has a bit of a hangover.
6 – And don't overstay your welcome.