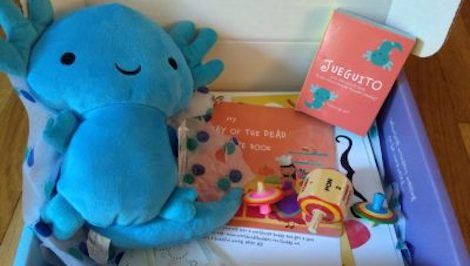 Children's
How Story Boxes Can Bring the World to Your Doorstep
I grew up in a small town, and the nearest bookstore was about an hour away. I loved going to the library, but I also loved having books of my very own. One way my parents filled the gap: books by mail. I loved the days when brand-new titles would arrive in the mail, and I'd read them over and over again.
As if the arrival of new books could get any more exciting (okay okay I know I'm a nerd), some publishers and businesses also offer story boxes: books coupled with toys, games, stickers and other goodies that tie into each story. Like Birchbox mets storytime.
The extra goodies are fun, but they also do some heavy lifting. The Story Box, for example, is curated by a speech pathologist focused on helping kids master new language skills and develop a passion for reading.
Recently, I discussed the way story boxes make a narrative more interactive and the joy of receiving a whole new world on your doorstep with Evi Triantafyllides, the co-founder of the Worldwide Buddies story boxes.
Tell me a little bit about Worldwide Buddies and your story boxes.
Worldwide Buddies is a series of picture books with characters from different countries around the world, designed to introduce children to diverse cultures, realities, and ways of thinking early on. With each story, we create a story box with additional toys, games and activities that bring each book and culture to life.
I love how interactive these boxes are. First, they get kids excited about books—who doesn't love getting a package in the mail?—and then they encourage young readers to get involved in the story in a tactile way—something you can't do with, say, TV. Was that one of your goals?
Yes, definitely. The primary goal was to create stories that introduce little ones to other ways of life, to help them "become friends" with children that have different day-to-day routines and customs while also appreciating the similarities that we often overlook.
While working on the first picture book, I realized the potential that stories have to exist and develop outside a book. We say that "stories are the endless curiosity they spark and the play they inspire in every little reader," and I believe it. We want our picture books to be seen as the foundation of the introduction to a specific culture.
With the story box, we want children to interact with the content in engaging and amusing ways, enhance what they've learned in the story through discovery, revisit the story with a different set of eyes each time, develop additional skills, and most importantly, play and enjoy themselves along the way!
These picture books are original stories, right? How are you finding authors and working to assemble an interactive set of toys, flashcards, recipes, and other information?
Yes they are. In effect, everything is designed and developed by us. Currently, I am the only author, and Nefeli Malie is the only illustrator. Same goes for the toys, flashcards, recipes, etc.
For every piece we create, we first do a lot of research, and make sure that we are in constant conversation with people from the corresponding country/culture, who can give us ideas, feedback, and ensure that what we produce is accurate and true to its roots.
Having said that, in every box, we also want to add a little something that originates from the specific country. In the case of the first story box, we included a traditional wooden toy, which is sourced from independent vendors from Mexico.
One thing I really liked about the Day of the Dead story box: the toma todo (known in other cultures as a dreidel) was made in Mexico. Is working with international partners a priority?
It is and it's not. Trying to find partners from the country we are working on each time, for the products we produce in house, would be a bit tough. We are trying to work with selected manufacturers with whom we can grow a relationship. For example, a partner that can print the books, a partner that can create the plush toy for each country, etc.
Having said that, international partners are crucial for anything we include in the box and is curated. As I've mentioned before, almost all of the story boxes' content is original content that we create internally, but we still want to add a little something that's traditional from each country (usually a toy). In those cases, and with particular reference to the toma todo, getting them from Mexican vendors was definitely something we felt gave it a more personal, sincere touch!
I love the emphasis on international cultures and traditions. Why was it important for the company to teach kids about diversity and acceptance?
Well, the whole reason Worldwide Buddies was created in the first place was to teach kids about diversity and acceptance! The idea was something I've been toying with (ha!) for more than five years now. I always had a fascination with how people live differently, have different priorities in life, perceive things differently.
We focused on stories because they are one of the most powerful ways in which children can imagine, accept, relate to, and inhabit different situations. So, what better time and way to teach them about diversity and acceptance, than this!
Your first story was about Mexico's Day of the Dead celebration—what's next?
China! The story has a completely different tone and focus. We are also producing a plush toy fashioned from an endangered animal in China that is also part of the book, alongside additional games, toys and activities that bring to life aspects of China in (hopefully!) fun and engaging ways.