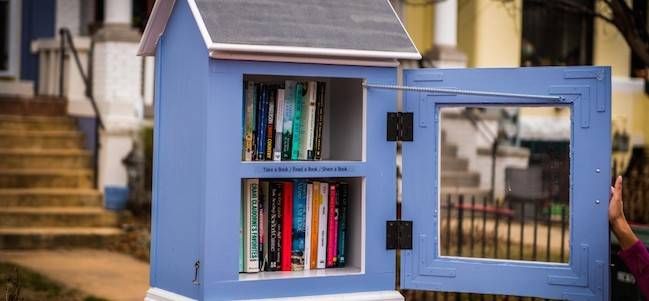 Critical Linking
How Little Free Libraries Inspired Little Free Pantries: Critical Linking, September 6, 2019
Critical Linking, a daily roundup of the most interesting bookish links from around the web, is sponsored by our giveaway of the year's best mysteries and thrillers so far!

---
"Most are charming wooden structures that, like the libraries, look like houses. They share the libraries' take-something-leave-something approach. But instead of books, Little Free Pantries — often placed in more-public locations — offer up non-perishable food and other necessities such as toothpaste and toothbrushes, tampons, school supplies, socks.
The aim is to help people without red tape or restrictions or records, and to do so without judgment and without inducing shame."
---
"Richard says he didn't even know the books existed until he got the brochure from the auction house on Nov. 18, 2016 which described the collection as "The Terry R. Koppel Collection of Ellery Queen," the court papers say.
Frederic and cousin Manfred B. Lee penned successful crime fiction books together under the noms de plume Ellery Queen and Barnaby Ross. Frederic also founded, authored and edited Ellery Queen Mystery Magazine for 40 years."
This story sounds like it was ripped from the very pages of a murder mystery.
---
"Until Friday, Watts' name and bio was on the festival web site among a host of other authors and performers participating. But on Friday, she said, she got a call uninviting her from the festival because of a separate body of work from her young adult-offerings: lesbian fiction/erotica."
Never mind that she wasn't even bringing the erotica to the festival; do they think the teens never heard of sex??