Audiobooks
How Listening to Audiobooks Helped Me Transition to Adulthood
This content contains affiliate links. When you buy through these links, we may earn an affiliate commission.
When I was a kid, I read for hours a day because it was my favorite recreational activity. That's still true of me as an adult, but now I don't have that kind of time.
A lot has changed during my transition from childhood to adulthood. I'm out of school. I'm living in an apartment rather than my parent's house or student housing. I'm navigating life in a new city, where I am solely responsible for all my own decisions. At times, this fills me with both an exhilarating sense of freedom and abject terror. Listening to audiobooks has helped me chill out a bit as I navigate this new life terrain. Here's how.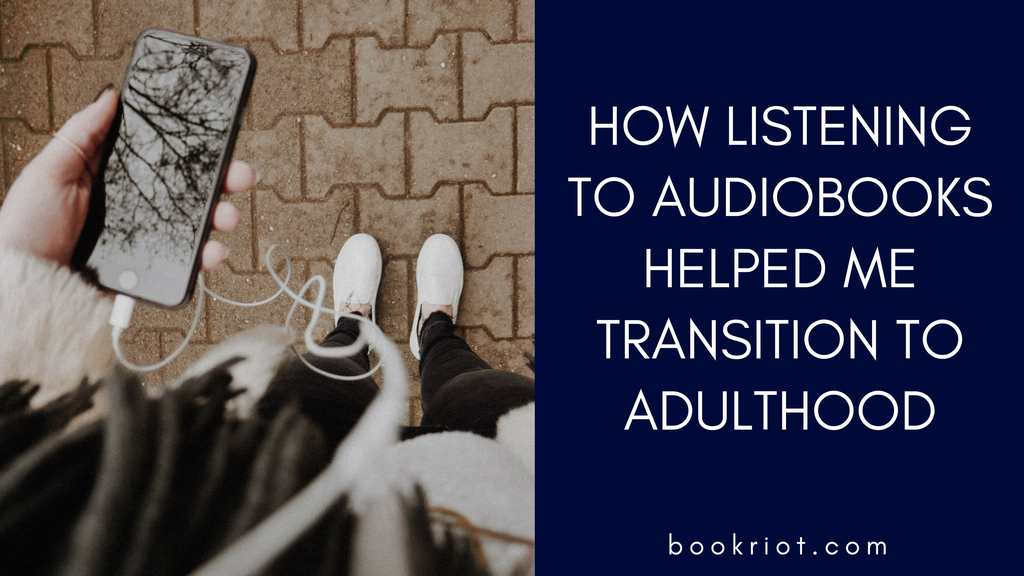 Listening to Audiobooks Means I Read on Even My Busiest Days
Being a reader has always been central to my sense of identity, but being an adult has meant I have less time to read than I did before. Audiobooks help me read on even my busiest days, though. Say I worked an eight-hour shift, ran errands, cooked dinner, and spent a few hours catching up on my freelance work before collapsing into bed, too tired to pick up a book. But during the commute, errands, and cooking portions of that hectic day, I managed to listen to four hours of an audiobook, the equivalent of about 125 pages.
Listening to Audiobooks Makes Alone Time Less Lonely
Since graduating and moving away from home, I've started spending a lot more time by myself. I go grocery shopping alone. I do laundry and household chores alone. I have two roommates, but we all have busy lives and different schedules, so I often cook meals alone, eat alone, and wash the dishes alone. These activities were occasionally solitary when I lived at home or in my college dorm, but now that's an everyday reality of my life. I love listening to audiobooks while I do these adult things because it makes me savor that solitude rather than dwell in it. Instead of thinking, "Well, time to cook a sad meal for one and eat it while scrolling mindlessly through Twitter," I think, "Awesome, now I have an hour to listen to the absolute fire that is Elizabeth Acevedo narrating The Poet X."
Listening to Audiobooks Fills Pockets of Time
When I get really caught up in a story, I look for any excuse to listen to a few minutes. Like fellow Rioter Laura, listening to audiobooks has changed the way I read. When reading lengthier books in print or on my Kindle, I feel like I need a big chunk of time if I'm going to get sufficiently drawn into the story and make any progress. With the same book on audio, I'll press play for the five minutes it takes me to do my makeup in the morning or during the seven-minute walk from the subway to my apartment. Any activity that doesn't require a lot of brain power is an opportunity—brushing my teeth, folding my laundry, making coffee. I mix it up with music and podcasts, too, but listening to audiobooks during these pockets of time adds up. According to the ultimate reading spreadsheet I use, I've listened to 139 hours of audiobooks so far this year; that's only about 37 minutes per day, but it's been enough for me to finish 23 books. Don't underestimate those little pockets of time!
Listening to Audiobooks Gives Me a Sense of Freedom
Like most recovering English majors, I've been savoring the post-graduation freedom to once again read whatever I want. Literary fiction, middle grade fantasy, celebrity memoir—I do not discriminate with my audiobooks. I've gone from Ian McEwan's On Chesil Beach to The Basque Dragon (the second book in a series called The Unicorn Rescue Society) to Tina Fey's Bossypants. My reading taste is broad, and downloading free audiobooks from my library lets me run wild with my selections. After all, I'm just using those extra pockets of time for this, so it all feels like an added bonus to my regular reading.
Listening to Audiobooks Helps Me Relive Comforting Old Favorites
I've read Ella Enchanted (a true feminist masterpiece) about a dozen times, but I recently listened to it for the first time. The emotional nuance the narrator brought to the protagonist gave me a new reading experience. It was a bit like that feeling you get when you watch a really satisfying movie adaptation. This has been especially true when the narrator is an actor I know and love. Armie Hammer delivers a swoon-worthy performance of Call Me By Your Name, and Lin-Manuel Miranda transported me to another headspace entirely with his narration of Aristotle and Dante Discover the Secrets of the Universe.
There's something so comforting about having familiar voices read you stories you love. It takes me back to the warm fuzzy feelings I associate with being read to as a kid, whether at library story time or at bedtime. And in some way, that comforting sensation makes adulthood feel a little less daunting.