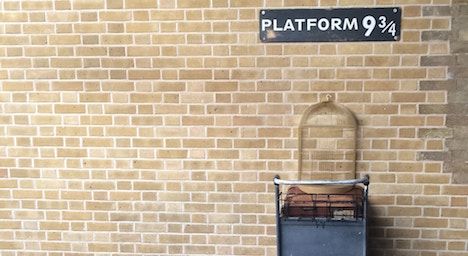 This content contains affiliate links. When you buy through these links, we may earn an affiliate commission.
This April, I embarked on a 9-day vacation to London, Bath, and Paris. It was my first time abroad and my first time abroad by myself. I wanted it to be the nerdiest, most bookish vacation I've ever been on. There are a thousand ways to go about a literary tour in major and minor cities all over the world, and we've written extensively about them (including London), so I'm just going to tell you how this Rioter conducted a London literary tour on her own using some of those guides (and also, how grand plans to see All The Things do not always pan out in reality, but damn if it wasn't a hell of a good time anyway).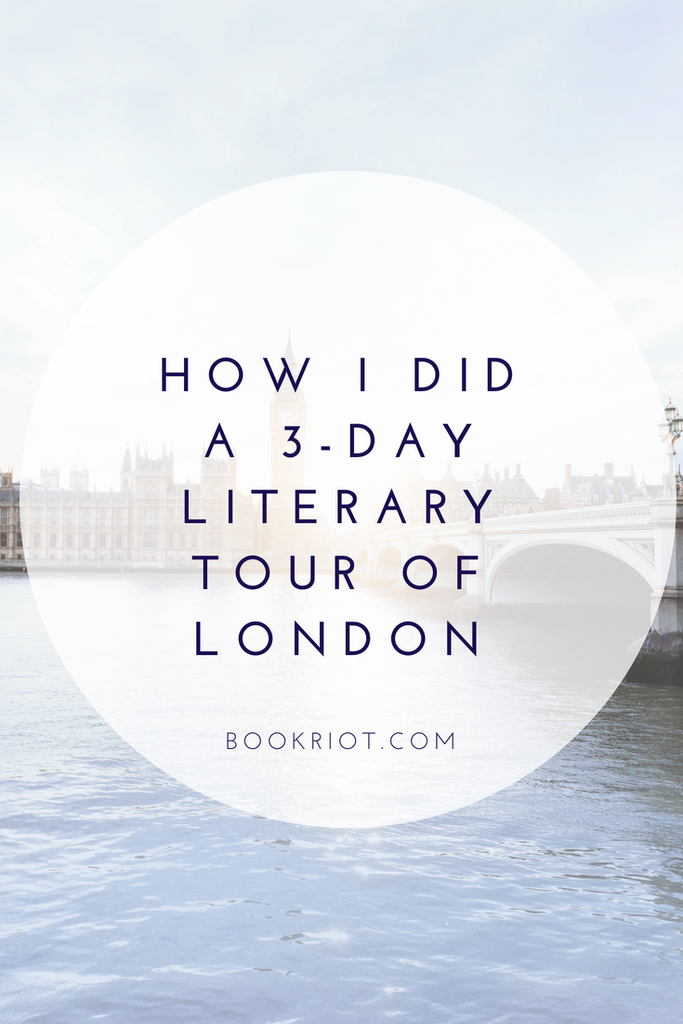 Day 1
Get into Heathrow at 6:30 in the morning, because the most affordable flight was a redeye. Take the Tube into London, find your Airbnb next to Regent's Park. Get lost in the rain while trying to find the British Museum.
Forget to visit Bloomsbury Gardens, famous for such visitors as Virginia Woolf, John Maynard Keynes, and the Shelleys. It was on the list you forgot to look at. You're off to a great start.
Charing Cross Bookstores
Walk along Charing Cross Road and pop into every bookstore you come across. Pick up two hundred-year-old copies of school primers and poetry collections and breathe in their musty scent. Visit the House of MinaLima to check out all the official Harry Potter graphic art.
Do nothing else literary for the day, because it is the first day, and you are hungry and tired. Converse with a nice Irish fellow at a Mediterranean restaurant, then visit a speakeasy accessible only through an old fridge.
Day 2
The Sherlock Holmes Museum
Walk across Regent's Park to visit the Sherlock Holmes Museum, which is just as delightful and charming as you knew it would be. Fall deep in like with the cheerful constable who guards the door to the museum; get a photo with him as you shake hands like you solved a crime together.
Dr. Samuel Johnson's House
After visiting Abbey Road Studios and stealing dirt from the grounds nearby because that's all your Dad asked for, and you don't care how weird you look digging in the dirt like Gollum in front of other tourists, you're not leaving London without Abbey Road Dirt, take the Tube to the St. Paul's Cathedral area. Promptly get lost walking down the winding pathways that are supposed to lead to Dr. Johnson's House. Surely you'll find it. It can't be that hard.
…Where is it??
Realize later that many people have asked themselves the same question for three centuries because his house is apparently hidden by a protective enchantment.
Finally find it after spotting the cat statue (his name is Hodge). It's a tall and narrow house with creaky floorboards and Dr. Johnson spent like nine years working on the English language dictionary as a little side hobby in it. There are massive original volumes of the dictionary inside and you kind of want to live in it.
Stumble upon Ye Olde Cheshire Cheese without meaning to while trying to find your way back to a main road. Huzzah! This old pub had patrons the likes of Charles Dickens, Alfred Tennyson, Mark Twain, and Arthur Conan Doyle. It has very low ceilings and is the perfect sort of hidey-hole for, say, a hobbit (in other words, it's amazing).
Shakespeare's Globe
Head across the Thames for the Globe Theatre. Get distracted by Tate Modern first; you didn't intend to check this museum out because you're on a tight schedule, but something about it draws you in (also: free). Cry because the art is so spectacular.
Stay quiet as a church mouse as you take the tour of the Globe, learn about its reconstruction, and nerd out about Shakespeare. Have the privilege of sitting inside and watching a rehearsal of a scene from Hamlet, complete with an accompanying jazz quartet.
Eat at Borough Market for dinner, and find The George Inn hidden down an alley nearby. You really didn't expect it to be tucked away like that. A neighboring inn (the Tabard, while it existed before 1876) was where Chaucer began the pilgrimage to Canterbury in the Canterbury Tales. Charles Dickens was a routine visitor (and mentions the George in The Pickwick Papers and Little Dorrit).
Harry Potter Tour
Meet your amazing tour guide for your Harry Potter tour (she is a Hufflepuff). There's only three of you touring this late, which leads to an unforgettable jaunt across downtown London.
See the entrance to the Leaky Cauldron, the employee entrance to the Ministry of Magic, and the street that inspired Knockturn Alley. Learn that Queen Elizabeth I had an affair with a pirate, that the HP scouts made many questionable decisions regarding filming locations and timeframes (the Westminster Tube stop at rush hour? Really?), and where legends of the Hand of Glory started. It is the best two and a half hours in recent memory.
Day 3
Kensington Gardens
Wake up sick with a cold; go out anyway. Take the wrong Circle train to get to Kensington Gardens and catch yourself before you end up on the outskirts of London. Enjoy a leisurely walk through Kensington Gardens to see the Peter Pan statue. Keep a safe distance away from the swans. Realize that all the doggos in this park are off leashes, and they are so happy.
Platform 9¾ at King's Cross
Take the Tube to King's Cross station and brave the insane crowds around the platform and the official Harry Potter gift shop. Content yourself with a picture of the platform off to the side, because there's no way you're waiting in that line.
The British Library
Go to the British Library and quietly lose your shit over the incredible bookbinding and gorgeous handwritten books, documents, and letters. The Magna Carta. Handwritten music from Beethoven and Chopin. Pages from Jane Austen's notebooks. Leonardo da Vinci's drawings and notes. Is this heaven? You never want to leave.
(You meant to see John Keats's house in Hampstead today, but it is too far and your whole body hurts. Take your sick ass back to the Airbnb for a nap.)
Westminster Abbey
Refreshed, take advantage of the cathedral's Wednesday Lates program, where the abbey stays open later and only charges half the price to get in. Have the abbey utterly wreck you because it is so stupidly gorgeous and massive.
Go past 13th century tombstones to get to Poets' Corner. Feel overwhelmed at the sheer amount of memorials and gravestones for some of the world's greatest contributors to English language literature.
That's it; you did it. It's off to Bath the next morning to see Jane Austen's home and the Roman bathhouses. Three days is not a long time, but your funds are limited (and so is your PTO), so you make the most of it. Because you've waited your whole life for this.