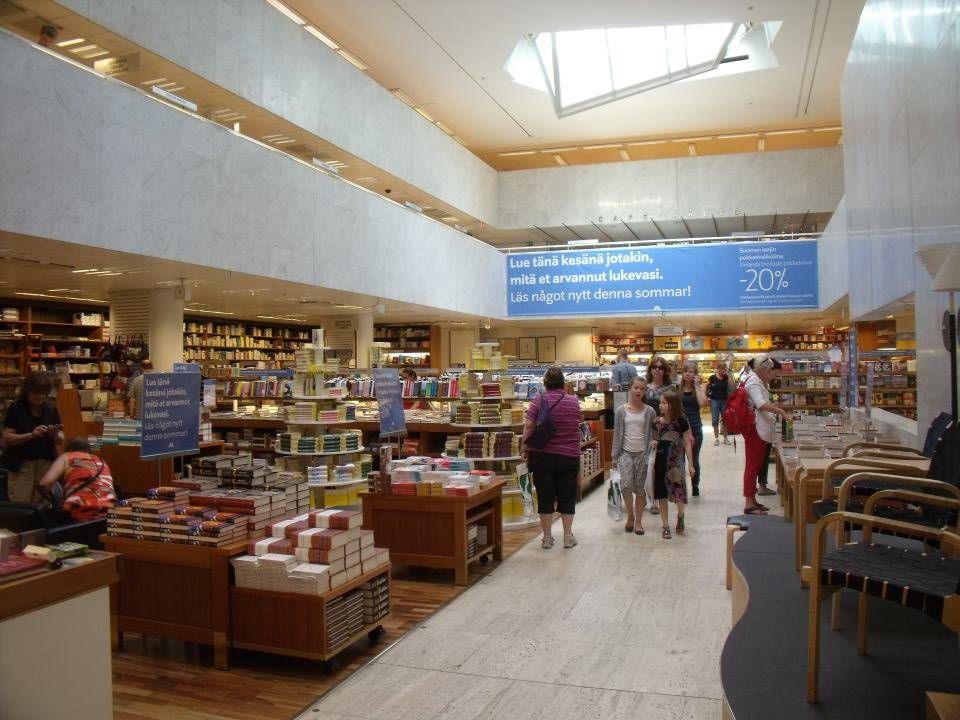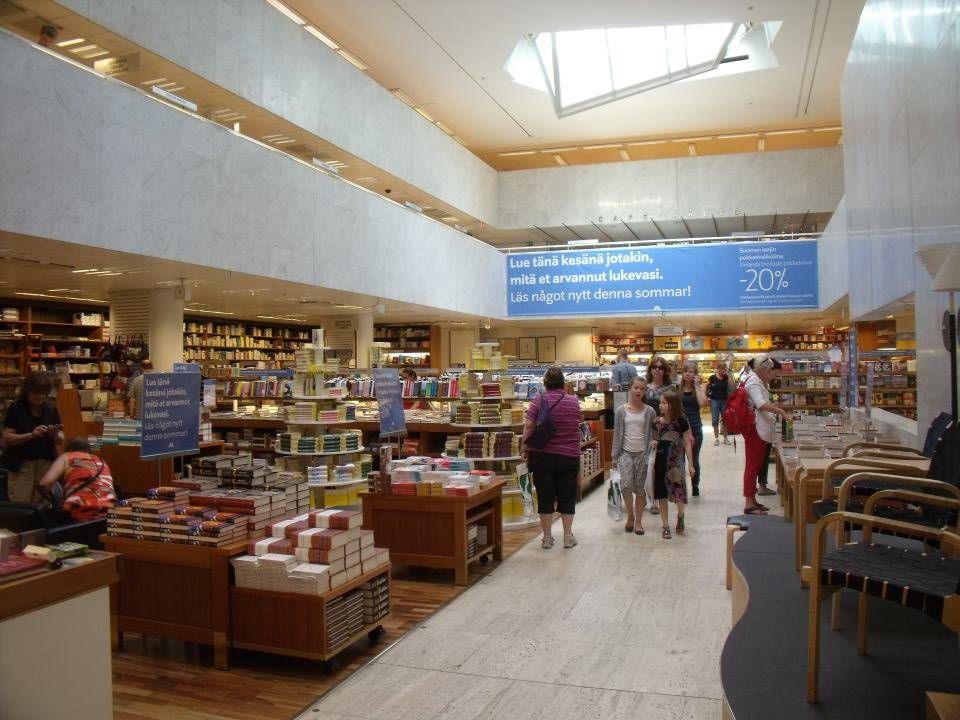 I'm sure this isn't exactly unique, but one of my favorite book-nerdish things to do whenever I travel is to seek out the local independent bookstore and make a visit. For instance, during BEA at the beginning of June, I made a pilgrimage to Strand for the first time. Total. Awe. (I bought a copy of Paul Auster's The New York Trilogy — appropriate, right?) On a trip to Helsinki last week, I made it to a store with the un-pronounceable name (unless you're Finnish) Suomalainen Kirjakauppa Oy (which, amusingly, translated, just means Finnish Book Store, LTD — pictured, left). At that place, I plunked down a mere eight euros (In Helsinki: food expensive, books cheap!) for a European copy of The Passage — with the cool European cover.
I mean, what better souvenir for a trip than a book? I can't think of one, personally. Bookmarks from those stores are also great souvenirs, and, without even realizing it, I've been collecting independent bookstore bookmarks (from Skylight Books in Los Angeles, Brazos Bookstore in Houston, and Dussman das KulturKaufhaus in Berlin — pictured, left — as three examples) for several years now (and so, now, make it a point to get one at each bookstore I visit). Looking back at these books and bookmarks makes me inordinately happy, I can tell you. I've always had this dream of taking a cross-country roadtrip and stopping in several cities at several bookstores, and interviewing their owners and writing a (possibly Book Riot?) piece about the experience. Maybe someday…(he says, wistfully).
So, of course, my definition of "bibliotourism" is probably a little unusual — most folks would consider bibliotourism to be more about visiting literary landmarks. If you find yourself across the pond in Britain, and have an afternoon to kill, you'd be stupid not to take The Full Bronte tour, right? Or, say you're in Atlanta, and you've grown tired of peach cobbler, why not stop into Margaret Mitchell's house for a visit? Or if you're in Austin, stopping by the University of Texas to check out the David Foster Wallace archive would seem like an absolute must, wouldn't it?
Stops like those have eluded me thus far in my travels. I don't know why, exactly. But anyway, if you love books, you don't stop loving books when you travel or are on vacation, do you? So the point of this post, really, is to find out what you, Book Riot readers, do to biblio-tour? Do you visit landmarks? Libraries? Etc.? Please comment below and let us know — especially about any interesting, funny, awkward anecdotes you might have regarding your bibliotourism!
(And, also, I'll be in Seattle this weekend — and plan to stop by The Elliott Bay Book Company to pick up a copy of Dave Eggers's new novel, A Hologram For the King. Any other Seattle book store suggestions?)