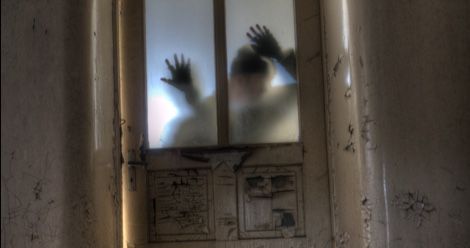 Horror
If You Loved That B Horror Flick, Read This Novel
This content contains affiliate links. When you buy through these links, we may earn an affiliate commission.
I fell in love with the horror genre pretty early on in life, thanks to my dad's extensive collection of John Saul and Stephen King paperbacks. Later on, in high school, I started watching B horror movies with my best friends. Ten years later, B horror played a central role in the courtship between me and my now-husband. We spent many afternoons in bed, watching such fine flicks as Rumpelstiltskin and Death Bed: The Bed That Eats. These days, there's still nothing that gets me as fired up as a good horror flick or psychological horror novel.
If you're the same, this season might just be your reason for living. Allow me to make it even better by sharing some of my favorite B horror films—and the books you should read immediately afterward.
If You Liked The Descent, Read Josh Malerman's Bird Box
I think this might be my favorite horror movie of all time, and not because of the creatures stalking the film's group of spelunkers. Rather, it's the relentless sense of claustrophobia that gets to me. If you're also freaked out by the sense of helplessness that comes with being stuck, watch this movie, and then read Bird Box. This story of a group of strangers stuck in a house trying to avoid creatures they've never even seen before has the same oppressive atmosphere. Also, oh my god. Don't you want to be prepared when Netflix drops their own Bird Box adaptation?
If You Liked Dead Alive, Read Lily Anderson's Undead Girl Gang
Out of all the horror flicks me and my now-husband watched together back in the day, Dead Alive is my absolute favorite. I mean, it's just ridiculous. Never heard of it? A grown man's overprotective mother is bitten by a Sumatran rat-monkey and she turns into a zombie. From there, things go south pretty quickly. The film contains a diverse cast of characters, including a priest who "kicks ass for the lord." I know, right? For another humorous zombie horror that doesn't take itself too seriously, try Undead Girl Gang, a YA novel about a girl who tries to solve a mystery by bringing a group of dead girls back to life.
If You Liked Evil Dead II, Read Victor LaValle's The Devil In Silver
The Evil Dead trilogy is truly something special in that each film in the three-part series has a completely different feel from the others. While the first film is earnest in its supernatural horror aspirations and the third film is over-the-top absurd, the second film does a brilliant job of painting a picture of someone who is slowly going mad. Speaking of madness, who else here totally fell for LaValle's work after reading The Devil in Silver? If you haven't read it yet, it's about the residents of a psychiatric ward and their endless battle against an alleged beast who eats patients in the night. Is it real? Is it delusion? Find out.
If You Liked Black Sheep, Read Michael Logan's Apocalypse Cow
This film out of New Zealand, about bloodthirsty, demonic sheep gone wild due to genetic experiments, was surprisingly delightful. And while this book recommendation might be a bit too on the nose, I'm going to make it anyway. Apocalypse Cow is also about evil farm animals. In this case, the animals are cows, and they're also, um, zombies. Hells yes.
If You Liked Battle Royale, Read Stephen King's The Long Walk
I don't know what it says about me that I found this sadistic film to be so much fun. Based on a Japanese novel of the same name (a book that later led to a manga), it's about a group of junior high schoolers who are whisked away to an isolated island and forced to fight each other to the death. The story reminds me of one of my favorite Stephen King novellas, The Long Walk, in which teenage boys take part in a deadly walking contest for the public's entertainment. Again, the last man standing wins (if you can call it winning).
If You Liked TerrorVision, Read Christopher Moore's Practical Demonkeeping
This last B horror is a film I discovered later in life, after taking a BuzzFeed quiz (because of course), and it quickly rocketed to the top spot on my mental list of awesome horror. It's a sci-fi horror comedy from the '80s in which an alien is sent to earth through one family's satellite television. Three kids take the alien under their wing in an attempt to prevent it from going on a hungry, human-eating rampage. If you dig it, you might want to turn next to one of the literary stars of horror comedy: Christopher Moore. His debut novel is about a man and his demon servant, whom he is desperate to get rid of.
Enjoy your film-book double feature of choice!