This content contains affiliate links. When you buy through these links, we may earn an affiliate commission.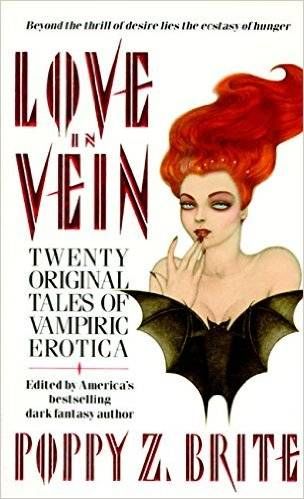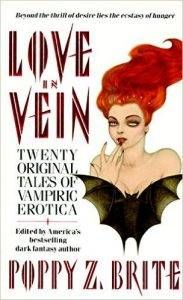 I tend to be nostalgic, so I may be a bit biased in saying that the 1980s and 1990s were a heyday for horror and the paranormal in films, television, and of course, books. These are the decades that gave us Stephen King's iconic books It, Pet Sematary, and Misery (and their accompanying films). We got the film for Interview with the Vampire. We got the X-Files and Buffy. R.L. Stine was on everyone's shelves. Scary Stories to Tell in the Dark. Clive Barker. Poltergeist. The Silence of the Lambs. Scream. The list goes on and on.
Because of this, it should come as no surprise that I stumbled upon* a number of erotic horror collections from this era that can spike your adrenaline in a couple different ways. Spoiler: SO MANY VAMPIRES. But it's understandable for that time. Vampires probably sold (sell?) very well. It's so easy to sexualize vampires. They're immortal. They could very easily kill you but they can be merciful. Their infinite amount of time allows them to learn multiple different languages and perhaps take up playing the piano. Everyone loves a talented pianist.
But of course, we mustn't forget the draws of ghosts, poltergeists, changelings, werewolves, and other paranormal / supernatural beings. These things too, can be just as erotic and terrifying as your local Lestat. As they say, there's a pot for every cover.
What is the draw to erotic horror? Well, there have been many people that connect sex and death, from Michel Foucault to Sigmund Freud. We needn't even look to them, though, for there are references in language such as la petite mort, "the little death," a French expression referring to orgasm. Both sex and death are parts of the great circle of life and both tend to be taboo topics for polite company. As I wrote in Exploring BDSM Through Erotica, sometimes it's the idea of being taboo that makes something so seductive. Erotic horror can allow your mind to wander into places both arousing and terrifying while you are safely in your home. Or on the train. Or in a plane. Or wherever you tend to read such things.
Much to my chagrin, many of the collections from the '80s and '90s (and a couple from 2000) mentioned below are out of print, though there are plenty of used copies floating around if you follow the links. But don't let that stop you! There's a wide world of erotic horror to be had, especially those available in ebook versions. If you can think of it, I'm pretty sure that someone somewhere has written erotica about it.
Love in Vein and Love in Vein II, Edited by Poppy Z. Brite, are my go-to collections for vampire erotica that is equal parts chilling and salacious.
Hot Blood: Tales of Provocative Horror, Edited by Jeff Gelb and Lonn Friend, is the first volume in a lengthy series of volumes of erotic horror. Here you will find a number of stories that include a variety of monsters, both human and inhuman.
Erotica Vampirica, Edited by Cecilia Tan, is, as the title suggests, primarily vampire erotica though a handful of werewolf stories are included as well.
A Taste of Midnight, Edited by Cecilia Tan has even more vampires (told you so)! A short collection of tales that offer fresh takes on vampires beyond the Dracula-esque types with whom we are familiar.
Embraces: Dark Erotica, Edited by Paula Guran, offer stories that break away from the traditional boundaries of horror to offer something quite unique and quite terrorizing as well.
Bitten: Dark Erotic Stories, Edited by Susie Bright, is a delightful collection of demons and witches, perverse and comedic, dark and sexy. It also includes an original tale by Weetzie Bat author Francesca Lia Block.
*have on my bookshelf