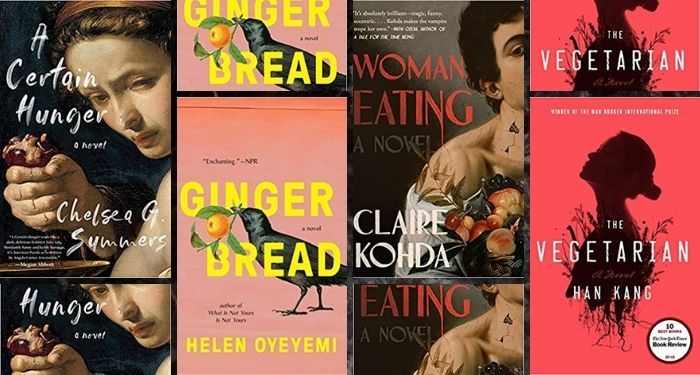 Horror
9 Horror Books for Foodies
This content contains affiliate links. When you buy through these links, we may earn an affiliate commission.
Gluttony. One of the seven deadly sins. And as such, a fitting device for horror tales. There are plenty of them that play into the sin of overindulgence. If you closed your eyes for just a few moments, I'm sure you could think of innumerable stories in which vampires sought to slake their unquenchable thirst. In which children have been sacrificed to gluttonous monsters. In which zombies have staggered around, moaning about their hangry hankering for braaaaaiiiiins.
And then there are the stories where mere mortals have been punished for their various appetites: for food…for wealth…for lust.
There is even a whole sub-genre of horror devoted to that very particular craving for human flesh. Fellow Book Rioter Liberty Hardy put together a whole post on books about cannibalism and, my god, the hunger for such tales never seems to give out. Even now, I'm making my way through a new comic series called Eat the Rich, which comes at the genre from what feels like a fresh angle.
But what about books where the meals are less monstrous? Where the food takes a back seat to the main plot, but is nevertheless described with great care? Or where the food is a main thread but, instead of filling readers with disgust, makes their mouths water? And what about those titles in which a protagonist's obsession with food inspires them to abstain, to the point where those in their lives fear for their safety?
Some recent reads have made me think about the appeal of such books. The way they inspire gluttony in the reader. The way they lead to unhealthy preoccupations with it. The way they perhaps even make the reader complicit in the horrors described therein.
Intrigued? Here are nine horror books for foodies that will make your stomachs growl despite yourselves.
---
Meanwhile, if you prefer your food without a side of horror, I invite you to check out my previous posts on comfort food cookbooks and other food-related titles.