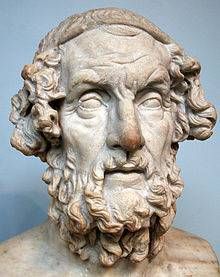 Homeric Epithets for the World's Most Famous People
You guys, I've been in such a Homeric mood ever since finishing Madeline Miller's retelling of the Iliad Song of Achilles. My fiancé and I were joking the other day about what our Homeric epithets would be. Which got me thinking- what would OTHER people's epithets be? Specifically the fifty most famous people in the world, according to this list.
Let's get our epithet on! Original owners of the epithets from the Iliad/Odyssey in parentheses for reference.
(In order of famousness)
1.) Michael Jackson, that kingly man (Odysseus)
2.) Lady Gaga, who marshals the thunderheads (Zeus)
3.) Lovely-haired Justin Bieber (Ariadne)
4.) Johnny Depp, the famous craftsman (Hephaestus)
5.) Sweetly-spoken Will Smith (Nestor)
6.) Swift-footed Ronaldo (Achilles)
7.) Eminem, master of the war-cry (Diomedes)
8.) Ox-eyed Katy Perry (Hera)
9.) Master mariner Leonardo DiCaprio (Odysseus)
10.) White-armed Marilyn Manson (various female characters)
11.) Beyonce, shepherd of the people (Agamemnon)
12.) Madonna, tireless one (Athena)
13.) Strong-greaved Lionel Messi (Achaeans)
14.) Wind-footedRoger Federer (Iris)
15.) Earth-shaker Shakira (Poseidon)
16.) Rihanna, man of pain (Odysseus)
17.) Cloud-gatherer Avril Lavigne (Zeus)
18.) Britney Spears, man of twists and turns (Odysseus)
19.)Angelina Jolie, father of gods and men (Zeus)
20.) Robert Pattinson, the famous lame god (Hephaestus)
21.) Brad Pitt, man of action (Odysseus)
22.) Adele, goddess most divinely made (Calypso)
23.) Fair-haired Cameron Diaz (Demeter)
24.) Barack Obama, of the endless speech (Thersites)
25.) Ever-young Miley Cyrus (Apollo)
26.) Bob Marley, son of Zeus (Hermes)
27.) Swaggering Justin Timberlake (Penelope's suitors)
28.) Akon, third born of the gods (Athena)
29.)Glancing-eyed Selena Gomez (Achaeans)
30.) Man-slaughtering Megan Fox (Ares)
31.) Taylor Swift, curse of men (Ares)
32.) Laughter-loving Eddie Murphy (Aphrodite)
33.) Loud-roaring Christina Aguilera (the sea)
34.)Silver-footed Michael Jordan (Thetis)
35.) Wine-dark Carmen Electra (the sea)
36.) Steve Jobs, messenger of the gods and conductor of men (Hermes)
37.) Drake, like to the gods (Achilles)
38.) Breaking through men Marilyn Monroe (Achilles)
39.) Nicky Minaj, man of exploits(Odysseus)
40.) Nicholas Cage, man of action (Odysseus)
41.) Rosy-fingered Pink (Eos)
42.)Cunning goddess Hugh Laurie (Calypso)
43.) Jason Statham, sacker of cities (Ares)
44.) Kristen Stewart, with unshorn hair (Apollo)
45.) Tireless one Ke$ha (Athena)
46.) The mighty Tom Cruise (Ajax)
47.) Spear-famed Hugh Grant (Menelaus)
48.) Jack Nicholson, loved of Zeus (Odysseus)
49.) Kim Kardashian, daughter of a noble house (Helen)
50.) Nicole Kidman, softly-braided nymph (Calypso)
What's YOUR Homeric epithet? I'm pretty sure I'm going with "Kit Steinkellner, Sacker of Cities."