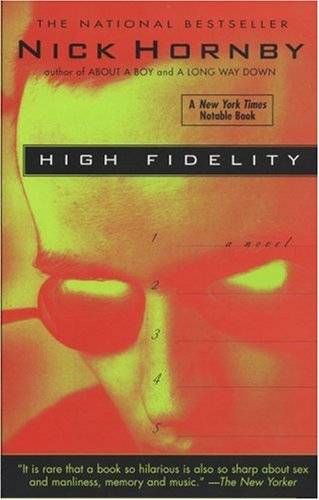 It's coming up to Christmas, and the winter holidays always get me in a space where I'm ready to reread. I don't typically reread books unless I am writing about them or teaching them (I'm one of those who can't bear the idea that there are SO MANY BOOKS going unread ALL THE TIME and rereading seems like such a desperate and brutal waste sometimes, sorry Peter), but I make some exceptions for the comfort books that I find myself reaching for en route to mum and dad's in mid-December.
High Fidelity by Nick Hornby: Admittedly this seems like a bizarre holiday reread, and it kind of is, but I find myself reaching for it every Christmas. I think there's something about the depth of Rob's dysfunction that makes even the most intractable holiday arguments somewhat less significant. Also, when you're starting to feel snarky about the holidays and people and people around the holidays, it's nice to read the world from Rob's perspective and think, "Hm. Maybe things are not that bad." Finally, I think I understand the most important people in my life a little more fully every time I reread this novel (but I hang out with a lot of obsessive nerds).
Anne's House of Dreams (Anne of Green Gables #5) by Lucy Maud Montgomery: Once upon a time I used to reread the entire Anne series every Christmas, but the practicalities of a Christmas break spent prepping for the January semester start soon quashed that childhood habit. Now I make a point to reread book 5, because it is my favourite and because it is contented and peaceful and quiet and perfect and a little sad, like all good trips back to one's childhood home tend to be. It's a perfect I'm-on-the-plane-home-after-the-holidays-and-I-don't-want-to-write-yet-another-bad-cell-phone-poem-about-belonging-and-homesickness book.
A Christmas Carol by Charles Dickens BECAUSE I AM A GODDAMNED CLICHE OKAY?: I have to admit the depth of my love for this Dickens classic. Yes, it's a little emotionally manipulative and relies on the idea that we don't so much have to fix the system as just make rich people good and okay fine it's the most obvious choice for a Christmas reread ever. But without rereading it my rewatching of A Muppet Christmas Carol would be so much less nuanced (and I can't be the only one who thinks that's one of the best examples of film adaptation ever… can I?).
I think in the end, what makes all of these novels so comforting is that I know them so well that I can curl up inside them. It's like being in a fort, but the fort is made of words instead of pillows and, because I'm an adult now, I can close the door and then my brother can't lie on the fort and break it. Or something more profound than that.
What are your most treasured holiday rereads?