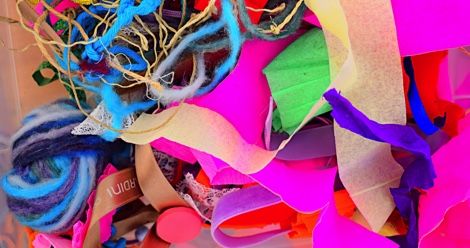 Humor
Hobbies For Romance Heroines
This content contains affiliate links. When you buy through these links, we may earn an affiliate commission.
Writers of any level can tell you that a quick way to character development is to give a character a hobby. Maybe your tough action hero has a sensitive side and likes to bake. Likewise, have your shrinking violet accountant really into crossfit, and therefore, a secret badass. As I've been on a bit of a romance kick, I've noticed a little bit of a trend to have hobbies as main personality driver and/or major reason for conflict in a lot of these romances. My personal favorites range from the geeky, like coding and cosplay (Level Up and Game of Hearts by Cathy Yardley) to the athletic, like power-lifting (Advanced Physical Chemistry By Susannah Nix) to the too real it hurts (like trying to turn your nerdy interests into a career as in Alyssa Cole's Can't Escape Love). Knitting is also a very, very popular hobby (see everything by Penny Reid, but especially Neanderthal Seeks Human).
Now dear fellow readers, let me tell you that I eat this up. This is an adorable, lovely feature of some of my favorite genres, but I ESPECIALLY love it in romance. It's also wonderful when an author actually does said hobby, took the time to actually research the hobby or painstakingly make it up. Yes, please give me three full pages on the mechanics of cake decorating or werewolf politics!
But that got me thinking, what hobbies aren't or haven't been explored yet? So I present to you:
A (non-comprehensive) List of Hobbies For Romance Heroines
Miniature Horse Breeder: Have those horses pull tiny chariots or what is even the point?
An Actual Tomb Raider: Indigenous art theft by another name.
Handcrafted Coaster Maker: Makes coasters out of interesting and found objects. Very trendy. I promise.
Ancient Greek Olympics Reenactor: Have an entire collection of olive oils to wash in or go home. Worth noting that the Olympic events were traditionally performed naked, just in case you need a steamy scene.
Art Restoration Specialist: There's a lot of chemistry involved, hopefully also between the leads. Will they find a mystery in the x-rayed version of a painting? Will they answer that mystery…with love?
Bubble Wand Collector: Both whimsical and a little creepy.
Likewise, a Troll Doll Collector: There was that movie, so it's probably more popular than we think.
Competitive Eater: Maybe it's hot dogs, or pancakes, or cocktail weenies. Just food, and lots of it.
Professional Madonna Impersonator: All I can say is this spells hijinks. Will she fall for a professional Elvis impersonator?
Wig Maker: For a hair-raising good time!
Deadhead: Appealing for a certain generation.
Cat Show Competitor: Really, the meet cute writes itself when Mr. Tingles hisses at Harrington Snugglesworth the third.
Professional Insulter: It's a thing! Also you can totally make this an "enemy to lovers" plot surrounded by a ton of snark.
Harmonica Player: Is this a profession? Is this hobby? Is this Blues Traveler fanfic? You decide!
Pickler: Pickles things. Cucumbers. Eggs. Cabbage. Garlic. Anything really. Also "Pickler" is a lot of fun to say and think of all the double entendres!
Candle Maker: Two Words: Hot. Wax. Also, think of the double entendres!
Ex-Nun Turned Lounge Singer: It's Sister Act in reverse, only without the criminal element. Or maybe with the criminal element? We still expect a Lauryn Hill cameo in the sequel.
Broadway Costume Designer Understudy: Not very glamorous, but a vocal and appreciative group. Give their blistered fingers a chance.
OSHA Inspector: They are all about a clean and hygienic environment, until it's time to get dirty. Hair nets and closed toed shoes are required.
Food Staging Specialist: A career for both commercials and the Instagram age. Make sure they don't mistake their motor oil for syrup or their shaving cream for whipped cream.
Hot Air Balloon Operator: Whimsy! Baskets! Fire! It writes itself.
Book Riot Contributor (1):
Are any of these already in use? Or have I missed other hobbies? Feel free to comment below with your favorites!
(1) Let us know when we can collect our Secret Duke Millionaire.