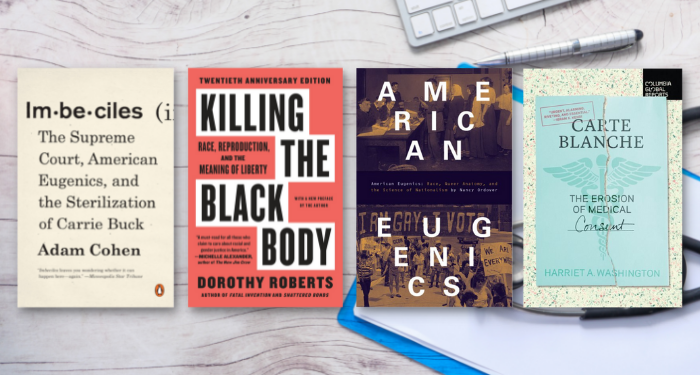 Lists
8 Books About the History of Eugenics in the United States
This content contains affiliate links. When you buy through these links, we may earn an affiliate commission.
Eugenics, a process of selecting for "desirable" characteristics and against "undesirable" ones in future generations of humans, is a school of thought that has cast a long and chilling shadow over US history in the late 19th and throughout the 20th century; and although the original eugenicist ideas have been discredited and criticised, its effects continue to have an impact to this day. Francis Galton coined the term in 1883, and promoted encouraging people with "desirable" traits – generally white, abled, middle class people – to have more children, and discouraging (or often actively preventing) people of colour, disabled people, and poor people from having children.
Eugenics is most commonly associated with Nazi Germany, where the people deemed "pure Aryan" by the white supremacist government were rewarded for having large families, and Jewish people, Roma people, people of colour, LGBTQ+ people, and disabled people, among others, were forcibly sterilised as well as being murdered as part of the Holocaust. However, eugenicist thinking was also prevalent in the USA. Famous figures such as John Harvey Kellogg were outspoken eugenicists, and in 1927, it was ruled that the forced sterilisation of people with learning disabilities was constitutional. While this law was overturned in the '40s, forced sterilisations, particularly of disabled women, indigenous women, and Black women, continued at least until the late '70s, and sometimes beyond.
Modern science has been criticised for adhering to eugenicist ideas when considering the possibilities of gene editing processes, such as CRISPR. Disability activists have criticised government rhetoric on "living with COVID", which has often ignored the needs and vulnerabilities of people with chronic or other serious health conditions, and have pushed back against statements which have downplayed the COVID deaths of people with pre-existing health conditions. Understanding the impact of historical eugenicist thinking on the modern US is important, but fortunately, many authors have explored this disturbing topic. Here are some of the best in-depth looks at the history of eugenics in the United States.
---
While these books are excellent starting points, it's important to remember that not everyone affected by the present-day impacts of eugenicist thinking is easily able to have their work or stories accepted and taken seriously by publishers or mainstream outlets. Blogs and social media channels can be an excellent way to read perspectives from disability activists, people of colour, and other people who have additional social barriers to having their bodily autonomy respected. Imani Barbarin writes at Crutches and Spice, publishing work on current events, pop culture, racism and ableism. Writers at the Disability Visibility Project, founded by author Alice Wong, have published extensively on ableist responses to the COVID-19 pandemic, as well as the disadvantages imposed on disabled people – particularly those with intersecting marginalisation, such as being POC or LGBTQI+ – by a society that sidelines those who do not fit the abled model.
For more books on disability rights, try 5 Books for an Introduction to Disability History in the US. To get a comprehensive view of medical history, look at 100 Must-Read Books About the History of Medicine.