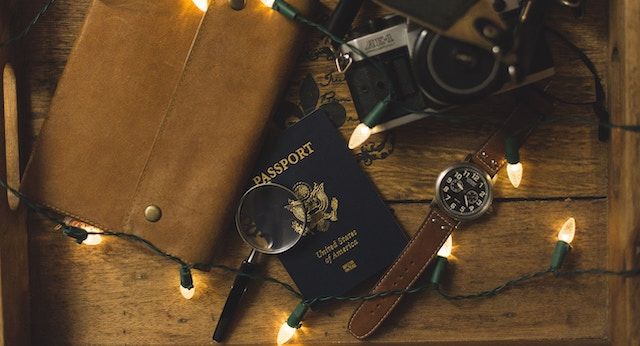 Lists
10 Great Historical Crime Novels
This list of historical crime novels is sponsored by David Baldacci's One Good Deed.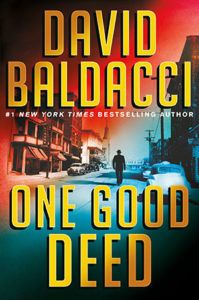 It's 1949. When war veteran Aloysius Archer is released from Carderock Prison, he's sent to Poca City on parole with a short list of do's and a much longer list of don'ts. But the small town quickly proves more complicated and dangerous than Archer's years serving in the war or his time in jail. When a murder takes place right under Archer's nose, police suspicions rise against the ex-convict, and Archer realizes that the crime could send him right back to prison . . . if he doesn't use every skill in his arsenal to track down the real killer.
---
Do you like your historical fiction with a side of murder, theft, and extortion? From medieval times to the Victorian era and all the way through the 1950s, we've compiled a list of historical crime novels that will make you glad you live in the modern era of technology and forensics!
A Study in Scarlet Women by Sherry Thomas
This retelling of Sherlock Holmes is set in Victorian times, and cleverly recasts Sherlock as Charlotte Holmes, a disgraced society lady who has no intention of playing by the rules and wants to set out on her own. But when a murder casts her family under suspicion, she must solve it in order to clear her father and sister's names. With a Mrs. Watson and a whole slew of gender-bent characters, this is an excellent start to a riveting historical crime series!
Tangerine by Christina Mangan
Alice Shipley has yet to adjust to her life as a newlywed and recent transplant to 1950s Tangier, where her husband is stationed, when her former college roommate shows up at her doorstep. Lucy is everything Alice is not—outgoing, bold, and imaginative. She wants to pick up their relationship right where it left off back in Vermont, but Alice is hesitant after a horrible accident their final year of college damaged their friendship and devastated Alice. Does Lucy really want to make amends—or does she have something more sinister for Alice in mind? Set against the backdrop of a country pushing back against British colonialism, this is a taut psychological thriller.
The Poison Thread by Laura Purcell
Set in Victorian times, this dark psychological mystery follows Dorothea Truelove, a young and wealthy society woman with an interest in phrenology who goes to Oakgate Prison on charity work. There, she encounters a strange young seamstress named Ruth Butterham who claims that her stitching has the power to kill. Indeed awaiting trial for murder, Ruth fascinates Dorothea, and Ruth draws her into her deadly web, forcing Dorothea to confront what she believes is possible about murder.
The Widows of Malabar Hill by Sujata Massey
Perveen Mistry is the first female solicitor in 1920s Bombay, and she is happily employed by her father. She mainly works in contracts, and when a puzzling will comes across her desk regarding the fates of three widows, she decides the case warrants a closer look. As Perveen probes into the case, she inadvertently walks straight into a murder mystery involving the widows and the executor of their will. She must navigate social customs, the law, and systemic racism and sexism in order to get to the truth.
See What I Have Done by Sarah Schmidt
Sarah Schmidt takes a closer look at the famous case that has fascinated decades of true crime aficionados: Lizzie Borden and the murder of her father and stepmother. In this fictional retelling, Schmidt explores the crime from the points of view of Lizzie, her older sister Emma, their maid Bridget, and a strange young man, slowly revealing a family coming apart long before the fateful murders. This is a dark and enthralling imagining of what could have happened that dark day.
By Gaslight by Steven Price
Two men from very different backgrounds find themselves working together in Victorian London to track down a dangerous con man. William Pinkerton, son of the famous founder of the Pinkerton Detectives, is looking for Edward Shade, the one criminal his father never managed to track down. Adam Foole just wants to find his long-lost love. The two men must find a way to work together if they're going to get what they desperately need, traversing the dark underside of London to find the answer to their respective mysteries.
A Beautiful Poison by Lydia Kang
Three friends—Allene, Jasper, and Birdie—are gathered to celebrate Allene's engagement when an acquaintance is poisoned to death. Not long after, more deaths occur, and all seem linked to Allene. As the Spanish flu epidemic draws closer and closer to their home in New York City, the three friends race to discover who is poisoning so many people and passing their deaths off as a sickness—before one of them is next. Kang packs this novel full of fascinating historical and medical details to bring to life the chaotic and fateful fall of 1918.
Burial Rites by Hannah Kent
Set in Iceland in 1829, this book is based on true events as it follows Agnes, a young woman accused of murdering her master and sent to await execution on a remote farm. But as the farmer's wife and daughter and a priest charged with counseling Agnes before her death learn more about Agnes and her side of the story, they begin to have doubts about her guilty charge. This is a riveting tale of the last woman to be executed in Iceland, and is soon to be a movie starring Jennifer Lawrence!
The Alienist by Caleb Carr
Set in Gilded Age New York City, a journalist and a psychologist (known as an alienist) team up after the body of a boy is discovered by the Williamsburg Bridge. As they look into the case, they begin to develop a profile for the killer, but will they be able to find him before he kills again? Their dark journey takes them through the many memorable settings and sights of the city during the excitement of the 1890s. This book is the basis of the TNT TV show by the same name.
The Name of the Rose by Umberto Eco
Set in 1327, Brother William is sent to an Italian abbey to investigate the claim that the monks there are guilty of heresy. Before he can truly get to work, seven deaths distract him and he becomes a detective, relying on an obscure string of puzzles and twists in order to discover the dark truth hiding at the center of the abbey. Regarded as a modern classic, this complex and riveting novel is not to be missed!
---
What's your favorite historical crime book? Share with us on social media!