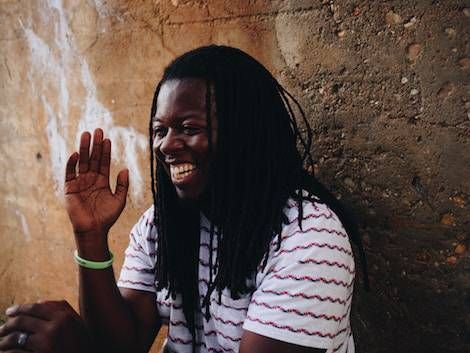 Humor
7 Hilarious Woman Writers Who Made Me LOL in Public
This content contains affiliate links. When you buy through these links, we may earn an affiliate commission.
I recently finished reading David Sedaris's latest book, Calypso, after not having read anything from him in what feels like forever. "Welp," I said to my husband after snorting out loud at least seven times in the space of two minutes. "He's still got it."
I began reading Sedaris at around the same time I was reading other male humorists: columnist Bill Ervolino, memoirist Augusten Burroughs, travel writer Bill Bryson. There's no doubt that reading them made me shift the focus of my own writing. But as I finished Calypso (which was a true delight), I wondered why, way back when, I hadn't read any women writers. Were women writers just—gasp!—not funny?! (Spoiler alert: No.)
In order to rectify this grave injustice I have committed against all female humorists, may I present to you my seven favorite hilarious women writers who made me LOL in public.
Tara Clancy
I just mentioned Clancy in my list of awesome creative nonfiction titles. But I have to include her here as well. I was introduced to Clancy's work at a Book Riot Live panel on using humor to tackle difficult topics and, as I mentioned previously, she had me laughing so hard I was weeping. Clancy is a master storyteller, and has shared her stories on the Moth Radio Hour, NPR's Snap Judgment, The Story Collider, and Risk! This funny lady knows what she's doing. Her memoir, The Clancys of Queens, was just as amazing. My only beef with Clancy is that she doesn't already have a billion more books for me to binge read.
Felicia Day
I became aware of Day when my husband fell in love with her. So then, of course, I also had to watch The Guild, a silly web series about an online gamers' guild. I bought Day's memoir, You're Never Weird on the Internet, as a Christmas gift for my husband. I'd never really enjoyed celebrity memoirs myself. But he urged me to read it, and I suddenly wanted to be BFFs with this goofy, self-deprecating, socially anxious, and awkward woman. Day apparently also penned a comic based upon her web series, so that's going on the TBR.
Tig Notaro
After breaking the seal on celebrity memoirs with Day's book, I turned to Notaro next. I already loved this stand-up comic's dry, dark sense of humor on her show One Mississippi. She impeccably pulls off this same sense of humor in her memoir, I'm Just a Person. As with Clancy, I wish there was more for me to read.
Phoebe Robinson
A comedian and one of the 2 Dope Queens podcasters, Robinson is adept at making people laugh. In her 2016 essay collection You Can't Touch My Hair, she brings on the belly laughs while at the same time tackling the un-funny reality of being a black woman in America. This was one of my favorite reads when it first came out, and I am beyond excited to see she has a new collection coming out this fall: Everything's Trash, But It's Okay. I am pressing the pre-order button so hard right now.
Bunmi Laditan
Laditan is the woman behind the popular Twitter account @HonestToddler, and the author of several related books. My personal fave is Toddlers Are A**holes, because it's true: My toddler is an asshole. Now that my daughter as turned 4 (what Laditan refers to as the "fucking fours"), I think I'm due for a re-read.
Allie Brosh
Though a good friend of mine sent me comics from Brosh's blog from time to time, I came to the book version of Hyperbole and a Half years after it was published. And then I was basically like, "WTH was I even waiting for?" This is one of those books that had me simultaneously crying and wheezing with uncontrollable laughter even though it tackled very tough topics like depression and adulting and the challenge of adulting while depressed. In short: she got me. And it felt so good to be so understood. She was supposed to release another book in 2016, but it was eventually canceled, and activity on her blog also slowed down and eventually stopped. This makes me want to tear out my hair in frustration, but Brosh has reportedly stepped away from her work in order to get out more, engage with the world, and do the things that help prevent her depression from taking over. Which is something we can all stand behind.
Jenny Lawson
Finally, I can't write a list like this without mentioning the very first funny lady I ever became obsessed with (but in a non-creepy way, I swear). I first discovered her on what I generally refer to as "mom Twitter," then began reading her blog The Bloggess. Her first book, Let's Pretend This Never Happened, did not disappoint, and she's since gone on to publish two more books. Like many others on this list, she tends to be brazenly open about depression and anxiety, which I suppose means that my favorite humor is of the dark and honest sort, with a heavy dose of ridiculous.
That being said, who should I read next?