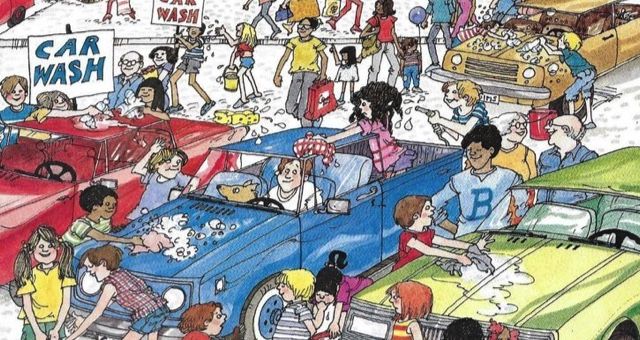 Children's
Remember Highlights for Children? It's Now a Series
There is exciting news for fans of the beloved Highlights for Children magazine, an educational publication for 75+ years. We live in a post-newsprint world, with magazines continuously folding in a tragic game of Who's Next (in early 2019, one-time teen mag giant Seventeen announced it will be reducing the quantity of printed issues per year). So it's pretty impressive that Highlights remains a beloved addition to children's shelves and that it's so popular there is even a documentary about its founding and continued success. Directed by Tony Schaff, 44 Pages has been screened at respected festivals and events all over the US. Though I haven't seen the documentary myself, it sounds like a loving look at the work that goes into the magazine's creation—apparently a lot of thought is put into avoiding cultural caricatures, and group advocates are regularly consulted.
The History
A married pair of children's educators, Garry Cleveland Myers and Caroline Clark Myers, first created Highlights in 1946. It remains family-owned till this day. Aimed at ages 6–12, the editors packed it full of engaging learning materials such as stories, brainteasers and puzzles. According to their website, The Myerses believed that children best developed from a mix of "using their creativity and imagination; developing their reading, thinking, and reasoning skills; and learning to treat others with respect, kindness, and sensitivity." The magazine's slogan has been "fun with a purpose" since the beginning, and its pages have never contained any ads.
I fondly remember Goofus and Gallant; either I learnt manners from it, or else I read the comic to feel superior that other people needed to learn manners from it. Can't remember which, but I loved reading about Goofus's bad life choices. G and G are still out there, just giving some sweet advice to still-malleable kids, can you believe?
It's amazing how the company has expanded over the years. Products include books, games, websites, and book clubs—there's even an app for that (multiple, actually). Their magazine itself continues to modernize as it promotes education and kindness, incorporating more diverse portrayals over the years; there was the inclusion of a same-sex family in 2017.
The Series
Newly available as of this July, Highlights and Dreamscape Media have created a 26 episode series, Highlights: Watch and Learn! You can watch the trailer here. In the show, discussions between real kids alternate with illustrated stories, making the content engaging. According to the press release, "Each episode is centered around a theme ranging from making friends, manners and seasons…learn[ing] key social skills and develop[ing] their imagination and creativity." Another bonus is that episodes are freely accessible to U.S. library patrons through Hoopla. Back in March, Hoopla also made available Highlights ebooks and audiobooks. Highlights content is available through Hoopla's Kids Mode feature, but the series is also available for purchase through Amazon, Vimeo On Demand and Mackin.
I watched the first episode, "Making Friends." Helping kids navigate friendships was the focus, and especially thoughtful in the live-action conversations. Suggestions are given by the children about coping with sleepovers, an activity that can be very anxiety-filled. That is a very basic childhood experience, and one that some may not realize is normal. Addressing it this way shows its universality.
Highlights prioritizes educational content over ad promotion, and it's wonderful that they have chosen to release their new series for free through Hoopla. Put your always valuable library membership to use and stream the series with your favorite small humans.