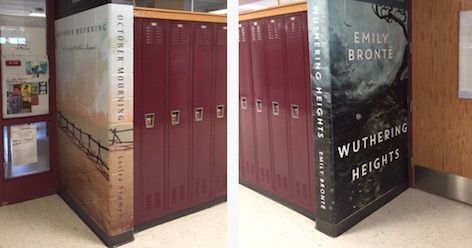 Critical Linking
High School Transforms Hallways Into Iconic Book Covers: Critical Linking, January 11, 2019
Sponsored by our Unusual Suspects giveaway of $100 to the bookstore of your choice!
---
A novel way to encourage reading, Mundelein High School District 120, Chicago, Illinois have transformed their English department hallway into an amazing learning environment.
____________________
Hoffman's morality tales successfully freaked out German kids in the late 1800s, in the best possible way. And in fact, many of the world's greatest children's stories are so frightening (intentionally or not) that they've left readers with a host of unsettling memories. What are the most delightfully disturbing children's books and stories from your part of the world? We want to hear about them.
Go tell Atlas Obscura about the dark books of your youth.
____________________
Late last week, I received some odd and unexpected news: Pete Ricketts, the governor of Nebraska, doesn't want you to read my book, THIS BLESSED EARTH. Let me explain.
The book was chosen by the Nebraska Center for the Book as this year's One Book One Nebraska selection—kicked off each year by a ceremonial proclamation from Ricketts. This morning, I was supposed to be at the Nebraska State Capitol for the signing, BUT there's a wrinkle… Ricketts has refused to sign the proclamation encouraging Nebraskans to read my book.
What even is going on in Nebraska with their One Book?