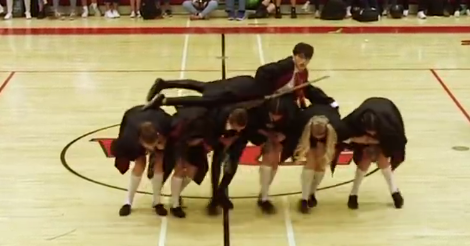 High School Dance Team Brought It Harry Potter Style! Critical Linking, October 17
Sponsored by Ploughshares

---
This ain't your typical Yule Ball, folks. The students of Arizona's Walden Grove High School are at it again, and they're taking us to Hogwarts with yet another viral dance sensation that'll blow you away.
High school dance team brought it Harry Potter style!
---
The book is less a story than a series of vignettes depicting African American life and childhood on a particular block on New York City's Upper West Side — one that looks "a little like the street in the movies or the TV when the cop cars come from that end of the street and then they come from the other end of the street." Baldwin, who considered the book a "celebration of the self-esteem of black children," began working on it shortly after his historic conversation about race with anthropologist Margaret Mead and set out to find the right illustrator for it.
A beautiful look at James Baldwin's illustrated children's book: Little Man, Little Man.
---
So, what happens to a culture that encourages girls to read books about boys but shoos boys away from reading books about girls?
What happens to a boy who is taught he should be ashamed of reading a book about a girl? For feeling empathy for a girl? For trying to understand how she feels? For caring about her?
What kind of a man does that boy grow up to be?
Shannon Hayle eloquently discuses what we're teaching boys by discouraging them from books about girls. (I *gesture wildly at the answer shouting at us from the news every day *)