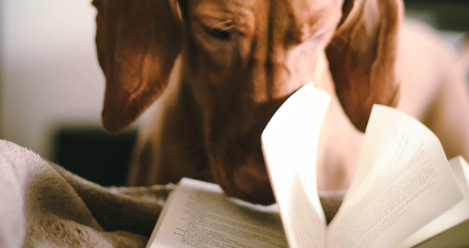 This content contains affiliate links. When you buy through these links, we may earn an affiliate commission.
This post of heart-warming animal books is sponsored by Yellow Pear Press.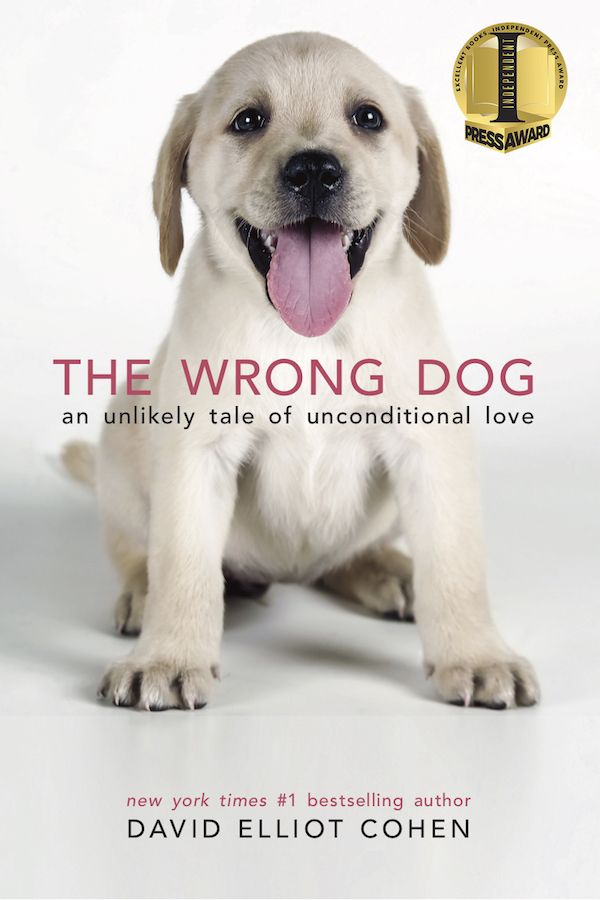 In THE WRONG DOG, New York Times bestselling author David Elliot Cohen tells the humorous, engaging story of what happens when puppy pick-up instructions go disastrously awry and a boisterous rough-and-tumble ball of energy bursts onto the family scene. So begins the chronicle of the unexpected love between a big family and their giant lug of a high-spirited Lab that culminates in a once-in-a-lifetime road trip and revels in the glories of the human-canine relationship.
THE WRONG DOG is an insightful story filled with historical and geographic trivia and told with self-deprecating wit and mature perception.
---
Animals are an integral part of my reading life. Yes, of course, I can read without my cat flicking her fluffy tail to cover the exact line of my book that my eye is about to fall on. Maybe it's easier to read without arguing over whether my hand should be turning the page or scratching her belly, but is it as pleasant? Is it as soul-feeding?
Is there, then, any better reason to stop reading than because my parents' dog has gotten tired of watching me sit still, and would very much like to go once around the block, or maybe just chase the ball for a minute, please. What better way to take some time to reflect back on what I'm reading then to do it with a little dog who doesn't really care what I'm telling her about, but who is very happy to be included in the conversation.
So, since animals are such an important part of my reading life, and my non-reading life, to be clear, I thought it would be fun to round up some books that tell the true stories of some amazing animal and human friendships.
Luis suffered from crippling PTSD and horrible physical wounds after two tours in Iraq. Tuesday was a trained service dog who had trouble connecting with adult humans. When they finally find each other, they teach each other how to heal.
Flash by Rachel Ann Ridge
When Flash the donkey showed up in Rachel's driveway, Rachel was already at the end of her rope, feeling like a failed artist as she and her family struggled to pay their bills. Flash's appearance felt like a sign from God that everything would be okay. Flash is an unlikely hero, but he was the hero Rachel needed. [full disclosure: I work for the company who produced this book.]
The Cat Who Covered the World: The Adventures Of Henrietta And Her Foreign Correspondent by Christopher S. Wren, Illustrated by Meilo So
Follow the adventures of Henrietta the cat and her human family as they travel the world of the course of Henrietta's 17-year life to places like Moscow, Cairo, Beijing, Ottawa, and Johannesburg. It's charming, funny, and poignant.
Speaking of animals who are integral to our reading lives, Dewey was an actual library employee. Abandoned on the coldest night of the year, Dewey was lucky enough to find Vicki Myron, director of the local library, who took him in. Dewey grew to worldwide fame as he touched lives and promoted literacy in his small town.
Part memoir, part biography, H is for Hawk is the story of Helen struggling to process through her grief over her father's death. She goes about this two ways: one, by examining the life of T.H. White, author of The Once and Future King, among other things, and second, by training a very small goshawk, Mabel. It's gorgeous and literary, and maybe my favorite book on this list.
Really, what more do you need to know than that this is a memoir about the life of a pig named Christopher Hogwood? I feel that that is your hook, there you go, go read it. Okay, fine: The Good Good Pig tells the life story of Christopher Hogwood, a gentle philosopher of a pig. Through his boundless zest for life and Sy Montgomery's beautiful prose, the reader learns to slow down and appreciate the good, green earth.
It feels like it might be cheating to put two books by the wonderful Sy Montgomery on this list, but how can I not include both Christopher Hogwood and a book about octopuses? I can't not, that's what. The Soul of an Octopus is the story of Sy's years observing octopuses (which is the proper plural form, so you know) at a New England aquarium and traveling the world to get to know these magnificent creatures. She chronicles their behavior in a way that will fill you with wonder and make you laugh. These animals can figure out puzzles, yes, but they also hold grudges.
When Stacy adopted a tiny, injured fluff ball of an owl, she had no idea he would become her loving companion for nearly 20 years. Wesley the owl is also Stacy's coworker of sorts at her bird research facility, which the book describes as a sort of Hogwarts, with owls flying freely from office to office. When Wesley returns the favor and saves Stacy's life, readers learn about the tremendous bond that can form between animal and human.
A Wolf Called Romeo explores the lore and science of wolves as it tells the life story of Romeo, a black wolf that spent ten years interacting with the residents of Juneau, Alaska. Romeo played with their dogs and joined humans on cross-country ski trips. A beautiful, thoughtful book to make you think about the nature of canines.
We'll end on the very smallest creature on our list: a tiny forest snail. I may be biased, since I spent many hours in my childhood watching my own pet snail (RIP Gregory, I think of you often) chow down on algae pellets, but there is quite a lot to be learned from a tiny mollusk. The Sound of a Wild Snail Eating is a beautiful reflection on the closely observed life of one of our most ignored creatures.