This content contains affiliate links. When you buy through these links, we may earn an affiliate commission.
Horror comics seek to frighten audiences in different ways. Some focus on supernatural creatures that push the limits of human understanding, while others deal with monsters of humanity's own making. With some stories, it's all about location, location, location: there's a particular place plagued with disturbing and deadly secrets that our hero has to resolve, either to correct a past wrong or simply to live through the night.
Thinking about that last option got me curious. What kinds of places tend to get labeled as "haunted" in comics? Is there a pattern that could tell us something about what we find scary and why? Can we come up with a blueprint for creating our own tales of horrible hauntings? Let's find out!
Before we start, though, I should point out that there seems to be a dearth of haunted-place comics by women and people of color. This could be partly because I am not as familiar with horror comics as I am with other genres, but it could also be due to a general lack of diversity in comics. For more diverse horror comics, check out this article from The Beat. I also direct your attention to this list of horror books by authors of color, and this one about YA horror. But in the meantime…
Don't Forget Your Flashlight
Let's start with the standard: the haunted house. The Nice House on the Lake features one owned by a weird man who invites a bunch of people to stay there for a week. (Note: If this happens to you in real life, do not go.) The Me You Love in the Dark is about an artist who moves into a house only to find she's not the only one in there, and The Night Eaters: She Eats the Night is about twin siblings forced to spend time in a house where a hideous murder occurred. For a lighter example, we can look at Zatanna and the House of Secrets, in which Zatanna's strange house seems to swallow up her father.
Other buildings occasionally get the haunting treatment, too. In Lamentation, a three-part series that is still ongoing, a mysterious entity traps an aspiring actor in a rundown theater, where no one is allowed to leave until they perform a certain play. Skull Cat and the Curious Castle has the main character navigating a castle where his fellow employees keep vanishing.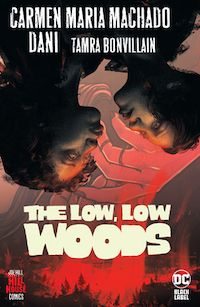 Sometimes, a haunting is too big and terrible to be confined to a single edifice. Blackwater and The Low, Low Woods both focus on small, messed-up towns near forested areas. In each case, the local queer kids have to investigate the terrifying goings-on out in the woods. Something Is Killing the Children features a town where, well, something is killing the children. While the village in Festival of Shadows could be considered haunted, it approaches the idea in a different, kinder way: rather than avoiding the spirits around them, the villagers willingly engage with restless souls and help them tend to unfinished business.
Now that we've reviewed all these comics, what do they tell us about our fears and how to create effectively creepy haunted spaces? Well, it helps if the space is…
…Familiar
The idea of a haunted house is so scary because houses are so familiar to us. We all live in a house (or an apartment, which is sort of like a house). So we could all be in danger right this minute. Look, behind you!
…Seemingly Harmless
This is why small towns are so popular with horror comics (not to mention cozy murder mysteries, according to which most murders happen in towns with names like Cabot Cove). Small towns are supposed to be quaint, friendly spaces where everybody knows everybody. Seeing them turned into spaces of terror where monsters lurk behind each corner is enough to set most people's spines tingling.
…Out of Context
When you think of theaters, your first mental image is probably of a bustling place where fantasies come to life. Likewise, castles bring to mind a sense of grandeur and historical importance, where significant people dwell.
Both Lamentation and Curious Castle strip these settings of everything that makes them feel safe: they are dark, rundown, and all but abandoned.
…Claustrophobic
In most, if not all, of these stories, part of the horror comes not from the space itself, but from the fact that the characters are in danger and cannot get away. In that sense, any location can serve as a good setting for a horror comic, so long as it keeps the protagonists trapped within a confined space…and so long as something dangerous occupies that space, too.
---
Want to learn more about why haunted houses fascinate us so? Here's another article on why haunted house stories work.