This content contains affiliate links. When you buy through these links, we may earn an affiliate commission.
For decades, the comic book was synonymous with superheroes and science fiction, but more off-beat stories have slowly gained readership, acclaim, and a comfortable seat at the table under the "indie" or "alternative" label, and the medium is better for it. Numerous artists and writers are responsible for the movement, one being Harvey Pekar. Born and raised in Cleveland, Ohio, Pekar was working as a Veteran's Administration hospital file clerk (and would until his 2001 retirement) when he met legendary comic book artist Robert Crumb, who opened his eyes to the comic book's capacity for telling realistic stories and even appealing to adults.
Pekar commenced to creating crudely drawn comics, which Crumb, and later other artists, then re-illustrated, and American Splendor was born in 1976. An anthology of the series won an American Book Award in 1987, and Pekar and his wife Joyce Brabner, a prolific comics creator herself, netted a Harvey Award for best original graphic novel for Our Cancer Year in 1995. American Splendor was adapted into an Oscar-nominated movie starring Paul Giamatti in 2003. Pekar died on July 12, 2010.
Here, presented on what would have been his 80th birthday, is a suggested reading order of some of Pekar's major works.
The Quitter, illustrated by Dean Haspiel, doesn't fall under the American Splendor umbrella, as it deals with Pekar's trying adolescence, filled with street fights, and young adulthood before he hit his professional and artistic stride. Almost all of Pekar's work is autobiographical, but I think this standalone graphic novel, along with the American Splendor movie, makes for a newcomer's best introduction.
Once you've got the overview of Pekar's life down, feel free to pick up any American Splendor volume, literally at the start of any particular strip or story, and read. Seriously, these make for great bedside books. There is no overarching story or plot to speak of; each strip is usually a one to three-day episode in Pekar's life. Drama arises out of losing car keys, finding a decent pair of shoes, dealing with difficult coworkers. Joy is found in finally discovering and buying a much-sought-after record at a garage sale, receiving a compliment, finishing a good book.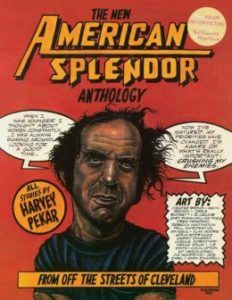 Many highlights of the series don't even have Pekar doing much of anything. My favorite is "I'll Be Forty-Three on Friday (How I'm Living Now)," in which Pekar strolls through a park, contemplating previous marriages (Brabner was his third wife), work, and the cyclical nature of his life. I don't think it's much of a stretch to say the series anticipates the autofiction of, say, Karl Ove Knausgaard. Not every page is riveting, but not a single one is phony.
If you're looking for the most bang for your buck with as little possible overlap, I suggest picking up American Splendor: The Life and Times of Harvey Pekar and More American Splendor, collected in a single volume to coincide with the movie's release, as well as The New American Splendor Anthology.
Though it was released as an American Splendor installment, Unsung Hero, illustrated by David Collier, is as much a standalone graphic novel as anything Pekar ever released, and unlike most of his work, it's not written from his point of view. The story is the oral history of Marine Corps LCpl Robert McNeill's experience in the Vietnam War, where McNeill experienced plenty of horrific combat. Lean and relentless, this is, in my opinion, Pekar's strongest single book.
Move on to the Graphic Novels
Pekar was diagnosed with cancer three times in his life. The first instance made for the subject of Our Cancer Year, a graphic novel co-authored by Brabner and illustrated by Frank Stack. The book pulls no punches describing Pekar's treatment for lymphoma, and these passages do make for difficult reading. This feels principally like Brabner's book (understandable, given the circumstances), and it's ultimately a touching testament to her resilience.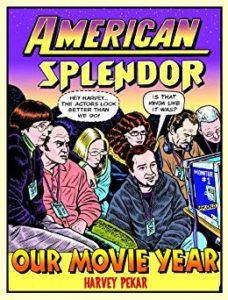 Our Movie Year is less a graphic novel than a collection of separate strips all dealing with Pekar's life following the release of the American Splendor movie. It makes for fascinating reading in how it does away with misconceptions about show business (for example, just because a movie gets made about you doesn't mean you'll get or stay rich). I also recommend the book to aspiring freelance writers; Pekar, also a respected blues/jazz critic, used his newfound publicity to score writing opportunities at various publications, the products of which, mostly profiles of figures like B.B. King, Albert Ayler, and Jimmy Scott, he includes in the book.