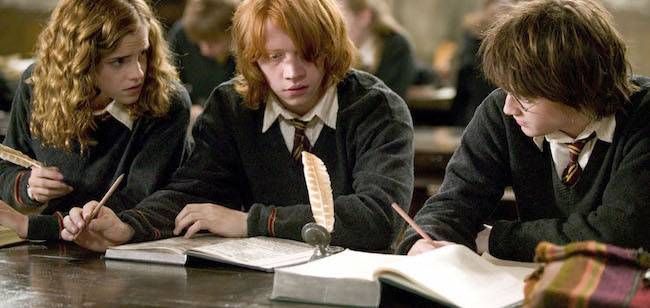 This was supposed to be a post about my experience of reading the final book in the Harry Potter saga. For a couple of weeks now, I've been basking in the glow of having re-read what I thought was the whole Harry Potter story. My heart swelled at the unflinching loyalty of Dobby and the resistance put forth by Neville and the rest of Dumbledore's Army inside the walls of Hogwarts. I cried as characters died, starting with Hedwig and Mad-Eye Moody in the earliest chapters of the book. I cheered when Molly Weasley took on Bellatrix LeStrange and showed her just how strong a mother's love can be near the end of the novel.
I've been putting my thoughts together, considering what to say, and I almost had this whole thing written up to share with you, just as I did for the earlier books in the series. Then, it was revealed that Harry Potter and the Cursed Child, a play that we'd already heard about was, in fact, a sequel. It picks up with an adult Harry and focuses on his son Albus. This news should be exciting. I have begged for more from the world of Harry Potter. But this wasn't what I expected.
Many die-hard Harry Potter fans were hoping that Rowling would eventually come back with a story that focused on the next generation. They have hoped so hard that many of them have written fanfic on the subject. They continued the story that she assured us was done. She said at one point that she had no plans to write another Harry Potter novel, and she has kept her word. Instead, there's a play. A story that she says is made for the stage, that she suggests could only work on the stage, rather than on the page.
The story only exists because the right group of people came together with a brilliant idea about how to present Harry Potter on stage. I'm confident that when audiences see Harry Potter and the Cursed Child they will understand why we chose to tell this story in this way.
I'm a theater lover, and I am intrigued by the idea, I admit. But I have issues.
For me, part of the appeal of Harry Potter is the way that people bond over it. Those books have been printed in numerous editions and in a multitude of languages. Parents read them with their children, book clubs bond over reading them together. People can track their childhoods by when they bought their first copy or where they were when each new book was released. Whole conventions – multiple conventions – attract thousands of people from all over the world so that they can bond over their mutual love for Harry and his story.
A play is a wonderful thing. But, it is something that has to be seen on a stage, in a theater with limited seating, in one city, in one place in the whole world. It could be recorded and shown in theaters around the world, but that just isn't the same as being there, in the seats, witness to the minor variations and modifications that make the play come to life. And even then, not everyone has easy access to a movie theater.
The problem, then, is accessibility. The whole world (well, a pretty big percentage of it) fell in love with Harry Potter, but only the people of London and those who can afford to get to London to see it. It's going to be cost-prohibitive, more so than the price of a hardback book. So this, the "book 8" that so many people have been waiting for, begging for, is going to be something that only a small portion of those people will be able to experience in person, as it is meant to be seen. It will be something exclusive. That doesn't seem right somehow.
Perhaps there is more to the story. Will the script be published in book form so that people can read it on their own? Will there be a novelization? Will the play be translated into all the same languages that the books have been? Will there be a touring show? Will tickets be priced so that every loyal reader will be able to afford them?
There are other issues. People have lots of valid concerns about this play. They wish, for example, that Rowling would just leave well enough alone, as she once made us believe she would. I want to reserve judgement on that front – and I would, but I'm not going to be one the lucky few who make it to London next summer. I'll be happy to judge the story on its own merits, if I ever get to see it. Until then, I'm left with the feeling that my epic re-read of the series was something of a failure. I didn't get to the end. And now, there's no end in sight.