Newsletter 1
This Harry Potter–Inspired Photo Shoot Is Downright Magical
"I have always really loved the fantasy genre—a true '90s child, I loved the Goosebumps series, as a teen, my favorite TV show was Buffy the Vampire Slayer, and the book currently on my nightstand is Tomi Adeyemi's Children of Blood and Bone. When the Harry Potter movie series came out, I was immediately hooked and fell in love."
Brenda De Los Santos is a portrait and wedding photographer, as well as a photography educator, located in southern Connecticut. Inspired by her shared love for the Harry Potter series with her four-year-old nephew, De Los Santos decided to make a little magic with a special Harry Potter photo shoot.
"Aside from being a photographer, one of the most important things I would describe myself as is an Aunt. I have seven nieces and nephews ranging in age from 2 to almost 14 years old. I am close with each of them and love to share my love of fantasy with them," she said.
"Oliver, who just turned four earlier this month, started watching Harry Potter with me during sleepovers last year (I also got him the illustrated Harry Potter books to read with him) and quickly became obsessed. I try to get annual photos of each of my nieces and nephews around their birthdays each year, and I knew that I wanted to incorporate Harry Potter into Ollie's portraits this time around. When it dawned on me that we had the perfect location nearby at Gillette Castle State Park in East Haddam, CT, I knew that I had to go all out for these portraits. I asked around on Facebook to see if any friends had costume elements or props we could use and was overwhelmed by how many people wanted to help, and quickly had everything I needed for the shoot."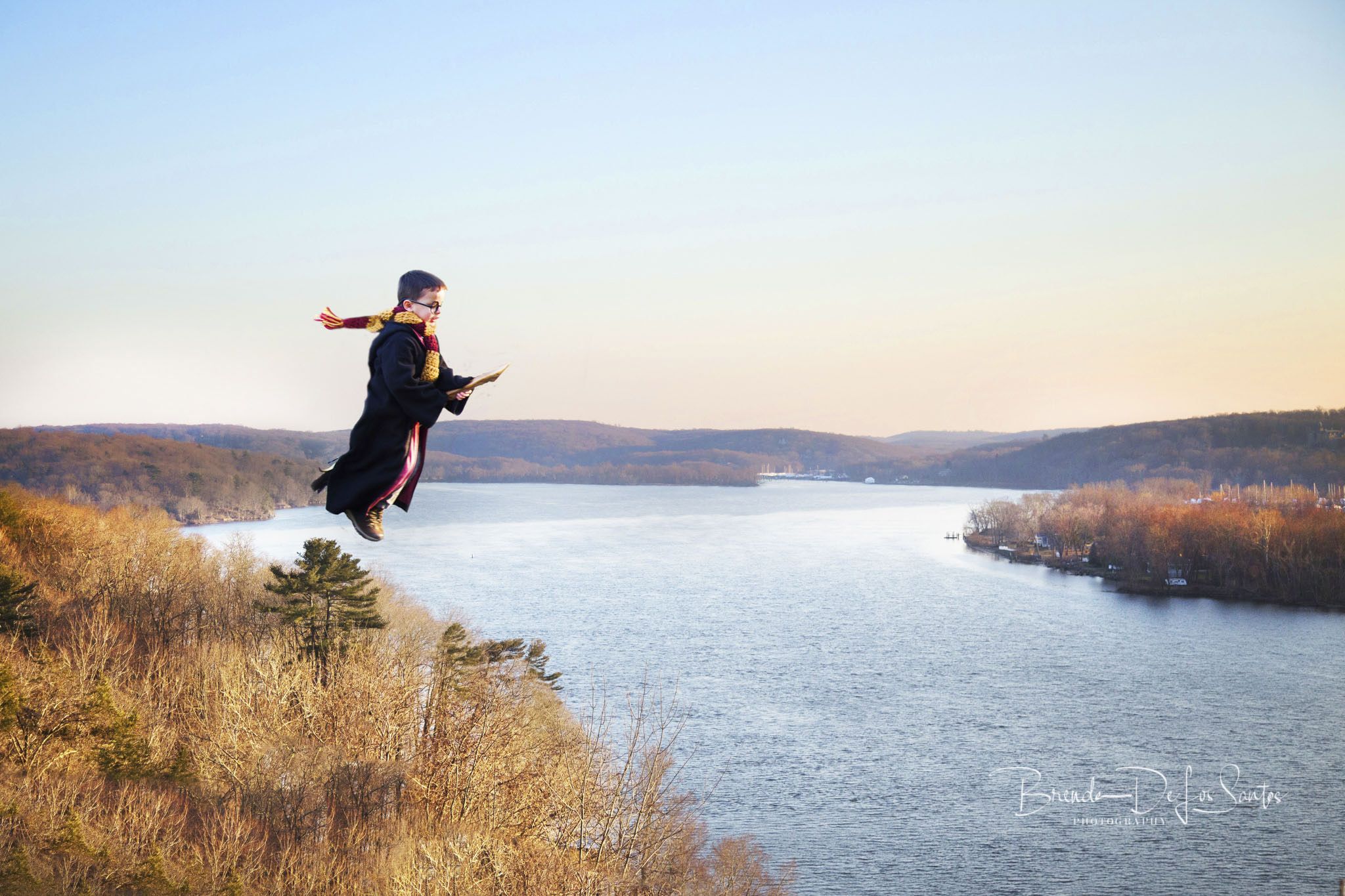 "The best part about it is that Ollie is young enough to believe in the Harry Potter universe, and he thought we were really AT Hogwarts. When I asked him to cast a spell with his wand, you could see in his face that he truly thought he was creating magic. It was really beautiful. When I told him that I was a Dementor, he immediately, passionately, cast a Patronus Charm, yelling 'Expecto Patronum!' at the top of his lungs."
"When I got the photos downloaded onto my computer, I saw that we really had captured magic—the pure, innocent imagination of a child. During the shoot, I used some special photography lighting to make certain images appear to be taken in the night, and also used spray fog and a few lighting techniques to create magic in-camera, and I completed the images with a fair amount of Photoshop magic as well."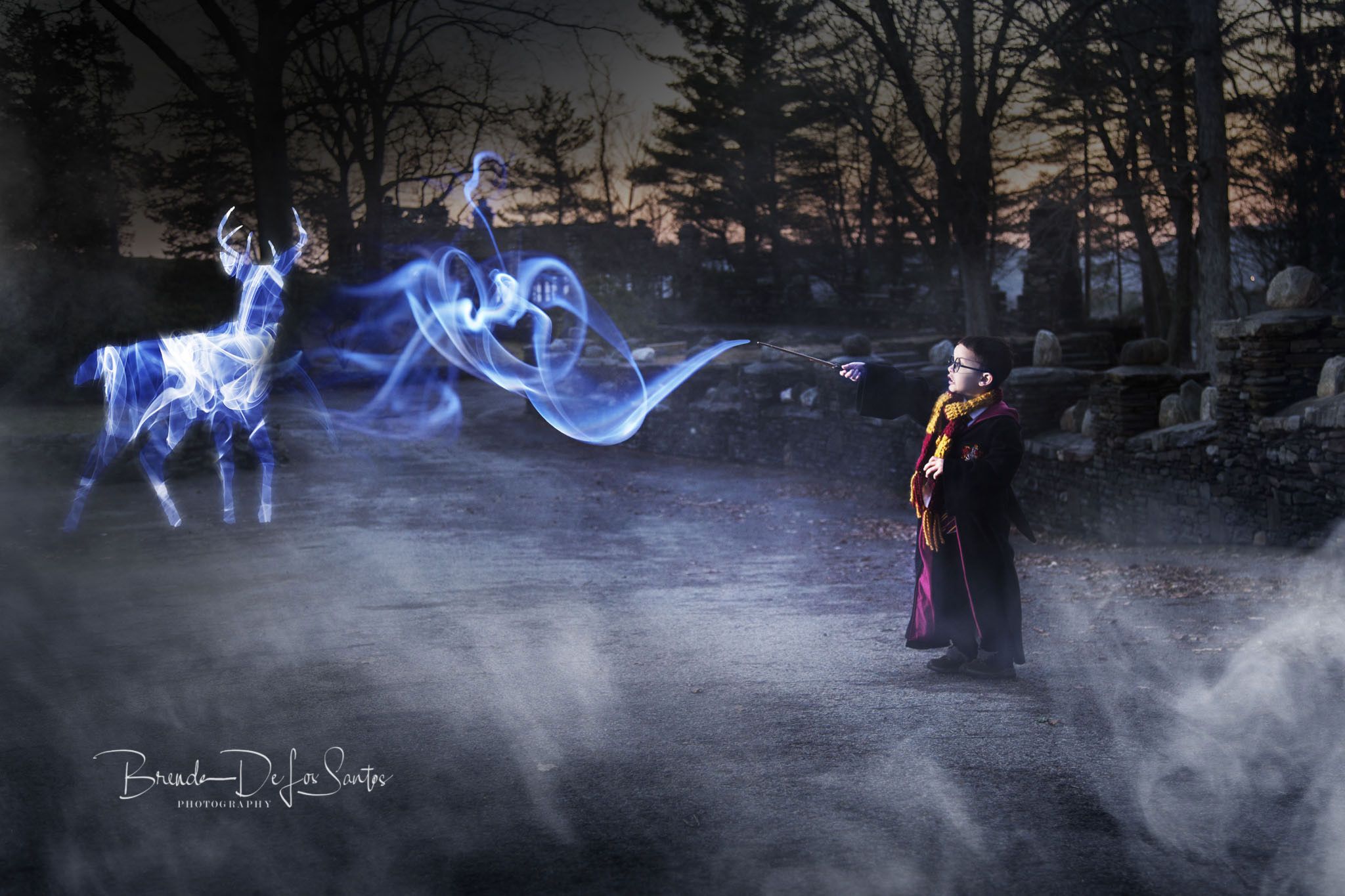 "I ended up having a custom book made for Oliver and gave it to him as a birthday present. Seeing his eyes light up when he saw it was priceless!"
Best aunt ever or BEST AUNT EVER? We are drooling over this Harry Potter photo shoot.
*All photos used with permission of Brenda De Los Santos. Learn more about the photographer and her work at her website.