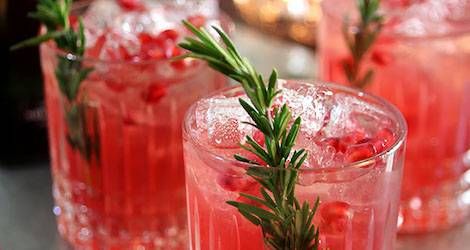 Harry Potter Cocktail Pairings
Let's start off by all agreeing that Harry Potter is not just for children. Okay? Okay.
I like to reread the Harry Potter series every couple of years and I have a number of friends who do the same. I know of a couple book club-type groups that have gone through the books as well. I thought it would be fun to recommend cocktail pairings with each book, to either serve at your group discussions, Harry Potter themed party, or for your reading party of one.
Harry Potter and the Sorcerer's Stone: I recommend the Pomegranate and Rosemary Gin Fizz. I associate the color red a lot with the first book, from the bright red engine of the Hogwarts Express to Harry's being sorted into Gryffindor to our first Christmas with everyone at Hogwarts. The rosemary element of the drink is a nod to both Christmas and also our first experiences with the Forbidden Forest. I wanted a drink with a little bit of sparkle because this book feels more like a celebration than the following books.
Pomegranate and Rosemary Gin Fizz
1/4 cup gin
1 Tbsp fresh lemon juice
1 Tbsp rosemary simple syrup (1 cup water, 1 cup sugar, 1 sprig rosemary. Boil water until sugar dissolves, remove from heat, add rosemary and let sit for 15-20 minutes. Remove rosemary and refrigerate simple syrup)
2 Tbsp pomegranate juice
Club soda, chilled
Rosemary sprigs and pomegranate arils for garnish
Harry Potter and the Chamber of Secrets: I recommend a Midori Sour for its green color and almost cloying sweetness. It certainly looks like something a serpent would serve at a cocktail party, something both magical and dangerous.
1 1⁄2 ounces Midori melon liqueur
1 ounce premium vodka (optional)
2 ounces sour mix
1 1⁄2 ounces lime juice
1 dash Sprite or 1 dash other carbonated lemon-lime beverage
1 maraschino cherry, garnish
Harry Potter and the Prisoner of Azkaban: I recommend a Dark and Stormy. There's just something about Sirius Black that makes me think he'd enjoy rum. Book three starts to get more intense and so it calls for more intense flavors like ginger and lime. I associate nighttime and darkness with this particular volume and dark rum seems to be fitting.
2 oz. dark rum
3 oz. ginger beer
1/2 lime juice
Harry Potter and the Goblet of Fire: I recommend a French 75 which has elements to honor the visiting wizarding schools during the Triwizard Tournament. The gin is a nod to Durmstrang, the Scandinavian wizarding school (which, as we know, accepts international students as far as Bulgaria). The juniper berry, from which gin is distilled, is also used in a number of Scandinavian and Northern European recipes. The champagne, of course, a nod to the ladies of Beauxbaton. If you like, serve it in a goblet instead of a champagne glass.
1 lemon
3 tablespoons (1 1/2 ounces) gin
1 1/2 tablespoons (3/4 ounce) fresh lemon juice
1 tablespoon (1/2 ounce) simple syrup
1 cup ice cubes
1/4 cup (2 ounces) dry sparkling wine, such as brut Champagne, chilled
Harry Potter and the Order of the Phoenix: I recommend a Midnight Stroll. I have never had a Midnight Stroll myself. It's primarily made of alcohol I despise: Campari and whiskey. Just the thought of this drink makes me pull many faces of disgust which are almost the exact same faces I pull when I think of Dolores Umbridge who has a starring role in this volume.
1 1/2 ounces rye whiskey
3/4 ounce Campari
1/2 ounce Amaro Ramazzotti
1/4 ounce Pierre Ferrand Dry Curaçao
Dash Peychaud's Bitters
Orange twist, for garnish
Harry Potter and the Half-Blood Prince: Definitely going to need to drink a Zombie for this one. The Zombie is a drink that packs a punch, just like this book. Some tiki bars even have two-zombie maximum. It's delicious but you'll definitely be a mess by the time you finish it. I am talking both about the book and the drink.
1/2 ounce white rum
1 1/2 ounces golden rum
1 ounce dark rum
1/2 ounce 151-proof rum
1 ounce lime juice
1 teaspoon pineapple juice
1 teaspoon papaya juice
1 teaspoon superfine sugar
Harry Potter and the Deathly Hallows: Vodka. Just drink vodka. You're going to need it.
Save