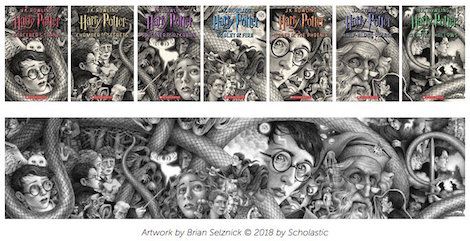 HARRY POTTER 20th Anniversary Covers Revealed: Critical Linking, April 12, 2018
We're giving away 15 of the best mysteries and thrillers of the year so far. Click here to enter, or click the image below:

---
Back in January, we reported that Scholastic had commissioned artist Brian Selznick to create brand new cover art, to celebrate the 20th anniversary of Harry Potter and the Sorcrer's Stone – the U.S. debut of J.K. Rowling's first book in the series! In a press release today, Scholastic revealed the cover art for all seven paperback 20th anniversary editions by Selznick, and they look incredible!
The covers are hugely detailed, containing references to all seven stories inside the covers – dragon eggs, Patronuses, the full moon, brooms, Umbridge, Dementors, Hermione's Time-Turner, the Triwizard maze, sections of Hogwarts – we can't stop finding details!
____________________
Considering it takes the average worker 26 minutes to get to the office, I know I can't be alone in wanting to make the most of my daily drive, so I'm sharing a list of the best books on Audible of 2018 (so far) for anyone else who also feels like they don't have time to read. Personally, I've found that having a productive way to pass the time I spend behind the wheel each day has made me weirdly happier. Ahead are the best books on Audible that will make your commute bearable and, dare we say, enjoyable.
Added some new audiobooks to my to-listen to.
____________________
"So many books, so little time" might be an eye-rolling slogan slightly worse than "Keep calm and carry on," but it's also literally true. As is "so many books, so little space." When you have too many books, how do you decide which ones to get rid of? We asked authors, publishers, and booksellers (all notorious book hoarders) how they keep control of their home libraries.
How to spring clean your book collection, according to book lovers.