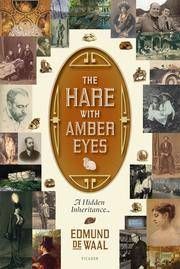 Nonfiction
The Hare with the Amber Eye: Stories Told Through Things
After finishing Edmund de Waal's The Hare With The Amber Eye I cast my eye around the house looking for things through which I might tell my family history. My own "hidden inheritance." I rested my hand on an Ikea sideboard.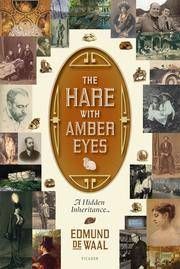 We haven't even the memory of Belle Epoque Paris or of 1930s Vienna mit Schlag, or an extensive art collection like de Waal's Ephrussi ancestors.
The Japonisme that stylistically swept Europe at the fin de siecle seems to have gone right over our heads bowed as they were inspecting the earth of the fields of Southwestern Pennsylvania. Concerned as we were with rain. And ox carts or pie making devices or whatever.
De Waal's book is magnificent in its rich detail of things and their history. Patinas, weights, colors, and appraisements. The book is like the vitrine that holds the collection of the small carved Japanese netsuki themselves, a place-holder of intimate wonders meant-to-be-held. He describes a yellow-satin upholstered armchair of his uncle's that made an impression on Oscar Wilde, "yellow satin could console one for all the miseries of life."
True, of yellow satin, and of all the other things that tether us to our past. Our collections. Our arrangements. The just-so tilt of a lady's hat in a sepia toned photograph. I've inherited no art because there's been none to inherit, but I do have a farm table that belonged to my great-grandparents. On it there are marks, the ghostly leavings of someone slicing up apples for pie? There are mahogany coffee-rings. One imagines the many sleeves-rolled-up pre-dawn conversation about milk cows.
The table suddenly has relevance not just as thing I arrange plates around. My table, like de Waal's Ephrussi netsuke made it through war and poverty, celebrations and relative riches. It has borne silent witness to centuries. And when I sit at it I add to it.
____________________________
Sign up for our newsletter to have the best of Book Riot delivered straight to your inbox every week. No spam. We promise.

To keep up with Book Riot on a daily basis, follow us on Twitter, like us on Facebook, , and subscribe to the Book Riot podcast in iTunes or via RSS. So much bookish goodness–all day, every day.