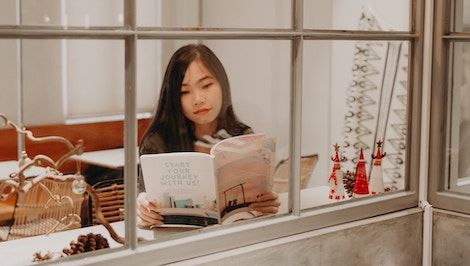 This content contains affiliate links. When you buy through these links, we may earn an affiliate commission.
Young Adult novels can be a form of escapism to dive into fantastical worlds full of dragons, magic, or battles in space. Or, they can shed light on important topics that can both inform readers or validate those going through similar situations. For fans of Young Adult fiction who are looking for some hard-hitting books to read, here's a list of books that highlight important issues and topics.
Something in Between by Melissa de la Cruz
Melissa de la Cruz's, Something in Between, is a powerful and moving novel about the struggles that immigrants in America face when they are undocumented. Jasmine de los Santos, a Filipino high school student is offered the scholarship of a lifetime. Her path towards success is set until her parents tell her that they are living in America as undocumented citizens.
Something in Between is a timely novel that highlighting what it's like to live in a country you love while being undocumented.
Little & Lion by Brandy Colbert
Little & Lion is a novel following two siblings who are both fighting their own battles under one household. Suzette recently moves back home from her boarding school while her brother, Lionel, is diagnosed with bipolar disorder. As these two siblings learn how to live under the same roof again, they both fall for the same girl in town. Little & Lion is a breathtaking novel centered around a family adjusting to Lionel's recent diagnosis as Suzette explores and embraces her sexuality.
All the Rage by Courtney Summers
Set in a small town where everyone knows one another, All the Rage is a story about Romy Grey after she is raped by the local sheriff's son who everyone in town thinks can do no harm. This haunting story explores what it's like to survive sexual assault, be silenced and victim blamed, and how to continue living after such a brutal time in one's life.
The Sun is Also a Star by Nicola Yoon
Nicola Yoon's The Sun is Also a Star is a summery, contemporary novel following Natasha who finds out that her family is getting deported back to Jamaica the following day because they are undocumented immigrants. During her last day in New York City as she attempts to keep her family from being sent back to Jamaica, Natasha runs into a Korean-American boy named Daniel who has his own issues with his family.
Together, Natasha and Daniel explore what the city has to offer while learning more about each other's cultures, what it's like to be the children of hard-working immigrant parents and to not have preconceived notions about others. While this book does have it's cute contemporary moments, it has important underlying messages that are relevant to our time. This is a young adult novel that every reader should get their hands on.
Between Shades of Grey by Ruta Sepetys
While other novels on this list are contemporaries, this historical fiction novel is set during WWII. Lina is a Lithuanian girl whose life gets turned upside down the moment Soviet officers invade her home. They separate her from her father, and take her, her brother, and her mother to northern Siberia where they struggle to survive in the coldest of weathers.
Not only is this a harrowing tale set during World War II, but it also highlights an atrocity, at the hands of Stalin, that was brushed under the rug of history. For those looking for historical fiction novels that follow a piece of history that isn't as well-known, Between Shades of Gray is a must read and will stay in your heart long after you've finished the story.
The Hate U Give by Angie Thomas
Angie Thomas' The Hate U Give is a young adult novel inspired by the Black Lives Matter movement. This thought-provoking story will leave readers breathless from the moment they open this novel. Starr is torn between her life in the inner-city and the suburbanite private school she attends. But, her world is shattered when her best friend Khalil is shot and killed by a police officer when Khalil was unarmed.
The Hate U Give's commentary about police brutality is raw and moving in a way that you can only understand once you read this story. It discusses the mistreatment that black communities face from officers while also exploring how Starr grieves the death of her friend. I highly suggest that every reader picks up this story that talks about prevalent issues that must be addressed, and this book comments on it perfectly.
Tyler Johnson Was Here by Jay Coles
Another novel that explores police brutality is Jay Cole's, Tyler Johnson Was Here. After a party that gets shut down by a police raid, Marvin can't seem to find his twin brother, Tyler, anywhere. He seems to have disappeared without a trace. That is until, one day, he is found dead, and a video is leaked showing a cop shooting Tyler while he is unarmed. As Marvin learns to live life without his twin by his side, he's also grappling with the small amount of justice he's hoping to get for Tyler.
This novel explores grief from both a twin and a mother's perspective, police brutality, the pressures of applying to colleges, and what it means to be free in America. This is one story that I implore everyone to read. The audiobook is fantastic, raw, and emotional and definitely needs to be heard.