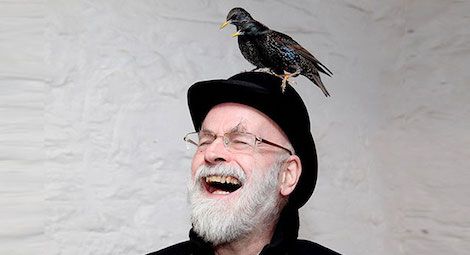 "Some humans would do anything to see if it was possible to do it. If you put a large switch in some cave somewhere, with a sign on it saying 'End-of-the-World Switch. PLEASE DO NOT TOUCH', the paint wouldn't even have time to dry."
― Terry Pratchett, Thief of Time
Terry Pratchett's birthday is on April 28. It's been several years since he passed. I mourn that day, even though we knew it was coming. Terry had Alzheimer's, and he died from related complications. Then his daughter destroyed the hard drive that contained his unfinished works.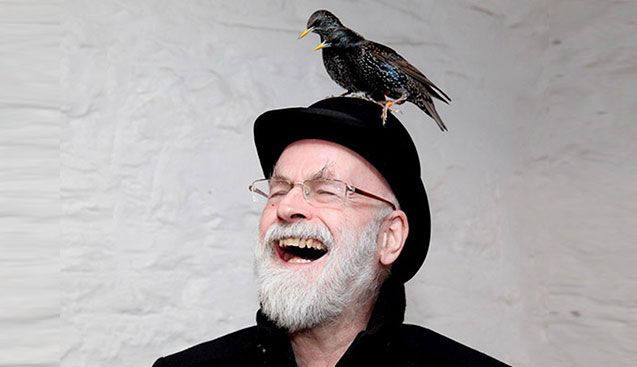 Remembering to Laugh
It's hard to read some of Terry's serious works when you know that he can make you laugh. And then you remember that he's not here to enjoy our mirth. But we have his words, that we can read and reread. But having the joy to go with the sadness helps.
Terry's humor was grounded in establishing expectations and then knocking them to the ground. In the Johnny Maxwell trilogy, Johnny would have to navigate seemingly predictable and yet absurd scenarios by teaching ghosts how to dance, and how to save his best friend from time travel shenanigans.
The grounding makes the difference. It's hard for me to dive into say Douglas Adams because Adams's humor RIP would go into the extremely bizarre, and as a kid, I wasn't ready for that. Terry would create this world and make its niches feel familiar, with tropes or cliches turned on their head. It allows us to find our feet and laugh.
With Neil Gaiman
Good Omens, originally a book and coming out as a television series, showcases the best of both men's talents when Neil and Terry collaborated. It features an angel and demon working together to prevent Armageddon, though they mess up slightly when the Antichrist baby vanishes. As a normal English boy uses his powers, Armageddon may come, along with Queen music on repeat.
Neil mentions that he and Terry would talk on the phone, and share chapters on floppy disks because that was the time period of disks. They wanted to collaborate and to pool their resources. In the end, we got a rather funny story about the end of the world; Neil has admitted he's not sure how many of the humorous footnotes were his and how many were Terry's, while footnotes were Terry's signature style.
A World Half-Full On A Turtle's Back
Discworld for its time was pretty progressive. You had Death develop from a stickler for the rules to a rather reasonable guy that allows himself to grieve, to hope, and to take advantage of loopholes to keep the world from dying. Sam Vimes went from a drunk, jaded police officer to a heroic duke that insists on the law even when he refuses.
Even on the Disc, however, progress sometimes goes in a circle. People cannot handle rock music, or "music with rocks in," because they aren't ready for a changing revolution or for the power of notes to take your soul. Films crash and burn because the magic brings celebrity personas to life. Death cannot take a holiday because humans are too human to reap souls.
Sometimes these circles would 0ccur in real life as well. Terry received a lot of flak — a bit deservedly — for how he handled the genocidal conflict in Snuff because real life doesn't work the way he resolved it, and if it were the case then we would avoid more massacres. Even so, he humanized creatures that previous fantasy canons would receive scorn and hate, like orcs.
The Shepherd's Crown is a proper finale to the books, where the witches gather to repel the elves one last time. One elf who gets the boot decides to help the humans and learn their ways, while the Nac Mac Feegle or the Wee Free Men pool their resources and a young man decides he wants to be a witch. All the characters have to deal with loss, a rather sad one, and with a changing world. When we close the book, we feel heartbroken that it's the end, and knowing that Discworld is going on without us, page by page.
Thank You, Terry
Thank you for the laughs, for the tears, and for the thoughts. Hogfather gives meaning to why we believe in childhood traditions and how we rationalize unfairness. Good Omens reminded us that the end of the world wasn't necessarily the end.
Mind how you go, as you said, and mind how you went. I hope you and Death are having fun, in the realm beyond time and space.