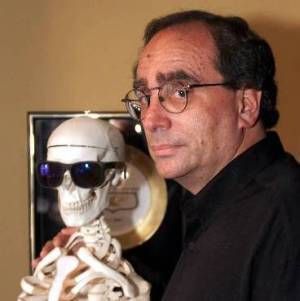 Today is the birthday of R.L. Stine, author of the Fear Street and Goosebumps kids books on which many of us grew up (And in case you're wondering, he's still at it. His twitter bio is "my job: to terrify kids."). In celebration, I've compiled
some interesting Stine-ish schtuff from around the web:
A 2008 interview with Stine where he talks about how he started writing about murder at nine years old.
A piece on Stine from The Atlantic Wire, including pictures of Stine's home office and his thoughts about 50 Shades of Grey and the fate of the paperback format ("it's pretty much doomed").
Video of Stine's talk at the 2008 National Book Festival in Washington, D.C., and a podcast of Stine speaking with Sheryl Cannady at the 2012 National Book Festival.
Stine talks about his new adult novel, Red Rain, which comes out October 9th. This includes a book trailer for the novel, and details about how Stine's favorite part of the job is getting letters.
A great collection of Stine's quotes (including some from his books).
The Official R.L. Stine Fansite, complete with bibliographies, biographies, and international forums separated by series.
In which he wins a staring contest and the interviewer calls him "Stine-Stine."