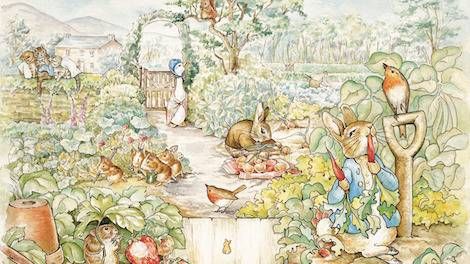 This content contains affiliate links. When you buy through these links, we may earn an affiliate commission.
I've always been a fan of Beatrix Potter, first for her charming illustrations and only later by the complete Peter Rabbit Library. Now, as we approach the 151st birthday of this iconic British children's author, I have to thank Beatrix Potter for encouraging me to think harder about and be more selective of the books I read to my toddler. As a first-time parent, the importance of phonics and sight words was drilled into my head early on. As a result, I bored myself to tears reading children's literature with the simplest terminology and no discernable storyline. Then Beatrix Potter happened and changed it all.
Let me backtrack for a moment.
My toddler loves the Little Critter series. She brings me the same six books each and every day, and they are often the first ones she is asking to read when she wakes up (even cleverly placing them atop the pile of TBR books that I set out every day when she thinks I'm not paying attention). Because I want to foster her budding love of books and story time, I oblige every time and read with the same level of enthusiasm and gusto as I did the first time family members gifted her these books. Privately, however, I cringe at the deficiencies of vocabulary and the poverty of language in this beloved children's series. More than once, I have questioned whether these books – along with most contemporary children's books – are dumbing down young readers.
Before the ax falls, let me say that I fully understand that there is a difference between reading and being read to by an adult, and as such, books with simpler sentence structures and story lines are necessary to the former. However, there is an internal struggle raging inside me over where to draw the line between encouraging her love of reading by narrating simplistic children's books and exposing her to quality, challenging material that requires more forethought and discussion. This is where Beatrix Potter comes in. I love that the storyline in most of her works are easy to follow, while still presenting young listeners to rich vocabulary and complex sentences and storylines.
In a single Tale of Peter Rabbit story, we will find complex sentences, such as "Peter gave himself up for lost and shed big tears; but his sobs were overheard by some friendly sparrows, who flew to him in great excitement, and implored him to exert himself."
In Beatrix Potter's oeuvre, we find words such as soporific, disconsolately, perplexed, and amiable.
In the Tales of Ginger and Pickles, Potter describes the concept of paying with credit to young readers.
I understand that sight words are important, but Potter's stories demonstrate that vocabulary doesn't have to suffer to keep young listeners engaged.
As my admiration of Potter grew, I also started to incorporate more books with interesting and accomplished authors, especially as I strive to introduce women who have blazed trails to my daughter. Potter herself was a pioneer in her time, being an expert botanist, conservationist and farmer. In addition to self-publishing The Tale of Peter Rabbit after several publishers rejected her work, she taught herself to draw and illustrated all of the images. Throughout her life, she submitted several scientific papers on mycology, and one year prior to her death, she became the first woman chosen to become President of 'The Herdwick Sheepbreeders' Association'. Learning her personal history encouraged me to seek children's stories that allow for thoughtful discussion on the authors themselves, and what may have driven them to create their art.
I would love to hear which children's and YA authors have inspired your book choices.