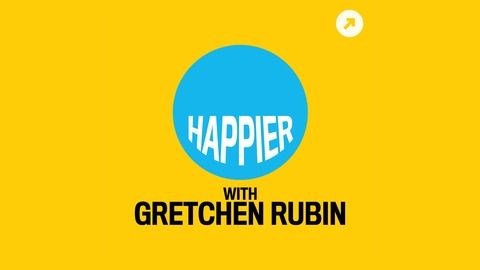 Lists
Bookish Hacks, Try This At Home Tips, and More from HAPPIER With Gretchen Rubin
This content contains affiliate links. When you buy through these links, we may earn an affiliate commission.
I became smitten with the work of Gretchen Rubin ten years ago. Her first book Happier at Home really spoke to me at a time when my life was in a bit (a lot) of upheaval: I'd move across the country, having left graduate school in Texas to an apartment in northern Illinois and a new, full-time job as a librarian. About this time, too, I was beginning to consider buying a first house. Happier at Home became a comfort read for me during this time and gave me so many ways to reconnect with myself and my own desires when everything else felt really hard to control.
It's not a surprise, then, that I've found Gretchen Rubin's podcast "Happier," cohosted with her sister Elizabeth Craft, to be comfort listening every week. Rubin and Craft are both book lovers, and I've found myself thinking a lot about the tips, tricks, and life hacks they offer for those who are heavy readers, as well as those who are trying to come back to a regular reading habit.
For listeners who aren't familiar, Rubin and Craft offer up a series of regular segments on the show. "Try This At Home" gives a practical activity you can incorporate into your everyday life to make your life a bit happier/healthier/more productive; "Happiness Hack" offers an easy solution to otherwise annoying or inconvenient problems; and "Know Yourself Better" turns the mirror on listeners to better understand their own happiness superpowers and pitfalls.
Find below a round-up of the best of bookish hacks and habits, courtesy of "Happier." All of these come from their first 200 episodes of the podcast. I'm eager to see what else they offer up as the show continues. This would be a great starting point for listeners wanting to tune in or who are intrigued by the tips presented.
I've included the show number and title linked to the episode, along with the portion of show notes that indicate the bookish segment.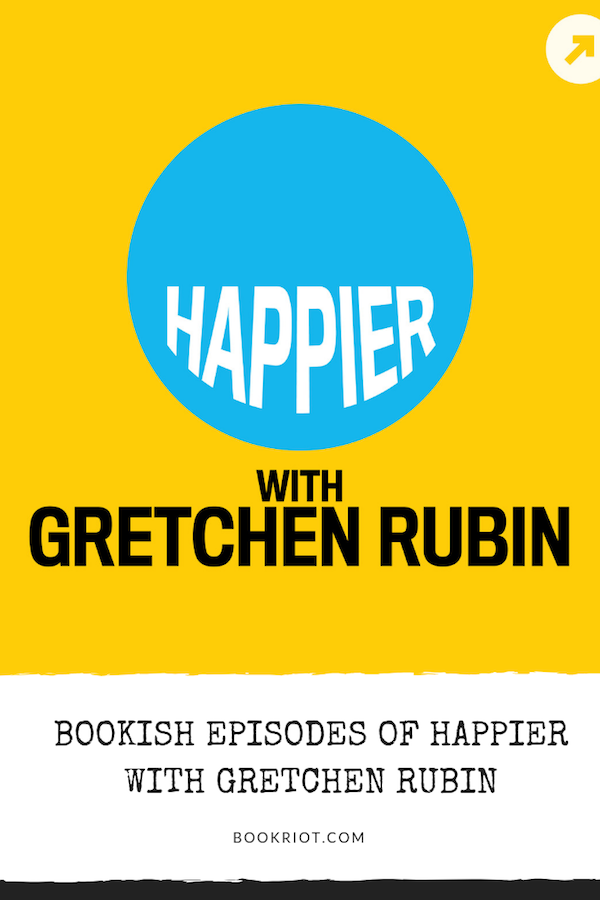 Bookish Episodes of Happier with Gretchen Rubin and Elizabeth Craft
Episode 197: Plan to Read More in 2019, Make It Easier to Follow Complex Instructions, and What to Do When Someone Ignores the Key Bowl
Try This At Home: Plan to read more in 2019. Reading for pleasure is a habit that many people would like to cultivate.
Episode 194: Make an Introduction, Using Accountability to Keep People Exercising, and the Challenge of Digital Information Hoarding
Happiness Hack: Have an "emergency book" in mind when you travel.
Episode 186: Create a "Blues Bag," a Reading-Related Hack for Parents, and a Deep Dive into Happiness at Work
Happiness Hack: If you have children, read the novels assigned to them in school.
Episode 161: Embrace the Cheese, Try a "Book Sharing" Club, and What Would You Do with a Magic Hour?
Happiness Hack: Our listener Vanessa suggests that instead of a traditional book club, try a "book sharing" club, where people meet to discuss and suggest books that they love—but there's no obligation to have read a particular book before the meeting.
Episode 149: Identify Your "18 for 2018," an Interview with Legendary Cartoonist Roz Chast, and Don't Stash Something Without Noting Where I Put It
Interview: We talk to the brilliant Roz Chast, an American cartoonist and a staff cartoonist for The New Yorker. Since 1978, she has published more than 1000 cartoons in The New Yorker. She's also a #1 New York Times bestselling author – she wrote a brilliant, thought-provoking, very unusual memoir about her relationship with her parents called Can't We Talk About Something More Pleasant? which won many prestigious awards.
Roz Chast has a new book, Going Into Town: a Love Letter to New York. It's a charming and useful guide to visiting New York City.
Episode 142: Schedule Some Daily Transcendence, Skip the Bad Parts, and a Conversation with Lewis Howes
Try This at Home: Schedule some daily transcendence. One popular way: daily transcendent readings.
Episode 122: Tackle a "Power Day," People Who Question Your Good Habits, and What's Your Advice about College-Bound Children?
Happiness Hack: Jen explains why having a two-person book group has made her happy.
Episode 118: Design Your Summer (Again), Start a Podcast Club — and Are You the Difficult One?
Happiness Hack: Simon suggests, "Start a podcast club. Like a book club, but for podcasts."
Episode 107: Plan a Secret Date, a Conversation with "Quiet" Author Susan Cain, and Discover New Podcasts
Interview: The brilliant Susan Cain is the author of Quiet: the Power of Introverts in a World That Can't Stop Talking and the founder of the "Quiet Revolution." She also did a podcast series that focused on giving parents and teachers tools to help quiet kids.
Episode 99: Take Personality Quizzes, Consider Your Email Habits, and Book Club Conflicts
Listener Question: Melanie and Rachel ask questions about book club behavior.
Episode 91: Delete a Soul-Sucking App, and a Deep Dive into Happier 911 Songs.
Elizabeth and I discuss the site Longitude Books: Recommended Reading for Travelers, where you can find books related to your travels.
Episode 83: Are You A Hedgehog or a Fox? and Read 3 Unfamiliar Magazines
Try This at Home: Read three magazines that you don't usually read.
Episode 79: Revive a Dormant Friendship, a Selection of Yearbook Quotes, and a Gold Star for Making Phone Calls.
Happiness Hack: Todd asks, "Our household receives a lot of reading material in the mail, but we never know when everyone's done reading something, so don't know when to throw things away. Any ideas?"
Episode 74: Choose the Quote for Your Yearbook Page, Use the Strategy of Pairing, and Some Thoughts about the Four Tendencies
Try This at Home: Pick your "yearbook quote." What quote would you choose? Among others mentioned, Elizabeth's quotation comes from Kurt Vonnegut's Welcome to the Monkey House. Let us know: what quote would you choose?
Want to hear the quotes? Those are in episode 79, linked above.
Episode 65: Enjoy Your Home's Special Features, Arianna Huffington Talks About Sleep, and the Pleasure of Children's Literature
Gretchen talks about her love for children's literature and her children's literature reading group.
Episode 51: What to Do If You Can't Remember a Name, Why We Should Plan to Fail, and Adult Coloring Books
Gretchen talks about loving adult coloring books.
A bonus/boon to listeners are the mini episodes that are dropped, too. These micro-episodes are meant to offer up snippets of happiness, ways of making life easier, and better living in a tiny, creative package. These, no surprise, feature plenty of literary inspiration. Here's a selection.
Bookish Episodes of "A Little Happier"
A Little Happier: A Puzzling Story from the Life of Pearl S. Buck
A Little Happier: A Lesson From Harry Potter About Knowing Who You Are
A Little Happier: A Happiness Lesson from a British Novelist–and the Cat in the Hat
A Little Happier: A Happiness Reminder from "Charlotte's Web," One of My Favorite Children's Books
A Little Happier: The Book "The Hobbit" Illustrates How Boredom Can Spark Creativity
A Little Happier: A Happiness Lesson from the Classic Picture Book "A Bargain for Frances."
A Little Happier: Ray Bradbury Says, "Love What YOU Love!"
A Little Happier: Important Lesson from Dr. Seuss—It's Fun to Have Fun, But You Have to Know How
____________________
Want more bookish podcasts in your life? Tune into the book-angled episodes of Jonathan Van Ness's "Getting Curious," these podcasts that will fuel your reading wishlist, the best episodes of Levar Burton reads, and 15 outstanding podcasts for book lovers.