The first night of Hanukkah, the eight day "festival of lights", is December 16. Hanukkah is a minor holiday in Judaism, but culturally, at least in the U.S., it's taken on more importance thanks to its proximity to Christmas. As Jewish book-loving parents we sometimes found it challenging to find Hanukkah books. So here's a list of recommended Hanukkah books for younger children.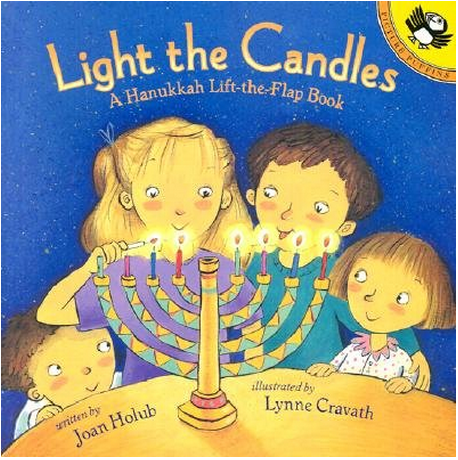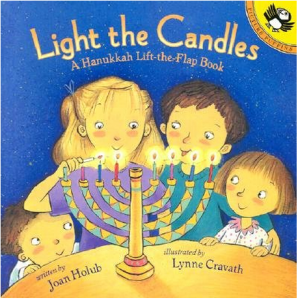 Light the Candles by Joan Holub (2-6 years)
Light the Candles is a simply illustrated rhyming lift-the-flap book that introduces the basic features of a modern American Hanukkah celebration: lighting candles, giving presents, making latkes, and hosting family and friends for a meal. It's out of print, but new and used copies are easy to find online. Eight Winter Nights: A Family Hanukkah Book by Laura Kraus Melmed is a good alternative, with somewhat more complex rhymes.
Dusk by Uri Shulevitz (2-6 years)
Dusk is a simple story of a boy, his grandfather, and their dog taking a walk in New York City. As the suns sets and the city lights up, Hanukkah, Kwanzaa, and Christmas displays are revealed in homes, shops, and in the streets. A quiet book, not much in the way of plot, but visually interesting and great for bedtime.
Elijah's Angel by Michael J. Rosen (5 and up)
Another older book that you'll have to find it in your local library or online, but so worth it. An older Christian barber, Elijah, makes woodcarvings of biblical characters. A Jewish boy, Michael, visits the barber shop and admires them. When Christmas and Hanukkah overlap, Elijah gives Michael a carved guardian angel, Michael isn't sure how his parents will feel about it, opening up a dialogue about friendship and religious tolerance. Elijah is based on Elijah Pierce (1892-1984), an African American minister, barber, and woodcarver from Columbus, Ohio.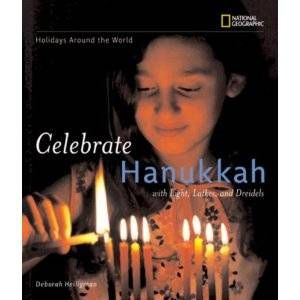 Holidays Around the World: Celebrate Hanukkah With Light, Latkes, and Dreidels by Deborah Heiligman (6-9 years)
Lovely color photos of Hanukkah celebrations in Israel, India, Peru, Uganda, Italy, Korea, Poland, and Los Angeles. A National Geographic book, this one has a simple explanation of the holiday, with an emphasis on both the diversity and similarity of Jewish celebrations around the world. It also has recipes, how-to's and photos for discussion.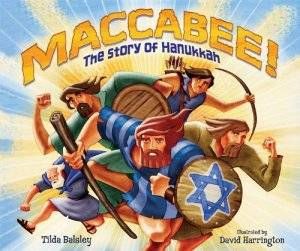 Maccabee! The Story of Hanukkah by Tilda Balsley (5 and up)
For the superhero loving child, Maccabee! offers a rhyming version of the story of Hanukkah featuring granite-jawed muscular Maccabees (albeit with beards, tunics, and sandals). It explains the traditional origin of Hanukkah, when the Jews resisted King Antiochus's attempt to stamp out their religion in ancient Jerusalem. The Maccabees restored their ruined temple, where one day's worth of oil for the menorah burned for eight. The overall message of this one is the importance of fighting for what you believe in.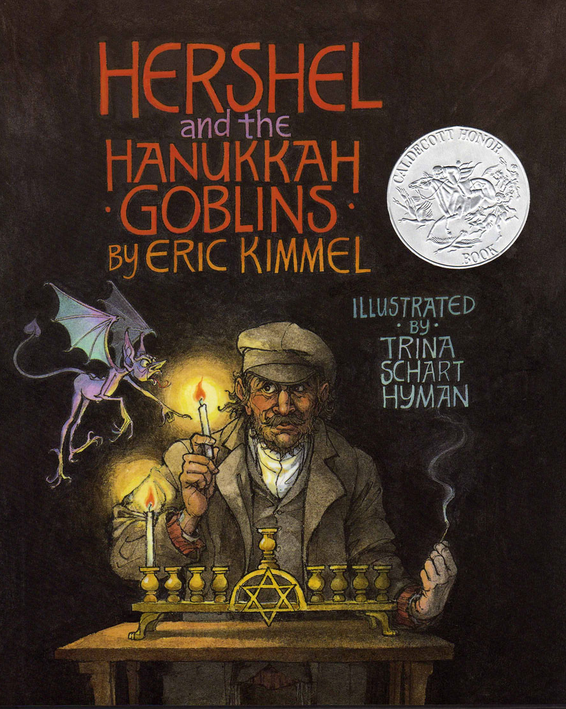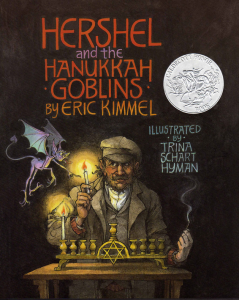 Hershel and the Hanukkah Goblins by Eric A. Kimmel (5 and up)
In this folklorish tale, holiday-averse hobgoblins come down from the hills to ruin Hanukkah for the villagers. They snuff out menorah candles and throw potato latkes on the floor. Hershel of Ostropol, using pickles, eggs, and a dreidel, foils the bad guys and breaks the spell. This is a very creative and gorgeously illustrated retelling of the ancient Hanukkah story of Judah Maccabee leading the Jews to a defeat of the Syrians.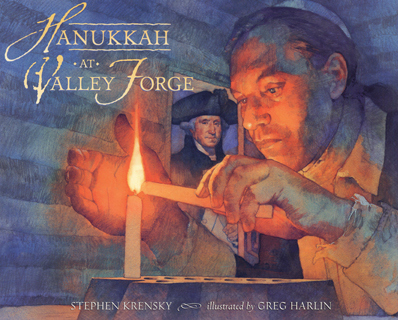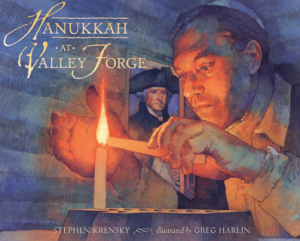 Hanukkah At Valley Forge by Stephen Krensky (8-12 years)
General George Washington learns about Hanukkah from a Polish immigrant soldier in the Continental Army. The Jewish fight for religious freedom is compared to the Revolutionary War: "We too have a cruel enemy who leaves us only with the choice of brave resistance or abject submission." Based on historical events, the watercolors in this one are really lovely.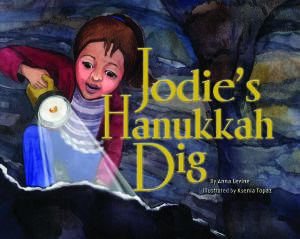 Jodie's Hanukkah Dig by Anna Levine and Ksenia Topaz (4-8 years)
Another unique way in to the Hanukkah story, Israeli girl Jodie accompanies her dad on a dig at Modi'in, the ancient home of the Maccabees. Jodie, who dreams of becoming an archaeologist, is the only one small enough to explore a small cave. In addition to relating the Hanukkah story in a secular setting, Jodie's Hanukkah Dig offers interesting details about archeology with a side of girl power.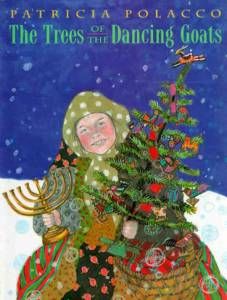 Trees of the Dancing Goats by Patricia Polacco (5-10 years)
Like Elijah's Angel and Dusk, this is a good one for emphasizing the shared moral values that undergird Jewish and Christian traditions. It's based on Polacco's memories of growing up on a Michigan farm where she loved her grandparents' Russian-based Hanukkah traditions, including carving wooden animals as gifts. One December day she visits her neighbors, expecting them to be in the middle of Christmas preparations only to find them bedridden with scarlet fever. Trisha and her family decide to do something selfless to help their neighbors celebrate Christmas.
These books tend to emphasize the nuclear heterosexual family and European and American Jewish traditions. If you have any suggestions for Hanukkah themed books that feature diverse families, I'm all ears. And to those who celebrate, Happy Hanukkah!
____________________
Like chattin' up other readers and keeping track of your books on Goodreads? So do we! Come give us a follow.