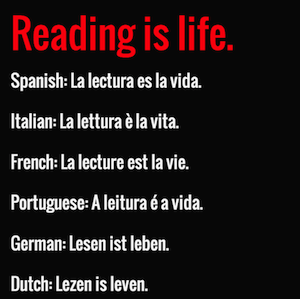 Lists
A Handy Guide to Book Loving in Different Languages
When you take a foreign language in high school, they teach you how to say seemingly important phrases like, "Where is the bathroom?" and "A hotel room with a single bed, please." But let's be honest, there are more essential things to know, such as, "What is the best bookstore in the city, and how fast can I run to it?"
I've been obsessed for a while now with the free language learning app Duolingo, to the point where I am now attempting to learn three languages at once on it. Because I apparently think my 30-year-old brain possesses the genius skills of a quick-absorbing child's. Alas, it does not, and I've started to get my Italian jumbled with my Spanish with my Portuguese. So, maybe don't take this route. But it has been fascinating to me to see the similarities and differences between the languages I'm attempting to learn.
If your brain's better than mine, and you want to remember the REALLY important stuff when you travel the world, or if you're just a super geek like me and like thinking about language in general, here's a handy guide just for us book nerds.
Where is the best bookstore?
Spanish: ¿Dónde está la mejor librería?

Italian: Dov'è la migliore libreria?

French: Où est la meilleure librairie?

Portuguese: Onde é a melhor livraria?

German: Wo ist die beste Buchhandlung?

Dutch: Waar is de beste boekhandel?

Polish: Gdzie najlepiej księgarni?

Turkish: Nerede iyi kitapçı nedir?

Ukrainian: Де краще книжковий магазин? (De krashche knyzhkovyy mahazyn?)

Russian: Где лучше книжный магазин? (Gde luchshe knizhnyy magazin?)

Chinese: 哪里是最好的书店?(Zuì hǎo shūdiàn zai nǎlǐ?)

Korean: 어디 최고의 서점은? (Eodi choegoui seojeom eun?)

Vietnamese: Mà là hiệu sách tốt nhất?

Japanese: どこで最高の本屋がある?(Doko de saikō no hon'ya ga arimasu?)

Arabic: أين هو أفضل متجر لبيع الكتب؟

Hindi: सबसे अच्छा किताबों की दुकान कहाँ है? (Sabasē acchā kitābōṁ kī dukāna kahām̐ hai?)
The library
Spanish: La biblioteca

Italian: La biblioteca

French: La bibliothèque

Portuguese: A biblioteca

German: Die Bibliothek

Dutch: De bibliotheek

Polish: Biblioteka

Turkish: Kütüphane

Ukrainian: бібліотека (Biblioteka)

Russian: библиотека (Biblioteka)

Chinese: 图书馆 (Túshū guǎn)

Korean: 라이브러리 (Laibeuleoli)

Vietnamese: Thư viện

Japanese: 図書館 (Toshokan)

Arabic: المكتبة

Hindi: पुस्तकालय (Pustakālaya)
I love books!
Spanish: Me encantan los libros!

Italian: Amo i libri!

French: J'adore les livres!

Portuguese: Eu amo livros!

German: Ich liebe Bücher!

Dutch: Ik houd van boeken!

Polish: Kocham książki!

Turkish: Ben kitapları severim!

Ukrainian: Я люблю книги! (Ya lyublyu knyhy!)

Russian: Я люблю книги! (YA lyublyu knigi!)

Chinese: 我爱书!(Wǒ ài shū!)

Korean: 나는 책을 사랑합니다! (Naneun chaeg-eul salanghabnida!)

Vietnamese: Tôi yêu sách!

Japanese: 私は本が大好きです!(Watashi wa hon ga daisuki desu!)

Arabic: !أنا أحب الكتب

Hindi: मैं किताबें प्यार! (Maiṁ kitābēṁ pyāra!)
Who is your favorite author?
Spanish: ¿Quién es tu escritor favorito?

Italian: Chi è il tuo autore preferito?

French: Qui est votre auteur préféré?

Portuguese: Qual é seu autor favorito?

German: Wer ist ihr Lieblingsautor?

Dutch: Wie is je favoriete auteur?

Polish: Kto jest twoim ulubionym autorem?

Turkish: En sevdiğiniz yazar kim?

Ukrainian: Хто ваш улюблений письменник? (Khto vash ulyublenyy pysʹmennyk?)

Russian: Кто ваш любимый писатель? (Kto vash lyubimyy pisatel'?)

Chinese: 谁是你最喜欢的作家?(Nǐ zuì xǐhuande zuòjiā shì sheí?)

Korean: 좋아하는 작가는 누구입니까 ? (Joh-ahaneun jagga neun nugu-ibnikka?)

Vietnamese: Tác giả yêu thích của bạn là ai?

Japanese: あなたの好きな作家は誰ですか? (Anata no sukina sakka wa daredesu ka?)

Arabic: من هو الكاتب المفضل لديك؟

Hindi: अपने पसंदीदा लेखक कौन है? (Apanē pasandīdā lēkhaka kauna hai?)
Reading is life.
Spanish: La lectura es la vida.

Italian: La lettura è la vita.

French: La lecture est la vie.

Portuguese: Leitura é vida.

German: Lesen ist Leben.

Dutch: Lezen is leven.

Polish: Czytanie jest życie.

Turkish: Okuma hayattır.

Ukrainian: Читання це життя. (Chytannya tse zhyttya.)

Russian: Чтение это жизнь. (Chteniye eto zhizn'.)

Chinese: 读书是生活。(Dúshū shì shēnghuó.)

Korean: 독서는 생활입니다. (Dogseo neun saenghwal ibnida.)

Vietnamese: Đọc sách là cuộc sống.

Japanese: 読書は人生である。(Dokusho wa jinseidearu.)

Arabic: .القراءة هي الحياة

Hindi: पढ़ना जीवन है. (Paṛhanā jīvana hai.)
And because it's always good to be polite:
Thank you.
Spanish: Gracias.

Italian: Grazie.

French: Merci.

Portuguese: Obrigado.

German: Danke.

Dutch: Dank u.

Polish: Dziękuję.

Turkish: Teşekkür ederim.

Ukrainian: Спасибо. (Spasybo.)

Russian: Спасибо. (Spasibo.)

Chinese: 谢谢。(Xièxiè.)

Korean: 감사합니다. (Gamsahabnida.)

Vietnamese: Cảm ơn bạn.

Japanese: ありがとう。(Arigatō.)

Arabic: .شكرا لك

Hindi: धन्यवाद. (Dhan'yavāda.)
If you're curious as to how any of these are pronounced, Google Translate has audio for most of them. Also note that as aforementioned, I am not a genius, and the Romance languages are the only ones I'm truly familiar with. Some of these translations may not be exact. If you have any corrections, or other language translations, please let me know in the comments!