Crafting
8 Hand Lettering Books to Get You Started With the Art
This content contains affiliate links. When you buy through these links, we may earn an affiliate commission.
As an art form fairly easy to transfer to digital art and use while maintaining a sense of quaintness, hand lettering continues to be popular. You see it in cute cafés, on massive city murals, and in your favorite Instagram feeds. If you're inspired by the world of words and letters around you and our first list of hand lettering books didn't sate you, try this list. These are sorted from best for beginners to materials for letterers looking for a little more of a challenge.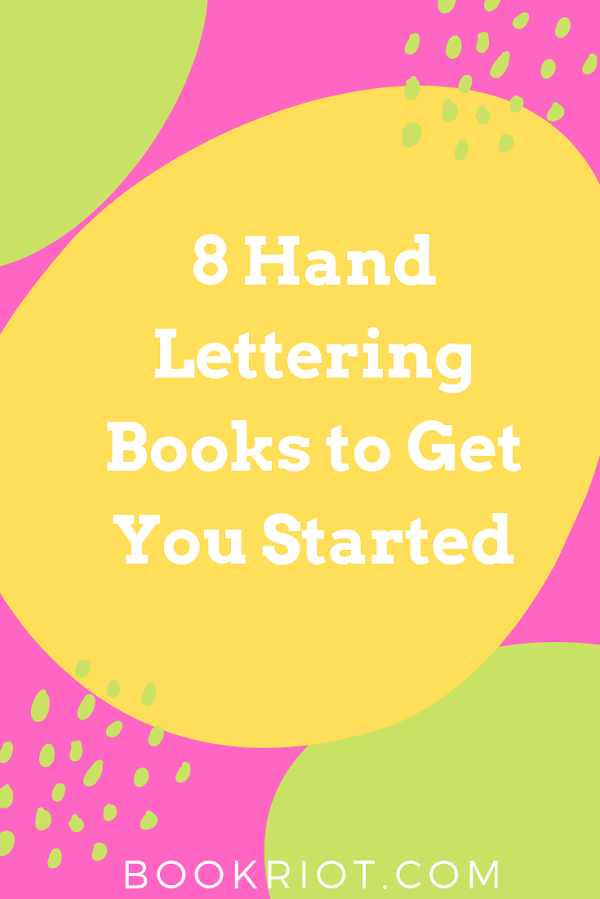 Easily my favorite of this list, The Big Awesome Book of Hand and Chalk Lettering is ideal for beginners. Rodriguez takes a largely visual approach from the table of contents on. You'll find information on hand stretches, step-by-step on how to effectively practice a font, loads of design and embellishment ideas, how to design your own work, and "Take It to the Next Level" sections for readers ready to move onto more challenging lettering. Rodriguez also includes step-by-step instructions for creating individual letters, then words and phrases. With uppercase alphabets, this book is massively useful and practical from the time before readers even pick up a writing utensil to post-digitization. What's particularly special about this book is that it approaches lettering as drawing as opposed to writing, which is a game changer for new letterers. If you're looking to start with only one book, make it this one (even if your goal isn't chalk). Check out Rodriguez's work on Instagram here.
If you're a little overwhelmed by the branches of lettering, Creative Lettering and Beyond is a great book to flip through. Each author takes on their specialty, so readers are treated to instruction and information on modern calligraphy, illustrated lettering, chalk lettering, and lettering crafts. Find out which style suits you best before diving into projects like DIY temporary tattoos and making your own chalkboard. Learn how to mix fonts, compose lettering within shapes, digitize your work, and select your tools. This oversized book provides space to practice drills. Check out Gabri Joy Kirkendall's work on Instagram here, Laura Lavender's work on Instagram here, Julie Manwaring's work on her website here, and Shauna Lynn Panczyszyn's work on Instagram here.
Doris Wai begins her instruction with setting expectations for the reader and acknowledgement that this is her approach to hand lettering, though other methods are just as valid. For readers who prefer text-heavy instruction and like to visualize steps themselves, Extraordinary Hand Lettering is a solid starting place. Also ideal for learners who prefer to jump right in, Wai's teaching approach is project-heavy as she assigns the reader activities to implement hand lettering rather than drills. One of the best features of this book is its "Guide for What to Use & When to Use It," a chart that indicates specific tools and their uses. Check out Wai's work on Instagram here.
Doan Graves gets the juices flowing with an inspiring gallery from a variety of artists before diving in with a glossary and explanation of the differences between calligraphy, typography, and hand lettering. In addition to excellent instruction for 50 fonts, Hand Lettering offers guides for spacing, layouts, and mixing lettering styles. Most fonts include both upper- and lowercase alphabets and with so many to choose from, there's a broad range of detail and difficulty. Doan Graves suggests when to use particular fonts and their strengths and also includes a sort of exhibit of embellishments. Check out Doan Graves's work on Instagram here.
An oversized book great for at-home reference, The Joy of Lettering offers lots of ideas for letterers who have advanced beyond the novice stage but still want some guidance. The authors provide a number of ideas for readers to improve on their craft, including attempting a sampler, practicing more complicated designs, and lettering with paper cutting, among other projects. Kirkendall and Escalera include a fascinating illustrated timeline of written language and instructions on how to digitize your work on a Mac computer. Check out Kirkendall's work on Instagram here and Escalera's work on Instagram here.
Starting with a list of tools and materials along with brief explanations, Wagner specifically opens the world of calligraphy to readers. Wagner provides instruction on effective composition blocking and the effect of various composition styles with illustration. To apply the skills, Wagner suggests a number of projects and links to a free practice packet. For readers looking to make Instagram-perfect pieces, Wagner includes instruction on "modern lettering" and how to edit prior to digitizing works. Check out Jen Wagner's work on Instagram here.
With seven fonts, Averinos and Kroll set readers off on their way with several projects in which they encourage letterers to vary example fonts, try fake calligraphy, and design personalized banners and embellishments. Projects range from lettered mugs to wood-burned signs to decorated clocks. The authors explain the uses and effects of different writing utensils and provide a quick lesson on the color wheel. This book focuses more on project ideas rather than teaching hand lettering, and is therefore a good fit for someone looking to practice an existing skill. Check out Melissa Averinos's work on Instagram here and Asharae Kroll's work on Instagram here.
Once you've mastered the basics of hand lettering, turn it up a notch with designing your own letters. Flor gives a number of suggestions including how to become observant of existing lettering and using that information to inform your designs. With an outlook on work that describes the design process as a kind of playground, Golden Secrets offers tips on using specific tools, shares ideas and basics for flourishes, and provides a discussion on the application of color and texture. Flor suggests building a "lettering library" and gives the reader the overall confidence to self-design. Flor does use profanity in her examples, so be aware if sharing with children. Check out Martina Flor's work on Instagram here.
Ready to take what you've learned from hand lettering books and apply it to bullet journals? Let us point you in the right direction with our bullet journal archives.