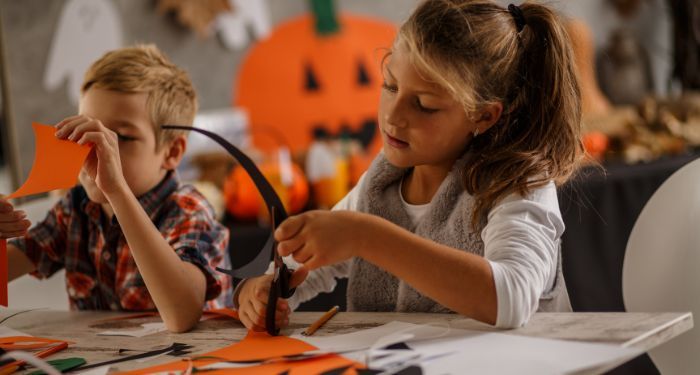 Children's
8 Frightfully Fun Halloween Reading Activities For Students
This content contains affiliate links. When you buy through these links, we may earn an affiliate commission.
I love Halloween time in the library, it's a time when you can not only highlight some amazing horror using cool and fun book displays, but you can also read your favourites to the students as, trust me, they really love being read to even if you think they don't! In the high school library that I manage here in the UK, I love to try all kinds of new and fun Halloween reading activities that not only engage struggling readers but also bring in new faces to the library and ensure that regular visitors also have a fun time finding new ways to engage with great books.
There are many ways you can do this, but as a school librarian, I'm very lucky because I have a built-in audience that I can introduce new and fun activities to on a daily basis. My goal is to not only put books into the hands of the students but to instill an idea in their minds that the library is a space where a lot of fun can happen. If they can walk away from the space knowing they've had a fun time and forgotten their troubles for a few hours, then I feel I've done my job.
These are some of my favorite fun Halloween reading activities for kids and teens!
Scary Book Spine Poetry
I love book spine poetry. If you've never done it before, it's more of a challenge than you think and is (in my opinion) a great way to engage teens with books to get them reading more and having them thinking about poetry and creativity. The concept is simple on paper: you find a stack of books (as many as you like) and create a poem using only the titles on the spines, minus the author's name. An extra challenge this Halloween is to either make a scary, creepy poem or make a poem about anything you like using only scary books. I have an entire breakdown of how I've run book spine poetry in my library if it helps!
Urban Legends & Misinformation
This is another activity that I love to run with students ages 11+. In my experience, this age group is absolutely obsessed with urban legends, myths, and weird or strange facts. They also love news stories that are "out of this world" in more ways than one. Again, the idea is pretty simple: put the students into small groups. Give each group a different urban legend or "too good to be true" news story. The catch is only one of the stories is true. Either give each group a few minutes with their stories before swapping with another group or have groups present their story and have the group guess which story is the true one. I have done this for a few years, and it's always surprising which stories are chosen — usually an untrue one, unfortunately. It creates a lot of debate, gets older students reading, and can easily be adapted for Halloween by ensuring each story is on the darker, creepier side.
Top 10 Literary Quiz: Halloween Version!
I love this reading game. It can be adapted to any age, group, or genre. It's a perfect Halloween game because you can create an amazing and fun quiz that focuses entirely on this holiday. Here's how it works: put your teens into small groups, or they can do this solo if you don't have many people. Pick a scary creature or novel, let's say a mummy, for a quick example. You give the groups ten clues; the first clue should be very vague and nearly impossible to connect to mummies. However, if a group is very confident that the first clue has given them the answer, they can "lock in" and hand you the answer on a slip of paper. The catch is that they have to wait till the game is over to find out if they got it right or not, but if they did get it right, they win 10 points. If a team "locks in" after the second clue is given and is correct, they get nine points, and so on, until a very obvious clue is given as the last clue, wherein a team would only get one point if they locked in after the tenth clue. I have run this several times with groups, and it is a huge amount of fun.
Scary Book Puzzle Death Race
I just came up with that title. I love it and will be using it in the library soon! It's another simple one that I have run multiple times and is always really popular. Take a horror novel and print the cover out in colour onto the largest piece of paper you can find. Then, cut this copy up into manageable (but not too manageable!) pieces. Again, do a few different book covers or give multiple groups the same book cover. Start a timer and see which group can put their horror book cover together the fastest. Trust me, it gets heated, it gets rowdy, but it's a lot of fun!
Petrifying Black Out Poetry
I do this activity all the time with discarded books, books that are falling apart, and even manga that have fallen to pieces and can no longer be repaired. Again, this is a good challenge for older students. Blackout poetry is great fun but requires a little planning. The catch here is to add an extra challenge and make the poem as scary as possible or use pages from scary books. Again, no books are deliberately destroyed to do this; if a book is weeded because it is simply falling to pieces and can no longer be repaired, we use the pages for blackout poetry or other crafts. Students are given a page of writing from the book, and they "black out" using a pen or marker all of the words they don't want. What is left is a poem. Making it scary would be a lot of fun and would make an amazing display.
What's in the Jar?!!
A very, very simple idea that teens love. You put the names of horror books on slips of paper, fold them up, and put them in a jar. Students reach into said jar and take a slip out. The catch is they must borrow this book and at least give it a try. Doing this with specific groups is a lot of fun, and tailoring the books to their ability level will be essential to making this a success. They love the surprise element and the idea of not knowing what book they'll choose!
Chilling Choose Your Own Adventure
I love Choose Your Own Adventure books. What I love even more is reading one aloud and getting students in the library to vote on which path to take. Find a scary one, read a little section, get the students to vote, and try to keep the character alive for as long as possible (you won't last long, trust me!). It's fun, it's getting them involved in reading, and those books will get borrowed.
Revolting Reverse Literary Charades!
Another winner, at least in my book. Put students into small groups. Ask one of the students to be in the "hot seat." Display the phrase behind said student so they cannot see it, but their group can. The group must then act out using basic charade rules, whatever is on the board, so that the student in the hot seat can guess it. You can make this as scary or as fun as you want; one of my personal favourites was "Dracula Going Through Customs at the Airport." I don't think they've ever forgiven me for giving them that one.
I hope you enjoy these activities, each one has been tried and tested in my school library to great fanfare!